Ruinart's Food For Art promises culinary delights in Basel
Hosted during Art Basel in Basel 2023, Ruinart's latest Food For Art dinner draws on Eva Jospin's Carte Blanche commission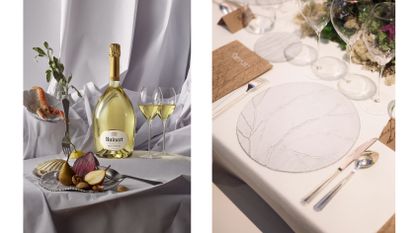 (Image credit: Ruinart)
Wallpaper* Newsletter
Receive our daily digest of inspiration, escapism and design stories from around the world direct to your inbox
Thank you for signing up to Wallpaper. You will receive a verification email shortly.
There was a problem. Please refresh the page and try again.
In partnership with Ruinart
For its annual Carte Blanche series the Ruinart house commissioned from French artist Eva Jospin an immersive cardboard landscape titled Entrelacs. Intricate and emotive, the installation evoked the terroir of Maison Ruinart and the beauty of winemaking gestures passed on down generations.
Ever since the launch of its Carte Blanche project back in 2017, Ruinart has curated the creation of artworks that connect and enlighten across time and places. while exploring the Champagne region and the know-how transmitted via its earth and people. In 2023 Jospin's installation acknowledges the coronation of French kings in Reims Cathedral and the ennoblement of the Ruinart family under Charles X, visits the underground world of the crayères (chalk quarries transformed into cellars), unravels the roots and interlacing of vines in the earth.
Now Jospin's cardboard artwork provides inspiration for Ruinart's Food For Art, a programme that merges the worlds of art and gastronomy, two forms of creative expression that share a zest for emotion, experience and expression. Through extraordinary encounters between artists and chefs, Ruinart has cultivated ties with a community of international chefs whose values the Maison shares. Each year, during the course of a specially-composed dinner, six culinary leaders pair their talents with the guest artist's vision for the annual Carte Blanche.
This month Ruinart takes Food For Art to Art Basel, Switzerland where it will host a pop-up restaurant at Les Trois Rois, with a five-course menu designed as an haute cuisine complement to Eva Jospin's Carte Blanche artwork.
Ruinart's Food For Art experience at Art Basel: what to expect
What to expect? Jospin's menu invites the diner to wander through the past, present and future of Champagne, both installation and its accompanying flavours, open to wider interpretations "People can create their own narratives," says the artist. "Some people might think of Hong Kong, or Petra, or a fairytale forest. It links them to somewhere in their minds, and to an imaginary world.'
Ruinart's 2023's Food For Art programme proposes to elevate simple ingredients into a delicate work of art, just as Eva Jospin transforms humble cardboard into natural scenes that evoke Ruinart's home in the Champagne region. Amongst the restaurant's spectacular table settings, history, conviviality and gastronomic landscapes will be explored, the restaurant reimagined as a space to express a terroir, a culture and an identity. The Carte Blanche project seeks to celebrate gestures of beauty; the chef, the cellar master and the artist – each of whom celebrates raw materials, and their transformation into the multiple layers of creativity.
Eva Jospin learned to paint at the École nationale supérieure des Beaux-Arts de Paris. After her graduation in 2002, she turned to sculpture and then began working with cardboard, a lowly material obtained easily, from which the artist makes worlds inspired by fantasy and the natural world.
In 2016, her installation Panorama, stages in the Cour Carrée of the Louvre, caused a sensation by embracing the scale of its surroundings while absorbing visitors in a fantastical universe. During her residency at the Villa Medici, Eva Jospin took advantage of her year in Rome to hone other practices, particularly ink drawing. She also began exploring other forms like grottoes and nymphaea, reflecting her interest in Renaissance architecture and gardens, while integrating materials such as bronze or copper wire, and techniques like embroidery. Brimming with historical references, her work contributes to a renewed vision of landscape.
From the artist's studio to the exhibition, from the earth to the table and some truly exceptional dining, these are all artworks to share, experience and savour.
Date: Mon 12.06. – Sun 18.06., Mon – Thu Lunch & Dinner, Fri – Sun Dinner only Place: Grand Hotel Les Trois Rois, Blumenrain 8, CH-4001 Basel Reservations: banquet@lestroisrois.com for groups of 10-26 pax
Menu: 5-course menu inspired by Eva Jospin's Carte Blanche 2023
The Food For Art residency also includes an ingredient tasting workshop led by Florence Boubée-Legrand from the Ruinart winemaker team - Two sessions per day (from Friday 16. to Sunday 18.) at 11:00 and 15:00 for a maximum of 20 people per session. Book a session via banquet@lestroisrois.com
Receive our daily digest of inspiration, escapism and design stories from around the world direct to your inbox