Stanya Kahn's Frieze Los Angeles commission to unearth the 'understory' of human intervention in nature
We speak to multidisciplinary artist Stanya Kahn, whose 'Understory' installation will be unveiled at Frieze Los Angeles for the 2023 R.U.in.ART Commission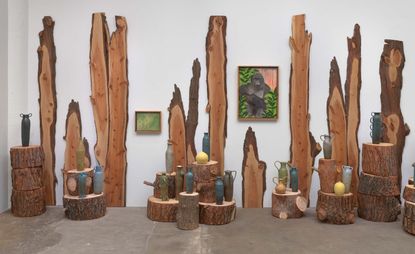 (Image credit: Courtesy of the artist and Vielmetter Los Angeles. Photography: Robert Wedemeyer)
The work of American artist Stanya Kahn is rooted in Los Angeles. It's also rooted in survival: of the planet, nature and humanity.
These are all themes the artist explored to poignant effect in 'Forest for the Trees', a 2020 show at Vielmetter gallery in Los Angeles, and will be expanded upon at Frieze Los Angeles 2023. There, the artist will conceive 'Understory', an installation for the R.U.in.ART Commission, which, each year, invites a Californian artist to conceive a commission in Maison Ruinart's lounge at the fair.
Held in Frieze's new location of Santa Monica Airport from 16-19 February 2023, Kahn's commission, titled 'Understory', will see natural forms collide with symbols of human intervention, to inspire 'wonder, inspiration, reflection, and criticality that might inspire transformation and new thinking' for those who visit.
'I am grateful for the opportunity to show work I care about, to make new things and to show work at the fair for out-of-town visitors who may have missed my recent show (which was unlike anything I've made before). Ruinart describes a commitment to sustainability and understanding of biodiversity which seems crucial, [and] mandatory if we're to survive,' Kahn tells Wallpaper*.
This is a sentiment shared by Fabien Vallérian, international director of arts and culture at Maison Ruinart: 'The awareness that Stanya Kahn's artworks raise is in line with the values that Ruinart champions, such as sustainability and biodiversity. By portraying wild and invented species gazing back at us, she puts the spotlight on human accountability and the necessity to change our interface with the natural world.'
The installation will be one hope but also caution, seeking to capture the 'understory of the Anthropocene' – one of imbalance and exploitation. Kahn's original proposal for 'Understory' was a fountain adorned with porcelain skulls, but due to time constraints, the artist thought again. Instead, her installation comprises ethereal paintings – depicting solitary animals in fantastical landscapes – a series of porcelain skulls and ceramic stoneware vessels posed on tree stumps, as well as ancient volcanic rocks from the Eastern Sierra along the pathway of LA's primary aqueduct. 'I wanted to make objects that appear as remnants of the impossible, that might confound an assuredness towards history, opening up questions about how it's written and who and what gets left out of official canon, and in turn help us imagine new possibilities,' she says.
Kahn's installation explores how humans throughout time have imprinted their impressions of the world onto objects. Her vessels will feature hand-carved images of animals and human skulls (the latter serving as a memento mori, a symbol of the life cycle, and a warning about our path of human-made destruction). 'I wanted to make things that look like artefacts but are also contemporary works that raise thoughts about the complicated (and beguiling) problems of interpretation, representation, image-making and culture formation,' she says. 'And of course, the ancient form of the vessel is one of our earliest technological inventions: a way to get water from its source in nature to the community, still an urgent issue today.'
Kahn's vivid paintings will feature a range of animals, each conveying their own narrative: an endangered ivory-billed woodpecker; Harambe, the slain silver-back gorilla from Cincinnati Zoo; and a coyote who set up home in Kahn's own back garden. The scenes are at once joyous in their apparent lack of human interference, yet poignant in their fantasy. Each painting will be framed in deep-set planks of old-growth redwood sourced from the walls of Kahn's studio, their breadth allowing Kahn to embed each with ceramic snakes, skulls, and other artefact-esque organisms, creating a diorama within a window to another world.
While Kahn doesn't frame her work as social practice, or believe art to be 'the primary arena for social change', she does hope the installation will prompt an 'awareness of power and questions of agency, distress and resistance'.
As part of the installation, visitors will have the opportunity to take away a unique, palm-sized ceramic vessel (limited to an edition of 100), allowing each to reflect on the 'tactile mindfulness' of Kahn's show, at the fair and well beyond. The vessels, featuring a smooth unglazed surface also embedded with imagery of skulls, snakes, and birds, are intentionally delicate to reflect the precarity of Earth's inhabitants.
'It was Ruinart's idea to have a takeaway element to the installation, something they've done in the past and I like that idea. Instead of having mass multiples fabricated as souvenirs, I decided to hand-make them myself (I don't work with assistants, I make everything),' she says. 'It means that people will have a unique, handmade object (each one is slightly different in size and shape and imprint) that is a reminder of slow production, human labour at human scale, the presence of a body, working.'
Stanya Kahn's installation 'Understory', will be held at Maison Ruinart's lounge at Frieze Los Angeles 2023. The fair will run from 16-19 February at Santa Monica Airport. frieze.com (opens in new tab); ruinart.com (opens in new tab)
Harriet Lloyd-Smith is the Arts Editor of Wallpaper*, responsible for the art pages across digital and print, including profiles, exhibition reviews, and contemporary art collaborations. She started at Wallpaper* in 2017 and has written for leading contemporary art publications, auction houses and arts charities, and lectured on review writing and art journalism. When she's not writing about art, she's making her own.