David Shrigley on comedy, unconventional art and Ruinart
David Shrigley, Ruinart's 2020 carte blanche artist, will soon unveil his interactive 'Unconventional Bubbles' exhibition in the Champagne House's Art Bar at Frieze London (14-17 October 2021). Last year, we paid a visit to the artist's Brighton Studio to see how the collaboration came to life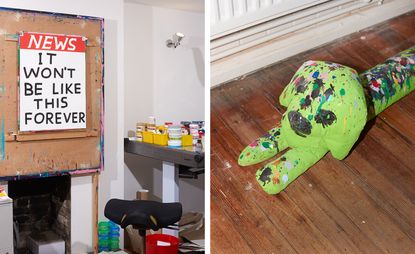 (Image credit: Daniel Stier)
In his Brighton studio on a miserable January morning, David Shrigley has just got back from Pilates. 'It's a new year thing' he says with a soft-spoken Macclesfield lilt, standing in front of a large news headline painting that reads, 'It won't be like this forever.'

This studio (one of two he has in Brighton) is in the basement of his Victorian townhouse. It's small, informal, and very Shrigley. There's a paint-splashed sausage dog draught excluder and a bed for his real, but absent miniature schnauzer. On the wall, there's a drawing of an octopus next to a piece of beige paper that reads, Really good drawings that nobody wants. There's a book and vinyl record shelf at full capacity, a filing cabinet encrusted with stickers, one of which reads I am a skanky whore in his inimitable scrawl. Shrigley has a way with words.
In real life, he's as earnest, funny and infectiously optimistic as you'd hope, with a self-deprecating, 'thinking out loud' charm that's also the lifeblood of his art. 'I sort of hide behind the work a bit. But I've always done that; it's just my personality. I struggle with being centre of attention, I get really freaked out.'

A Google image search reveals how versatile, collectable and far-reaching Shrigley's art can be. There's an inexhaustible variety of merchandise: tea towels, mugs, greeting cards and even inflatable versions of his illustrations. His greatest hits are hand-painted on paper. With each quip and crudely rendered drawing, often-dark subjects are tempered with childlike whimsy and seemingly off-the-cuff punchlines.
The creative process doesn't consist of much. It starts with a list of things to paint and ends with a pile of paintings. Shrigley sets one rule; he's not allowed to repaint anything. 'I think there's a certain quality of line that can only be achieved when you do it once,' he says. 'I always try and make sure everything's not shit. I think you know if it's shit and if it's shit then it's really got to go in the bin.'

The results are a mix of obvious, universally accessible humour, and obscure metaphors that can take hours to find, or might not exist. 'Comedy is profundity, it is poetry, the comic things are special,' he says.
Throughout his 25-year career, he's dabbled in everything from zany theatre to 'alt-rock pantomime'. He's written an opera libretto, guest directed Brighton Festival, had a sculpture on the Fourth Plinth in Trafalgar Square, experimented in taxidermy and published plentiful books. He even tried writing comic scripts for production companies, but it didn't work out. 'There's a certain skill to doing that which I don't possess and can't be bothered to acquire,' he says. One thing Shrigley has never done is collaborate with one of the world's most established champagne houses.

Ruinart introduced champagne to the world, and their relationship with art runs deep. In 1674, Dom Thierry Ruinart became a 'Master of Arts' aged seventeen. In 1896, André Ruinart commissioned Czech Art Nouveau sensation Alphonse Mucha to design advertising posters, displayed across Paris, and even at the summit of Mont Blanc. Since 2008, Ruinart has hosted an annual residency in Reims, offering carte blanche to each chosen creative. Shrigley – the Maison's twelfth participant – has created a project called 'Unconventional Bubbles', which does what it says on the bottle, particularly when you look back at his carte blanche predecessors. Among Liu Bolin, Hervé Van Der Straeten and Vik Muniz, Shrigley sticks out like a banana in a vineyard, and that's half the charm. While Van Der Straeten took a sharp-edged, sophisticated approach to champagne presentation and Muniz's photography explored winemaking in harsh climates, Shrigley exposed the witty, gritty best of champagne.
In July 2020, Shrigley arrived at Maison Ruinart to creatively report from the front line of champagne production. He was soon up to mischief, scribbling a washing machine, a forklift truck and some cavemen reliefs into the chalk walls of the Maison's Unesco World Heritage cellars, also known as 'The Crayères'. He spent time on the production line, in the vineyards and with the oenologists and cellar master, Frédéric Panaïotis. 'He is someone who is informed and trained, but also has God-given talent,' says Shrigley.

The residency resulted in 24 works on paper, two ceramic vessels, and neon installations, to be presented at global art fairs throughout the year including Art Brussels and Frieze New York. The work is as much a witty social commentary of champagne consumption as a tribute to Ruinart's roots and heritage. 'Drink the truth, but not too much', reads one piece. 'The wine is important. The reflection of the wine is also important', states another.
In his special way, Shrigley documented the life of champagne from root to cork. He anthropomorphised the 'vital' microorganisms, wrote a poem about a 'demanding' grape, painted a foot squashing some grapes and took the voluptuous shape of the Ruinart bottle as his muse.

'There's an assumption that it's quite a bourgeois thing to know about wine and to like wine,' says Shrigley, but his deft squibs, wobbly lines and deadpan delivery are as entertaining as they are instrumental in bringing the perception of high-end champagne down to earth.

'I like to think that all artwork is a work in progress; the meaning develops and changes depending on who views the work and the context in which they view it. Meaning ferments like wine.'
© Maison Ruinart
INFORMATION
David Shrigley, 'Unconventional Bubbles' will be on view at the Ruinart Art Bar at Frieze London from 14-17 October 2021.
ruinart.com (opens in new tab)
frieze.com (opens in new tab)
Harriet Lloyd-Smith is the Arts Editor of Wallpaper*, responsible for the art pages across digital and print, including profiles, exhibition reviews, and contemporary art collaborations. She started at Wallpaper* in 2017 and has written for leading contemporary art publications, auction houses and arts charities, and lectured on review writing and art journalism. When she's not writing about art, she's making her own.