Eva Jospin and Ruinart put the fizz in Frieze London 2023
Champagne house Ruinart brings artist Eva Jospin's vision of its terroir to Frieze London 2023, and celebrates with a limited edition Jeroboam of Ruinart Blanc de Blancs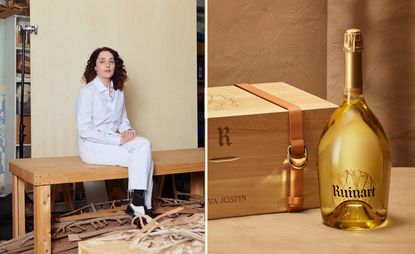 (Image credit: Left, Flavien Prioreau. Right, Inès Dieleman)
In partnership with Ruinart
Invited to be Ruinart's Carte Blanche artist for 2023, Eva Jospin offered her inspired vision of the champagne maison's unique and storied terroir, which she is now set to bring to Frieze London 2023 – following its stops in Milan and New York – along with a case designed for a limited-edition Jeroboam of Ruinart Blanc de Blancs.
Upon her commission, Ruinart's home of the Montagne de Reims appeared to the French artist as a kind of cross-sectional landscape, composed of different geological and temporal strata, real and imaginary.
Passionate about the richness of this region and the know-how transmitted there – from the underground world of soil and roots to the interlacing vines; from the coronation of the kings of France in Reims Cathedral to the ennoblement of the Ruinart family under Charles X; and from the conversion of the old chalk quarries (crayères) into cellars to the maison's expanded commitment to supporting biodiversity – Eva Jospin created an extraordinary and immersive series of artworks, PROMENADE(S), which invite the viewer to become involved in Ruinart's landscape, to plunge into a mysterious story intertwining the cycles of history and plants, life and creation.
Constructed mostly of cardboard – the artist's favoured medium – PROMENADE(S) comprises a collection of landscapes, hauts-reliefs, drawings and embroideries, each articulated around a 'carmontelle' – a kind of unfurling frieze. Drawn on paper, the frieze tells a story without words, recounting, in filigree detail, the links between the underground worlds of the crayères and the vineyard, between nature and architecture, and between the gestures emblematic of the artist in her studio and of the people who craft champagne.
These artworks have been displayed at events throughout the year, and are now heading to Regent's Park for Frieze London 2023.
Ruinart also commissioned Eva Jospin to create a wooden case for a limited-edition Jeroboam of Blanc de Blancs. Custom-made, and fastened by leather straps, the case opens onto the scene of a crayère in miniature, sculpted out of layers of cardboard. The bottle is set within this recessed landscape, a metaphor for the making of champagne and its fermentation sheltered from light.
Limited to 25 signed and numbered pieces, this special edition has been presented at the art fairs with which the maison partners.
Visit PROMENADE(S) by Eva Jospin for Ruinart at Frieze London, Regent's Park, London NW1 4LL, 11 – 15 Oct 2023
Receive our daily digest of inspiration, escapism and design stories from around the world direct to your inbox