BMW Group's new Designworks studio in Los Angeles has art and innovation at its heart
We visit the new BMW Group Designworks studio in Santa Monica, Los Angeles, to discover how this new hotbed for experimentation has art and innovation at its heart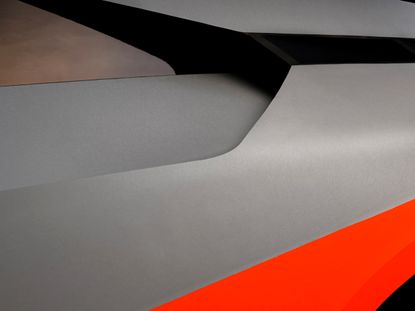 (Image credit: © Thomas Demand 2019)
In recent years, the westside district of the auto-dependent city of Los Angeles has come to be known as 'Silicon Beach', thanks to the hundreds of technology companies, including start-ups, which now occupy the region between LAX and the Santa Monica Mountains. This is where Snapchat and Tinder were born, and where the likes of Google, YouTube, Facebook, Apple, Inc., and Netflix have since flocked.
One of the newest arrivals is the Santa Monica outpost of Designworks, BMW Group's subsidiary design studio which celebrated its 50th anniversary last year. It's part-think tank, part-hotbed for experimentation, home to self-described 'architects of the future'. Located in an old warehouse, the studio is conceived as an ultra-cool, freethinking space where ideas flow and innovation is abundant.
The new studio, covering an area of about 16,500 sq ft, is the largest of the three global Designworks studios, including locations in Munich and Shanghai. Providing cross-industry designs for BMW Group and a range of external clients, from consumer electronics to sports with a focus on digital capabilities and sustainability, the studio's aim is to 'shape the future of mobility', in the automotive industry and well beyond.
The opening marks a homecoming of sorts for the studio, which was founded in 1972 by Chuck Pelly down the California coast in Malibu, and was acquired by BMW in 1995.
It was not a coincidence that the grand opening was timed to Frieze Los Angeles 2023, in a city that is fast becoming one of the most important destinations on the global art map.
Art has long been integral to BMW's brand identity and the studio will align itself closely with the creative industries in its attitude towards cultural development, its fearless penchant for risk-taking experimentation, and collaborations with artists. 'Artists and designers alike are forward-thinkers who question the status quo, speed up the transformation and shape the future,' says Adrian van Hooydonk, senior vice president of BMW Group Design. 'Like the artist Thomas Demand: he and I both share an intense interest in social and cultural developments that helps us assess how relevant our work is for the future.'
Demand, who took part in a panel discussion with van Hooydonk to mark the opening of the studio, brought new meaning to the term 'teaser' in 2019, for the BMW Vision M NEXT concept car. Van Hooydonk invited the German artist to photograph the Vision Vehicle well in advance of the official unveiling, a project that was conceived in the previous Designworks studio in Malibu. Demand reconstructed parts of the vehicle in cardboard to embody the central ideas of the car, but fell short of ever revealing its full design. 'I selected the really enigmatic parts of the car – the least branded and most interesting in how the different surfaces and planes get intertwined,' he told us in a 2019 interview. 'My images are abstracted but they show the idea and the characteristics of the design, how the shapes intertwine. The idea is still visibly "I'm a car". My images are a little more fetishistic perhaps – but isn't that more what a car will become?'
Undoubtedly, BMW was a trailblazer of the artist-brand collaboration, now business as usual for the luxury retail sphere. It all began in 1971 when BMW commissioned Gerhard Richter to create three large-scale paintings for the foyer of its Munich headquarters. Four years later, in 1975, the BMW art car was conceived by art enthusiast and racing driver Hervé Poulain. It has since seen the likes of Roy Lichtenstein, Andy Warhol, Frank Stella, Robert Rauschenberg, Jenny Holzer, John Baldessari, Olafur Eliasson, and Jeff Koons (twice) create custom designs for BMW cars.
Beyond the Art Car, BMW Group – through its cultural engagement division – has become embedded in the global art sphere, partnering with global art, music, architecture and design institutions, fairs and events, and commissioning artists for the BMW Open Works initiative.
Although there are safety limits to what's creatively possible in a driving environment, van Hooydonk is interested in the potential of art being more integrated into the design of the car, particularly in a luxury sector that places emphasis on personalisation. 'A lot of our customers are interested in design and art, but it's personal. Some really love certain artists and really don't like others, he says. 'A car could become a complete canvas.'
Last year, with the launch of the i7, BMW experimented with a new function called Art Mode. It saw artist Cao Fei (who did a separate art car in 2017), create 'Quantum Garden', displayed throughout the interior of the car, and marked the first time BMW had integrated digital art into its model. 'Here at Designworks we've also been talking to people like Refik Anadol, whom we find very interesting as an artist', 'says van Hooydonk. 'In the realm of digital art, we could do a lot more and imagine a lot more collaborations. It just has to make sense to both parties.'
'We very regularly talk to the creative field,' adds Holger Hampf, head of Designworks. It's almost a blend of architecture, art, and design. We can find ourselves in this area where we move away from designing a car. We're designing an object and an experience, mixing all these influences into our work.'
Harriet Lloyd-Smith is the Arts Editor of Wallpaper*, responsible for the art pages across digital and print, including profiles, exhibition reviews, and contemporary art collaborations. She started at Wallpaper* in 2017 and has written for leading contemporary art publications, auction houses and arts charities, and lectured on review writing and art journalism. When she's not writing about art, she's making her own.