Paris Photo 2023: Eva Nielsen puts our impact on the Camargue in dynamic focus
At Paris Photo 2023, 'Insolare' by Eva Nielsen, in collaboration with BMW Art Makers, is a compelling exploration of human impact on the landscape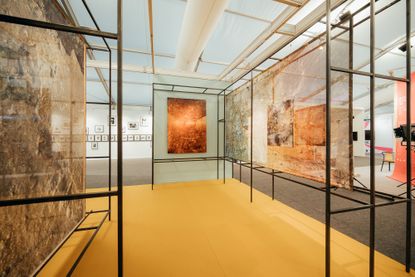 (Image credit: N/A)
Curator Marianne Derrien recalls exploring the Camargue years ago and having the instinct that the changing landscape would lead to a collaboration with her long-time friend, the artist Eva Nielsen. What would come to fruition is 'Insolare' – now showing at Paris Photo 2023, 9-12 November – a dynamic exploration of our impact on the landscape through a hybridised approach, creating an emotive reflection on the disappearance of urban, industrial and natural landscapes.
Eva Nielsen's 'Insolare' at Paris Photo 2023
The works were conceived with the BMW Art Makers programme, which each year supports the creation of an experimental visual arts project in response to current social and environmental issues. First exhibited at the Rencontres d'Arles earlier this year, fittingly the exhibition has been designed to ensure that materials are produced and used as sparingly as possible as the show is reinterpreted for the Paris Photo context.
To walk through the installation is to move between the environmental layers Nielsen and Derrien have created. 'Insolare's layers exist within the artworks as Nielson overlays images of mosquito nets with overviews of the Camargue's geography and its architecture; layers exist within the installation too, as some works are sheer, others latex, some shine, and others appear to absorb the light through their abstracted forms. As these layers overlap and connect in their metal framework, the incredible complexity of loss in nature is referenced.


Nielsen's dusty bluish greens and rich yellows are reminiscent of many past artists that have been drawn to the Camargue, including Vincent Van Gogh, and serve as a tie to the past while remaining current in the message of environmental concern. Also important is that 'sedimation' is recognised as significant for both artist and curator, reflecting their grounding intentions and deep intuitive connection to the land.
Nielsen describes the sense of walking and feeling absorbed into the landscape, explaining that the link to ecofeminism's intuitive and non-dominating perspective is present as the works travel 'with' the land.
Other must-sees at Paris Photo 2023 include Webber Gallery's curation of 12 incredible artists; Fellowship's fluid redefinition of the boundaries of image-making and AI; and Offprint showcasing a dizzying number of publishers in the fields of art, architecture, design, humanities and visual culture.
Receive our daily digest of inspiration, escapism and design stories from around the world direct to your inbox
As Photography Editor at Wallpaper*, Sophie Gladstone commissions across fashion, interiors, architecture, travel, art, entertaining, beauty & grooming, watches & jewellery, transport and technology. Gladstone also writes about and researches contemporary photography. Alongside her creative commissioning process, she continues her art practice as a photographer, for which she was recently nominated for the Foam Paul Huf Award. And in recognition of her work to date, listed by the British Journal of Photography as 'One to Watch'.