'Pop! Pop! Pop!': Jeff Koons on the drive behind his new limited-edition BMW 8 Series
We speak to Jeff Koons about blending pop, performance and punch in his design for the BMW M850i xDrive Gran Coupé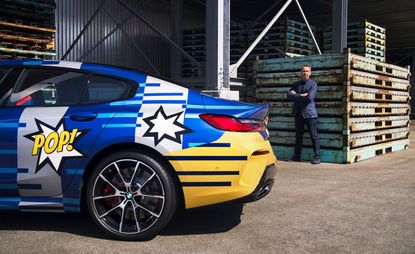 (Image credit: bmw.com)
In 1975 Hervé Poulain, a French auctioneer and art enthusiast with a sideline in auto racing, came up with a novel idea for combining his passions. Poulain planned on competing in the 24 Hours of Le Mans race and wanted to make a splash, whether he made the podium or not. He approached BMW Motorsport chief Jochen Neerpasch with the idea of commissioning an artist to paint a racing-spec BMW 3 series. Neerpasch liked the plan and they approached Poulain's pal Alexander Calder who liked the plan too and got to work, initially working on a toy car before the BMW workshop upscaled his design.
That debut Art Car was imagined as a one-off – a passion project rather than a PR device – but it created such a positive spin that 19 artists, including Roy Lichtenstein, Andy Warhol (who famously painted his car, by hand, in 29 minutes), Frank Stella, Robert Rauschenberg, Jenny Holzer, John Baldessari and Olafur Eliasson, have added to the list of BMW Art Cars, making it one of the most dynamic, enduring and compelling collaborative art projects.
Only one artist, though, has been invited back. In 2010, Jeff Koons designed the 17th BMW Art Car, an M3 GT2 that also competed in Le Mans. Koons was such a fan of the Art Car series – and given his clear interest in Duchampian readymades and the Pop Art of Lichtenstein and Warhol, you understand why – he actually offered his services to BMW.
That relationship has grown and Koons and the German auto-giant have now collaborated again on The 8 X Jeff Koons, the first of the Art Car series to go into (very limited) production.
Only 99 of the Koons-pimped M850i xDrive Gran Coupés – which he describes as 'sporty and flashy as well as minimalist and conceptual' – will be produced, at the rate of two a week. The cars were launched digitally earlier this year and – all but one – were sold within three weeks.
The 8 X Jeff Koons made its first physical public appearance outside the Rockefeller Centre in New York earlier this month, a trailer for a Christie's auction of the last available car from the production run. It eventually sold for $475,000, with all proceeds going to the International Centre for Missing & Exploited Children. (Koons is a major benefactor to the charity. The artist turned to them for help in the 1990s when his ex-wife Ilona Staller refused him the right to see their son Ludwig. Koons talks openly and movingly about the pain of that separation.)
Koons is big on family – he has six children with his wife, the artist Justine Wheeler – and the new car is a relatively family-friendly four-seater. 'I wanted a car I would actually drive,' says Koons – but the design is closer to his first design for the debut race car. 'My original idea was the car would go by on the track and suddenly you would see "Pop! Pop! Pop!" And it would be like these energy explosions taking place.'
RELATED STORY
Koons' plan A for his debut car was to exaggerate the effect using lenticulars, but the idea proved impractical on a race car – 'I wanted to make a car that had a chance of winning,' he says. It's even more impractical on a production car but Koons has returned to the 'Pop! Pop!' and a puff of smoke device, this time meticulously rendered in paint.
'I really wanted to return to something a little warm and minimal but with this essence of thrust and energy,' he says. 'So I've worked with lines starting in the front that are very thin and then get wider as you go back over the surface of the car. You get this sense of aerodynamics and these little popping areas of energy.'
BMW's head of cultural engagement, Thomas Girst, says Koons made Covid-inconvenienced visits to its Dingolfing and Landshut plants as his design was realised while the Koons team in New York worked on complex digital designs. Getting the artist's suggested paint job right initially took 300 hours of specialist man and woman power, but the company says they have since got that down to a more manageable 250 hours.
Koons was insistent, though, that this design be realised in paint rather than as a printed vinyl wrap, the device used on his first art car (itself, no mean technical feat). 'I love the generosity of paint,' Koons says. 'When something is printed you never get that saturation, you never get that generosity, the way light bounces of pigment.'
The red and leather interior, meanwhile, has a definite if unintentional Spider-Man vibe. 'I didn't plan that people look at it and think of Spider-Man but I did want them to feel that type of energy, feel something else running through their veins.'
Koons and Spider-Man do have some history. The producers of the Oscar-winning animated movie Spider-Man: Into the Spider-Verse admit that the Whitney Museum's 2014 Koons retrospective was an influence and the idea has been floated that the car appear in a future Marvel production. Koons is somewhat sceptical.
He is keen to work with BMW again, though. 'I hope that BMW invites me back. I hope that I could work on an electric car or some type of prototype car of the future. This car thrills and heightens the senses but I hope I have the opportunity to design something from scratch that can comfort and protect.'