Sex, wit and cigars: five contemporary artists on Marcel Duchamp
After 60 years out of print, the seminal 1959 monograph Marcel Duchamp is back in circulation courtesy of Hauser & Wirth Publishers. To mark the occasion, we asked five contemporary artists – Ed Ruscha, Gillian Wearing, Larry Bell, Monica Bonvicini and Mika Rottenberg – what Duchamp means to them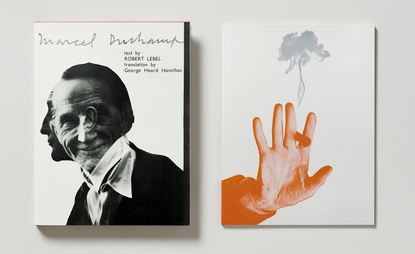 (Image credit: Courtesy Hauser & Wirth Publishers)
Marcel Duchamp means different things to different people. To some, he fathered the readymade, to others, he turned the role of the artist on its head. To Willem de Kooning in 1951, he was a 'one-man movement'.
Published in 1959, the book Marcel Duchamp soon became the bible of the artist's work. It was the result of years of Duchamp's collaboration with its author, art historian and critic Robert Lebel, and offered a comprehensive and penetrating study of the artist: from his early painting, subsequent farewell to painting, and invention of the readymade to his fixation on the fetish, a subject explored in a show at Thaddaeus Ropac. Witty, sensual, absurd, 'Please Touch' (curated by Paul B. Franklin and now on view at the gallery's Paris Marais space) emphasises how, through Duchamp's lens, and with the right, or wrong, state of mind, almost any conceivable object could be a fetish.
Marcel Duchamp went out of print for 60 years, but the Grove Press English edition is now back in circulation with Hauser & Wirth Publishers' authorised facsimile of Duchamp's first monograph and catalogue raisonné, brought back to life with Jean-Jacques Lebel (Robert Lebel's son) and Association Marcel Duchamp. To this day, the book's texts, which include chapters written by Duchamp, HP Roché, and André Breton, remain uncannily contemporary, as does Duchamp's own book design.
---
Marcel Duchamp in the words of five leading contemporary artists
---
To mark the occasion, we gathered the thoughts of five contemporary artists who have directly, or indirectly, cited Marcel Duchamp in their work. From an appreciation of the artist's non-exclusive relationships with media to a first-hand anecdote about the way he held his cigar, this is what they had to say:
Ed Ruscha
'When Duchamp came along in the early part of the last century, he hit upon things that were profound and sublime. It was as though he had discovered or invented a completely new musical instrument.'
'Duchamp made me realise you do not have to be faithful to any one medium, you can embrace them all. More radically, you didn't have to make work with traditional mediums, art could be made from anything or could have been made already (found objects), then recontextualised. More personally, his shapeshifting photographs had an impact on me; one where he appeared as a much older version of himself via a trick of a light bulb, and others where he became his alter ego, Rrose Sélavy. The latter inspired me to become both Duchamp and Duchamp as a woman in my photographic work Me and Madame and Monsieur Duchamp, which added further layers to his disguise.'
Larry Bell
'My memories of Duchamp are brief. He came to my studio in 1962 with English artist Richard Hamilton and American surrealist William Copley. They had come to Los Angeles to look at where Marcel was going to have his first retrospective [the Pasadena Museum of Art]. The museum director was Walter Hopps, who was previously my dealer.
'These three guys descended on my studio and gently knocked on the door. I wasn't expecting anyone to come, and none of my friends would ever come to the front door, so these were unknown intruders. I had a little peephole at the front and I saw these guys dressed in neckties and suits. I was positive they were city inspectors. During that time, there was a lot of pressure on people who lived in storefronts; it wasn't legal. This was my studio, but I lived there also.
'They knocked for about 20 minutes. I finally opened the door and before I could say hello, one of the guys said "Walter Hopps sent us", so I let them in. At that point, I had very bad hearing, and I didn't hear the names, apart from Copley who introduced me to the group. I thought they might be collectors, and showed them around. One of them had an English accent. The older guy didn't say much, but he smoked a cigar. I smoked cigars too, but I'd never seen anyone hold a cigar between his little finger and ring finger before. The English guy was explaining to the older fella what I was doing, and it was not correct, so I tried to correct the older guy's understanding. Then Copley said something like, "Marcel, didn't you do something like this a long time ago?" When he said Marcel, I realised who the older guy was, and I fucking freaked. I couldn't talk anymore. I was totally catatonic and threw myself against the wall. All of a sudden the atmosphere had changed. They thanked me for letting them come, and they left. On your question about influence, I tried to hold the cigar as Duchamp did, but it didn't work for me.'
'Duchamp's use of unusual materials, as well as his choice of productions, is such a fetish, expressing a male desire typical for someone coming from his background. His desire to escape classification of any sort made his own art and his own persona ungraspable, turning himself into fetish subjects. I always found his dealing with erotica and sex not only beautiful but funny and irreverent as no male artist of his generation did.'
Mika Rottenberg
'[Duchamp is] a huge influence [in] his seriously playful approach to art as a game of logic constructs and values. [Also] his titles, and the way he made viewers complete and participate in the work with no pretence.'
INFORMATION
Marcel Duchamp, £100, Hauser & Wirth Publishers. shop.hauserwirth.com (opens in new tab)
'Please Touch: Marcel Duchamp and the Fetish', until 29 January 2022, Thaddaeus Ropac, Paris Marais. ropac.net (opens in new tab)
Harriet Lloyd-Smith is the Arts Editor of Wallpaper*, responsible for the art pages across digital and print, including profiles, exhibition reviews, and contemporary art collaborations. She started at Wallpaper* in 2017 and has written for leading contemporary art publications, auction houses and arts charities, and lectured on review writing and art journalism. When she's not writing about art, she's making her own.