A rare Duchamp goes on the market 100 years after the artist gives rise to the 'readymade'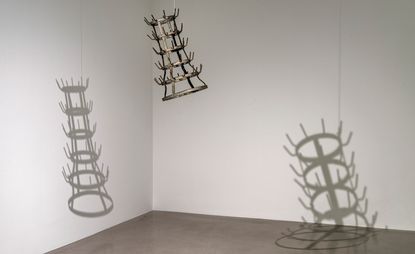 (Image credit: Charles Duprat)
From now until mid-January 2017, Galerie Thaddaeus Ropac is hosting one of five remaining original Porte-bouteilles (or Bottle Rack), the 'readymade' signed by Marcel Duchamp. The iconic galvanised steel sculpture has arrived from the Robert Rauschenberg Foundation, which selected the Paris gallery to oversee its sale to a public institution.

This particular readymade carries unique provenance, dating back to 1959 when Duchamp and Rauschenberg were featured in an exhibit titled 'Art and the Found Object' at the Time-Life Reception Center in New York. As the story goes, Duchamp reached out to Man Ray to borrow a previous version from 1935-36. Upon hearing that that the photographer had lost it, Duchamp asked him to pick up another at the Grand Bazar de l'Hôtel de Ville (the one-stop department shop now known as BHV) and send it to the US. Rauschenberg subsequently purchased it for $3.

Today, en route to viewing Porte-bouteilles, located in the gallery's uppermost corner room, visitors will pass through a presentation Rauschenberg's Salvage series (his last works on canvas completed between 1983-85), in addition to an exhibition of Duchamp materials that build the anticipation and contribute to the rich narrative. After all, 2016 marks 100 years since Duchamp's first recorded use of the word 'readymade'.
A vitrine filled with other works that relate directly to Duchamp's bottle dryer.
There's Box in a Valise, which consists of miniature replicas of his works through 1964; photos of Rauschenberg's studio where Bottle Rack appears stationed on the floor; and four pink sheets of lined paper filled with Rauschenberg's uppercase lettering in which he recounts how he acquired the sculpture while pondering 'the philosophical, aesthetic or ethical reasons why, how or if I could ask Duchamp to sign [it].' To wit, when he finally asked Duchamp, who was in the presence of his wife Alexina 'Teenie' Sattler, she apparently replied, 'Of course, Marcel will sign anything.'

And not only did he sign his initials with the year 1960, he scrawled the words – translated here from French – 'Impossible for me to recall the original phrase.' This self-referential inscription nods to the fate of his first purchased bottle rack from 1914, which disappeared around the time his sister was moving the contents of his studio in Paris (Duchamp decamped to New York during the war). The famous letter to his sister two years later, in which he refers to the object as a 'readymade' and instructs her to paint the lower ring with an inscription, also lost, has been screened on the gallery wall adjacent to the one we see today. No doubt, some visitors will enquire whether this enlarged facsimile is also for sale.

Up close, Bottle Rack reveals a hint of grime on its dull, grey surface, deliberately undisturbed as if attesting to its lifespan. Suspended in space from a single cable around the top ring and lit from two ceiling sources, the sculpture's slight tilt and corresponding shadows position it with surprising character – simultaneously surrealist and cinematic. Gallery curator José Castañel tells Wallpaper* they tested positioning it on the floor and a plinth before settling on this more animated display.

'Shadows were important to Duchamp,' explains Castañel, noting how the artist was constantly exploring the relation and representation of dimensions. 'It has to do with what is hidden and what you see. Do the two-dimensional shadows show a truer representation than the three-dimensional object?'

Thanks to the work's future home in a public museum – the gallery will only confirm 'very serious discussions with one institution' – it's a question that a wider audience will have an opportunity to answer.
INFORMATION
'Porte-bouteilles' is on view until 14 January 2017. For more information, visit the Galerie Thaddaeus Ropac website (opens in new tab)
ADDRESS
Galerie Thaddaeus Ropac Paris Marais
7 Rue Debelleyme
75003 Paris
VIEW GOOGLE MAPS (opens in new tab)