At home with artist Gillian Wearing
In our interview series, we find out what artists are making, what's making them tick, and the moments that made them. We revisit our 2020 interview with Gillian Wearing as she unveils 'Wearing Masks' at the Guggenheim, her first US retrospective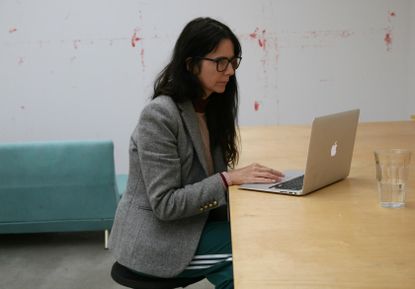 (Image credit: TBC)
Gillian Wearing is an artist of many faces. Turner Prize winner, YBA, and the artist behind the first statue of a woman in London's Parliament Square. Through sculpture, photography, performance and film, she has spent the last three decades confronting identity, artificiality and the many selves we exhibit to the world.

Masks and role play have been recurring devices in Wearing's portraiture, for which she's transformed into the likes of Meret Oppenheim, Eva Hesse, and Andy Warhol in drag. She's aged herself digitally, 'worn' her 17-year-old self, and seen actors 'wear' her using face-swapping AI. In her 2020 sculpture, Mask Masked, the mask itself assumes a new role in the context of Covid-19.
At the Guggenheim, New York, 'Gillian Wearing: Wearing Masks' (until 4 April 2022) marks the first retrospective of Wearing's work in North America. Featuring more than 100 pieces, the show traces the artist's evolution from early Polaroids to her latest self-portraits, all of which explore identity as performance, with masks cast as both props and metaphors.

Wearing's work has often involved the experiences of others. She's invited perfect strangers to confess their fantasies, terrors and truths on paper and behind masks, placing private lives in public spaces and giving voice to otherwise unvoiced thoughts. Through self-examination, self-expression and self-confession, Wearing brings any assumption of the self to its knees.

To mark Wearing's seminal Guggenheim show, we revisit our 2020 interview with the artist, where we discussed the noise of social media, and how, for the first time in 33 years, she returned to painting in a new series unmasked self-portraits at Maureen Paley.
Wallpaper*: Where are you as we speak?
Gillian Wearing: In my studio, it sort of looks like an office with a very long table/desk, cabinets, a sofa and three office chairs. I always wanted a space like an office as I was a secretary before becoming an artist; I liked the comfort of offices. Michael Landy, my husband, has the downstairs space and we share the studio with our beloved Staffordshire Bull Terrier, May.
W*: Your work explores themes of self-awareness and the 'masks' we present to the world. What attracts you to these ideas and has the ubiquity of social media changed your approach?
GW: My work explores portraiture and in turn identity. And that's what makes us, I can't think of a more interesting subject.

My early work preceded social media and shares some of the same interests, like giving voice to people that weren't seen or heard in the media outlets of the time. I remember thinking when social media came along maybe a certain part of my work is done, but I still see gaps in how certain stories aren't being told. A new media can look infinite in the early stages and then when it becomes very popular it moulds to a certain shape where certain voices are just not heard through the noise of the most popular ones.
W*: Your photographic self-portraits have seen you physically assume a range of identities, from Eva Hesse to Albrecht Dürer, and Andy Warhol in drag. What draws you to the characters you take on, and how do you prepare for the roles?
GW: I am drawn to their work, I couldn't have been an artist if there weren't artists I admire, they are my spiritual family they give me the sustenance to make work. You can get so close to someone's work that it feels almost like your own work, it helps you make sense of how you might bring something unique to the world as well. When I prepare for one of my portraits, I have a definite image of how I would want the final photograph to look, and I also think about how the artist might want to have been seen or how the photographer might have portrayed them at the time. For instance, Me as Meret Oppenheim is not based on an image that exists, I created it thinking what would a Man Ray and Meret Oppenheim collaborative work look like. The preparation towards the image takes a few months, it's intensive: a mask is made, a set is built, clothes are either hired, made or bought, there is a long lead up of thinking and tweaking until the day of the shoot.
RELATED STORY
W*: You've invited people to write their thoughts on signs, share the views from their windows, and submit themselves as models for your sculptures. What have these participatory works taught you about what it means to be human?
GW: It's been an honour to meet so many people through my work, and being able to speak to people outside my immediate world. There is a wealth of lived experience that is different to my own and of course, at times I can draw parallels with some of the people I meet. When I started my signs series in the early 90's, I didn't realise that people would be so amazingly open to me, a stranger, and the text they wrote broke through the barriers of how we perceive someone we don't know. So if anything it has taught me not to rush to judgement on others, to allow someone to speak first and to listen, we sometimes forget to do the latter. My overwhelming experiences have been really positive; there is a lot of humanity in the world.
W*: Which artists, writers or musicians have had the biggest impact on you?
GW: Warhol, Arbus, O'Keefe, Cahun… you know this is easy since I have become a lot of the artists in [my] 'My Spiritual Family' series. In terms of writers, it would be Erving Goffman, and so much music I couldn't even begin to list the names of musicians. I was fortunate to work with Adrian Utley (from Portishead) last year for my documentary on George Eliot and to see how his wonderful music elevated the story. Music I love makes me feel there are possibilities, it allows me to daydream and to imagine.
W*: Which career moment will you never forget?
GW: The unveiling of my statue of Millicent Fawcett. Having worked right up to the unveiling day, I hadn't given the ceremony much thought. But when I arrived at Parliament Square, the police were cordoning off all the roads, I then realised it was going to be a massive event. All the major political parties came and the statue was swamped after the speeches. It was fantastic, at long last, to have a statue of a woman for the first time in Parliament Square.
W*: Your solo show at Maureen Paley focuses on a new series you've created during lockdown. Tell us about what you'll be presenting, and what inspired these pieces?
GW: I am presenting self-portraits that I have painted during lockdown. I was going to be painting myself before the pandemic hit. Then everything fell silent in terms of contact with the outside world, and this increased that intensity of reflection. I haven't painted for 33 years so it was quite a journey getting used to the two mediums. I always say my work is about portraiture and it seems fitting that I am now working in the most traditional of mediums for this genre. I love it!

I have also been continuing with my Your Views film project, which is a large global project where people submit filmed views from their window. I started it in 2013 and each year work on it with my producer Lisa James. Our views from our window have been our connection to the outside world more than ever during the early days of lockdown so the project took on an even more relevant angle. I will also be exhibiting this at the gallery. If anyone wants to submit a view they can do so here.
W*: What's the most interesting thing you've read, watched or listened to in the last month?
GW: I thought I had seen the film The Parallax View by Alan J Pakula, but when I started watching it with Michael the other night I realised I hadn't. It's a great film, as befitting of our time now as it was in the 1970s.
INFORMATION
Gillian Wearing will exhibit new works created during the Covid-19 pandemic at Maureen Paley from 16 September - 25 October 2020. maureenpaley.com
ADDRESS
Maureen Paley
60 Three Colts Lane
London E2 6GQ
Receive our daily digest of inspiration, escapism and design stories from around the world direct to your inbox
Harriet Lloyd-Smith was the Arts Editor of Wallpaper*, responsible for the art pages across digital and print, including profiles, exhibition reviews, and contemporary art collaborations. She started at Wallpaper* in 2017 and has written for leading contemporary art publications, auction houses and arts charities, and lectured on review writing and art journalism. When she's not writing about art, she's making her own.