JA Architecture Studio, Canada: Wallpaper* Architects' Directory 2022
Wallpaper* Architects' Directory is our annual round-up of exciting emerging architecture studios. Our 2022 list is growing with the addition of Canadian entry JA Architecture Studio and its transformation of this Toronto home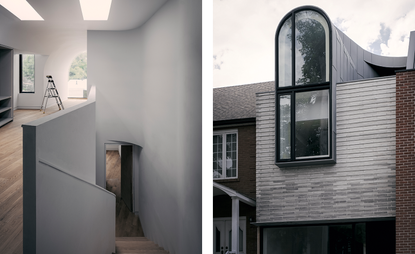 (Image credit: FELIX MICHAUD)
Wallpaper* Newsletter
Receive our daily digest of inspiration, escapism and design stories from around the world direct to your inbox
Thank you for signing up to Wallpaper. You will receive a verification email shortly.
There was a problem. Please refresh the page and try again.
Architect Nima Javidi and landscape designer Behnaz Assadi's JA Architecture Studio, and its transformation of this Toronto home, have made it into the Wallpaper* Architects' Directory 2022, our annual list of exciting emerging practices from across the globe.
Who: JA Architecture Studio
Toronto-based JA Architecture Studio was established by architect Nima Javidi and landscape designer Behnaz Assadi in 2013. Working across residential, cultural and curatorial projects, the co-directors have been recognised for their proposals for a Bauhaus Museum in Dessau and a Guggenheim Museum in Helsinki. Among their accolades are a Progressive Architecture Award and four Canadian Architects Awards of Excellence; and they have been shortlisted twice to represent Canada at the Venice Architecture Biennale.
Their studio, as well as a few of the homes they have built (such as 44 Foxley Street, pictured, and The Corbel), sit within the neighbourhood of Beaconsfield Village in Toronto. Javidi explains the challenges of designing homes there: 'There is a lot of opposition to projects beyond three storeys, so there is this push to find ways to densify a low-rise neighbourhood.' Therefore, each of their residential projects becomes 'an experiment in typology'.
When asked about what they envision for their future, they say: 'We are in the process of shifting in scale, towards medium-sized cultural and public projects. Not cultural as in a cultural institution, but the culture of the city.' This can be seen in projects such as Forno Cultura bakery, a repurposed mechanic garage; and Underscore Gallery, an art gallery and artist workspace with inverted bay windows. 'Toronto is a multicultural city, and generally, multiculturalism expresses itself at the level of food, but architecture does not quite engage with that. We want to express that in our design – not in a way that is recognised or a one-project statement, but something that emerges over time in the body of the city,' say the duo.
What: 44 Foxley
44 Foxley sits between standard post-world war brick terrace houses. Situated in Beaconsfield Village, a traditionally Portuguese area, the four-storey infill residential project (with a separate unit at the back, divided from the other units by a courtyard) has been designed flexibly to accommodate one or multiple families. 'It isn't a one-off project but a collage onto a fabric,' explains Javidi. This is the second project the studio has built on this road – The Corbel, a house it recently completed, is located nearby. 'We like infill urban projects. They are much more difficult to build as we have to maintain the existing wall and insert the new dwelling. But there is something about the fabric of the city that is exciting, when you gradually change things one by one,' says Javidi.
Conscious of its surroundings, the new, brick-clad building feels at home within its context. 'When you are walking, you don't notice it at first and then you notice the anomaly,' adds Assadi. What grabs the attention of passers-by is the barrel-vaulted window which boldly protrudes on top of the front façade, clearly marking the new construction, while still 'conversing with the neighbouring dormers and gables'.
Why: Wallpaper* Architects' Directory 2022
Conceived in 2000 as an international index of emerging architectural talent, the Wallpaper* Architects' Directory is our annual listing of promising practices from across the globe. While always championing the best and most promising young studios, over the years, the project has showcased inspiring work with an emphasis on the residential realm. Now including more than 500 alumni, the Architects' Directory is back for its 22nd edition. Join us as we launch this year's survey – 20 young studios from Australia, Belgium, Canada, Chile, China, the Czech Republic, Ecuador, France, Greece, India, Indonesia, Japan, Nigeria, Paraguay, Thailand, the UAE, the UK, the USA, and Vietnam with plenty of promise, ideas and exciting architecture.
INFORMATION
Receive our daily digest of inspiration, escapism and design stories from around the world direct to your inbox