Where do the Serpentine Pavilions go after the summer season?
The Serpentine Pavilions are a beloved summer staple in the annual architecture calendar, but what happens to them after their time at Kensignton Gardens is over? Here, we track their whereabouts and follow their journey around the world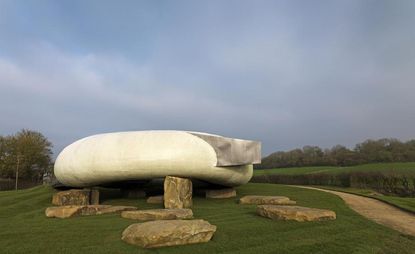 (Image credit: Ken Adlard)
It won't be long now before this year's Serpentine Pavilion appears in Kensington Gardens, on the lawns outside the Serpentine Gallery. The latest edition has been designed by Sumayya Vally and her young South African practice Counterspace. The commission followed the Mexican architect Frida Escobedo (at 38 by far the youngest to take up the privilege in 2018) and Junya Ishigami in 2019.
Further predecessors, now numbering over 20, have ended up all over the world, mostly purchased by wealthy, enlightened art collectors. 2017's version by Diébédo Francis Kéré, an architect from Burkina Faso, was snapped up by the Ilham Gallery of Kuala Lumpur and is yet to be set up in its new home somewhere in the Klang Valley region where KL is located. Such cultural cross-pollination – Kere's pavilion has a proudly African language – has become an inadvertent outcome of a project that really started out by accident.
In 2000, Julia Peyton-Jones, the gallery's co-director from 1991 to 2016, asked her friend Zaha Hadid to design a temporary shelter for the Serpentine's 30th birthday celebrations. The triangulated structure – a great success – stayed in place for three months and in the city which had silently decreed Hadid's designs unbuildable at best, and unreadable at worst, became jokingly known as her first building in London.
Thereafter, a series of architects who had never been invited to construct in the capital – names as stellar as Oscar Niemeyer, Jean Nouvel and Rem Koolhaas – went on to create temporary shelters for the Serpentine's summer season.
Zaha's tent met a less than illustrious end – first it spent some time in a car park in Stratford-upon-Avon and now resides at the Flambards Theme Park in Helston, Cornwall. It is covered in a silvery grey tarpaulin, and a very popular wedding venue. And the Cloud, an ethereal architectural abstraction by the Japanese Sou Fujimoto from 2103, floated off to Albania, where it controversially stood in front of Tirana's National Gallery and was quickly co-opted by Albanian Vodaphone as a great place to hang their advertising.
But others have gone on to find highly desirable homes. The one by Smiljan Radic, which stood like a radical pebble in Kensington Gardens in the summer of 2014, travelled to Bruton in Somerset. There it forms the perfect full-stop to gardens designed by plantsman Piet Oudolf at the Hauser & Wirth art campus of Durslade Farm. 'It's extraordinary – no, exceptional – to see a building in quite another situation. Usually it's the building that stays in one place, and the landscape that changes around it,' said Radic at the time of its re-installation, as though he had seen a ghost.
The property developer Victor Hwang took Toyo Ito's 2002 geometric explosion off to the south of France, where it sits in the grounds of Le Beauvallon, a belle epoque chateau. 'It's a visual masterpiece,' said Hwang of the project which is now surrounded by parasol pines, and next to the sea. Not far away, the Irish hotelier and developer Paddy McKillen has found a space for Frank Gehry's equally explosive variant at Château La Coste, where it rubs shoulders with works by Tracey Emin, Richard Serra and Lee Ufan. 'When Frank saw it here, he was really moved,' said McKillen of the dip in the landscape where its placed. 'you can look down on it now, and get a real sense of its multiple perspectives.' Stephen Rea liked it so much, he staged a Bloomsday celebration in honour of James Joyce there.
Some remain in boxes, though not for long. The multi-coloured cellophane folly by the Catalan practice SelgasCano from 2015 will be installed in Los Angeles as soon as co-working brand Second Home has set up its space in the city. Bjarke Ingels' modular masterpiece from 2016 is to be reassembled, block by translucent fibreglass block, in Toronto by late summer. He's Danish and practises internationally. Anyway, who cares. Suffice to say, these pavilions are definitely proving to be architecture without borders.
INFORMATION
The Serpentine Pavilion designed by Sumayya Vally and Counterspace opens in June 2021
Receive our daily digest of inspiration, escapism and design stories from around the world direct to your inbox