Tree of thought: Francis Kéré reflects on his design for the Serpentine Pavilion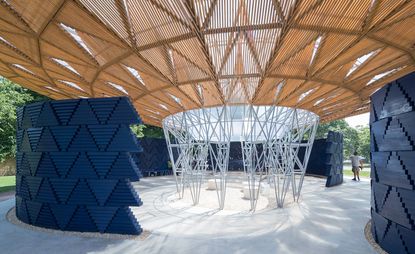 (Image credit: Iwan Baan.)
Designed by architect Diébédo Francis Kéré, the newly unveiled Serpentine Pavilion takes its public role at the heart of London very seriously. It is a community structure that is ecologically intelligent and aware of the impact that culture and architecture can play in shaping society.

Originally from Gando in Burkina Faso, Kéré returned there after training as an architect in Berlin, where he felt that his skills would be more useful. It was during this time while working on early, career defining buildings that he formed his practice, informed by the context of challenging weather conditions and a requirement for sustainable and hard-working materials. Yet it was also the culture of his community – the debates, the meetings and the stories – all social structures integral to village life that have informed his design for this year's Serpentine Pavilion.

'The concept is simple, I was inspired by the figure of the tree in the landscape,' he says, distilling the notion of the pavilion down to one of the most basic, yet central forms of shelter, and its function as a meeting point.

Supported by a light steel framed trunk, the structure has timber brise soleil eaves extending over like the canopy of a tree, creating a dappled light effect, while above, layers of clear polycarbonate panels shelter the internal space. The complex formation has been engineered to a minimum by AECOM, making the exposed materials appear weightless. Light permeates further through the four free-standing walls of timber modules. Independent from the roof, these walls leave a smoothly horizontal sightline that frames the surrounding green tree tops.
Kéré compares the indigo blue of the timber modules to textiles, and the colour holds a cultural relevance to him because in Burkina Faso, indigo shows your 'best side' and 'allows you to shine'. There is openness at every angle. Four entrances naturally open up between the indigo walls, allowing a flow of people into the pavilion. 'We wanted you to be connected to nature. As you enter the pavilion you will see the trees, if you go inside this void, inside this courtyard, you will have the connection to the sky and in time, I hope it will rain soon and you will feel safe and protected by the structure,' he says.

Just like his structures that are responsive and aware of climate in Burkina Faso, here in London Kéré pays the same respect to the British climate. When it rains, the water will flow from the polycarbonate roof, down into the central core where a waterfall will process water to be collected through drainage channels in the poured concrete. 'Water is a precious good,' he says. 'I wanted to celebrate it here, not just symbolically but for real, we are able to collect almost 9000 litres of water that will be used for the park. It is real.'

Kéré's strong community values run solidly through his architectural practice, as well as his design, to which strong female figures are central to. 'Without the women in Gando I would never be able to do the work that I'm doing. If you came to my home place and saw how these women are making a concrete floor, that becomes more than a concrete floor. If you see the energy that the women bring, which stays with me like one person, you would be greatly surprised', he says.

At the opening this week, Kéré paid tribute to Zaha Hadid, who inspired and initiated the Serpentine Pavilion programme in 2000 with the gallery's former co-director Julia Peyton-Jones, as well as Serpentine Galleries CEO Yana Peel and project manager Julie Burnell, and other inspiring women around him, including his daughter. 'It is an honour to have her here, to see her father in the middle of such a prestigious event, it makes me proud,' he said. And in return, London certainly feels proud to have an architect such as Kéré, who values community, the environment, and all the people around it.
INFORMATION
The Serpentine Pavilion (opens in new tab) 2017 is on view until 8 October 2017. For more information, visit the Serpentine Gallery website (opens in new tab)
Harriet Thorpe is a writer, journalist and editor covering architecture, design and culture, with particular interest in sustainability, 20th-century architecture and community. After studying History of Art at the School of Oriental and African Studies (SOAS) and Journalism at City University in London, she developed her interest in architecture working at Wallpaper* magazine and today contributes to Wallpaper*, The World of Interiors and Icon magazine, amongst other titles. She is author of The Sustainable City (2022, Hoxton Mini Press), a book about sustainable architecture in London, and the Modern Cambridge Map (2023, Blue Crow Media), a map of 20th-century architecture in Cambridge, the city where she grew up.