Vancouver exhibition celebrates mid-century architecture photographer Selwyn Pullan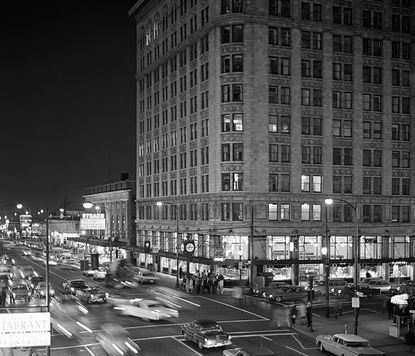 (Image credit: Photography: gift of Selwyn Pullan, West Vancouver Museum Collection)
The West Vancouver Museum's 'Selwyn Pullan: What's Lost' – their third exhibition of the work of Canada's answer to Julius Shulman in a decade – is as much about the loss of chemical photography as it is about Vancouver's vanishing architectural heritage.

Rather than merely digitally scanning the oeuvre of the celebrated photographer, who donated his archive to the museum before he died at age 95 last year, director Darrin Morrison and assistant curator Kiriko Watanabe have painstakingly worked with the original negatives to remove the blemishes of time and to replicate the colour and feel of the original prints.

'We didn't want to just document his work,' says Morrison of the photographer – a 'perfectionist' who took pride in printing his own images, 'but to celebrate his artistry'.

And so they have, in a thoughtfully-curated exhibition on until 14 July, that evokes a nostalgic sense of both absence and presence. Pullan's hand-built camera stands in for the man himself and welcomes visitors to the modest two-room gallery that has become a temporary shrine to the disappeared buildings of Vancouver.

The South side of the gallery offers some stunning black and white prints – many exhibited for the first time – that include the Birks building, an Edwardian treasure bulldozed in 1974 and replaced by a corporate tower. A 1957 image of the Thompson Berwick Pratt designed BC Electric Building (since residentialised, renamed the Electra and featured in the Architour section of the Wallpaper*City Guide Vancouver) called 'Downtown Vancouver', recalls a time when it served as a beacon for ships in the nearby port. Today it is dwarfed by towers.

The North side of the museum offers two fabulous colour prints of the now demolished Ritz Hotel that speak to Vancouver's mid-century age of glamour and elegance, while the back room offers mediations on loss that are simultaneously celebrations of heritage.

Pullan's warm and intimate photographs of now demolished homes by iconic West Coast architects like Arthur Erickson and Barry Downs, with their respective owners enjoying them at a time when the single family home was not a luxury, are countered by engaging portraits of architects and artists of the era.

An image of the lone survivor – the Campbell Residence photographed with its 1960 newly remodelled kitchen – defies the odds of current day, condo crazed Vancouver and dares us to ponder what's been lost.
INFORMATION
'Selwyn Pullan: What's Lost' runs at the West Vancouver Museum until the 14th July. For more information visit the museum's website (opens in new tab)