Renzo Piano's Academy Museum of Motion Pictures wins Wallpaper* Design Award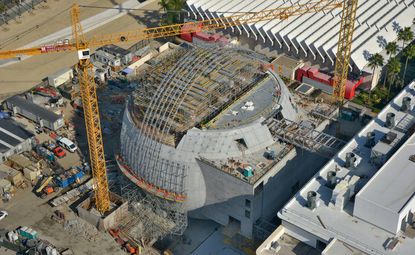 (Image credit: rpbw)
Architectural styles and approaches often mix freely on Los Angeles' sun-drenched boulevards, which are lined both with icons such as Frank Gehry's Walt Disney Concert Hall, and curiosities including the Chinese Theatre and Chateau Marmont. A case in point is Museum Row on Wilshire Boulevard: just past La Brea Tar Pits' life-sized models of mammoths come the psychedelic wavy steel ribbons of KPF's Petersen Automotive Museum, and the slanted skylights of Renzo Piano's Los Angeles County Museum of Art (LACMA).

The latest addition to this urban hodgepodge is a gigantic concrete sphere, also by Renzo Piano Building Workshop, now taking shape next to LACMA – a structure in progess that has scooped the Wallpaper* Design Award for Best Building Site. Set to open in late 2019, under the directorship of Kerry Brougher, the impressive volume – a state-of-the-art movie theatre – is part of the new Academy Museum of Motion Pictures.
Piano and his team, with executive architect Gensler, are also renovating an adjacent streamline Moderne building, formerly a May Company department store. Highlights of the Saban Building, as it will be known, include temporary galleries, set to open with a retrospective of Japanese animator Hayao Miyazaki; the Rolex Gallery, charting the evolution of filmmaking post second World War; and the Hurd Gallery, a 34ft-high project space that will initially host an interactive installation by TeamLab.
RELATED STORY
'The two buildings of the museum flirt,' says Piano. Glass bridges will connect the renovated historical structure to the new sphere, inside which a 1,000-seat theatre will show nitrate, 16mm, 35mm and 70mm films and laser projections. The total 300,000 sq ft complex, which will also feature a more intimate 288-seat theatre, a restaurant, a boutique and an education studio, is destined to be a hub for all manner of film-related activities.

Large glass panels will embrace the sphere's upper portion, and Piano's idea to light this 'lens' at night will conjure a giant eyeball looking skywards. The reason for the form, he says, is the film-going audience: 'In here, you sit with 999 other people, sharing the pleasure of the film and each other's presence. The enormous screen in front is slightly curved. If you simply extend that, you end up with an orb.'

Strategic slices into the orb create one of Piano's signature piazzas and, above, an open terrace that allows views of the Hollywood Hills. it's just the place to reflect on movie magic and this new pleasure dome's resonance within the LA landscape. §

As originally featured in the February 2018 issue of Wallpaper* (W*239)

See more from the Wallpaper* Design Awards here
INFORMATION
For more information, visit the Renzo Piano Building Workshop website