KPF transform the Petersen Automotive Museum in Los Angeles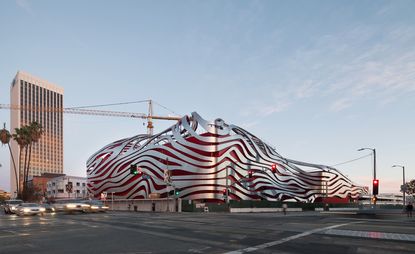 (Image credit: Chang Kim)
The newly re-vamped Petersen Automotive Museum along Wilshire Boulevard in the Miracle Mile neighborhood of Los Angeles, has residents and critics divided, but one thing is certain: It is a welcome addition to 'Museum Row,' which has sat at a standstill for several years.

The Academy of Motion Pictures — scheduled to open across the street in the old May Department Store building — has been progressing at a glacial pace. The Petersen — until recently — was closed for renovations. The Los Angeles County Museum of Art (or LACMA), meanwhile, has been in a state of flux about its future; with one urban planning strategy under consideration calling for the complete demolition of most of the museum's main campus, originally built 50 years ago by architect William Pereira. So the $90 million, Kohn Pederson Fox-designed overhaul of the Petersen Automotive Museum was a welcome injection of dramatic design and style.

The building resembles a shape shifting, if not lop-sided, contemporary American football stadium—or perhaps a structure out the Hunger Games—basking in post-modern, gladiatorial glory. The building's core, painted Hot Rod red, is wrapped in swirling metallic ribbons meant to evoke Robert E. Petersen's automotive magazine publishing past, and California's love affair with 'car culture' more generally.

Unlike many brand-specific automotive museums in Europe (Enzo Ferrari, Porsche, BMW), the Petersen's goal is to implement a broad stroke approach, one that will encapsulate every era of our relatively young car culture, with exhibits, some interactive, produced in conjunction with Disney and Microsoft, as well as private collections of automobiles from the around the world. 'Because of the diverse collection we could not be inspired by a specific brand of car,' says KPF's Trent Tesch, one of the principle architects on the project. 'Instead, we looked to themes; speed, motion, elegance, freedom, passion. We also took inspiration in car contour and the ways in which cars have been lovingly crafted; in fact, the shaping of the lines that make up the facade are abstracted car contours.'

Until recently, to most LA residents, the corner of Fairfax and Wilshire was emblematic of a pop culture nugget from the 90s more than its museum-heavy attractions: the intersection was the site of The Notorious B.I.G.'s, aka Biggie Smalls, murder in a still unsolved drive-by shooting (Smalls was, incidentally, leaving the Petersen Automotive Museum at the time).

The hope, of course, is that the Petersen will help turn the architectural page for Wilshire Boulevard, and lead the way in the renewal of Museum Row. Whether the Petersen becomes as iconic as the Frank Gehry-designed Disney Concert Hall or the more recent Broad Museum (both in downtown LA) remains to be seen.
INFORMATION
For more information on KPF visit the website (opens in new tab)
Photography: Chang Kim for KPF. Renderings: courtesy of Petersen Automotive Museum