Feilden Clegg Bradley unveils refresh of South Bank Centre's Queen Elizabeth Hall and Purcell Room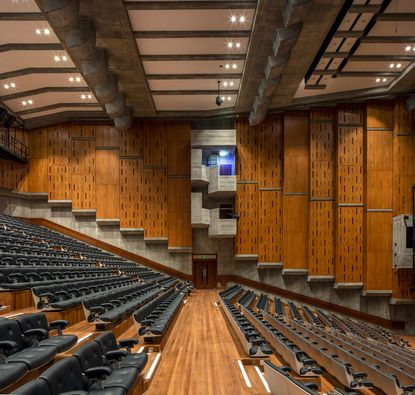 (Image credit: Feilden Clegg Bradley)
A brace of brutalist landmarks at London's South Bank Centre have been given an upgrade by Feilden Clegg Bradley Studios. The architects were tasked with improving the experience for performers and audiences at the Queen Elizabeth Hall and adjoining Purcell Room, both of which were designed by the Greater London Council. 'Our job was to strip them back to the original 1960s design, while adding modern equipment,' says FCBStudios architect Chris Allen.

Given the buildings' age, most of the £35m budget went on modernising their services. But there is a handful of architectural interventions that help make the two arts venues – and all their famous mushroom columns – sing again.

The QEH's foyer, which in recent years has become a venue in its own right, has been reconfigured with windows cut into one concrete wall, to let light in from the terrace. Archer Humphryes Architects, who were responsible for the foyer's interior design, have installed Ercol-designed butterfly chairs, Louis Weisdorf pendant lights, and tables and bar stools from Aram.

Meanwhile, the back-of-house artists' areas have been expanded. FCBStudios have taken a piece of dead space that was open to the elements, given it a glass roof, and reinvented it as an artists' break-out space. 'Previously, none of the back of house spaces had windows,' explains Allen.

Only regular visitors with beady eyes will spot the clean-up effort. That includes the restoration of the board-marked concrete, which is a signature material of much of the 17-acre arts complex; the cleaning and French-polishing of the auditoria's timber wall paneling – which suffered from tobacco staining – and the reupholstering of the auditoria's black leather and aluminium seating.

The reopening of these two venues follows on from FCBStudio's redesign of next door's Hayward Gallery, which is showing German photographer Andreas Gursky's vast images of modern life until 22 April.
INFORMATION
For more information visit the Feilden Clegg Bradley Studios website (opens in new tab)