Origami House folds into a narrow 3.6m plot in São Paulo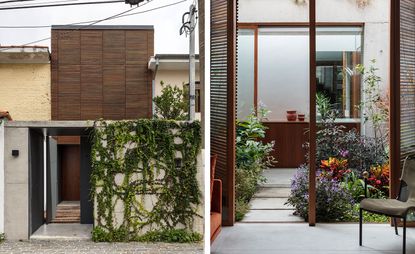 (Image credit: Leonardo Finotti)
As cities grow more populated and housing plot availability continues to diminish, architects are doing their part to make the most of occupied space. One such firm is Brazilian duo AR Architects, which has inserted a new volume above an existing concrete ground-level property in the São Paulo neighbourhood of Alto da Boa Vista.

Only 3.6m wide, the narrow Origami House sits in the middle of a block of residential homes. The clients, a photographer and PR couple, tapped the firm to intelligently maximise their dwelling space with an extension that respected the environment.
The end result is the insertion of a new penthouse volume above the ground-floor kitchen, which houses a bedroom and study in the loft. When formulating the extension, AR Architects say they looked east, to Switzerland, for design inspiration.

'At the time the project [was in motion], my partner Pablo had just returned from a trip in Switzerland, where he made a pilgrimage through the work of Peter Zumthor,' reveals firm co-founder Marina Acayaba. 'I think principally the building Shelters For Roman Archaeological Site was the most inspiring.'
Zumthor's influence can certainly be seen, particularly in the slatted peroba wood exterior façade that shrouds the home's new interior. When the timber screens unfold on the street-facing side, they reveal a set of lofty windows across the raised levels.

Beyond the kitchen, another set of peroba-clad panels folds outwards onto a dense courtyard garden. A pathway flanked by colourful Brazilian plant life leads to a new bathroom unit in the home's former guest room, with surfaces similarly finished in the rich Brazilian timber.

Up top, an exit in the study opens onto a rooftop terrace, creating new ways to experience both the garden and neighbourhood from above.
INFORMATION
For more information, visit the AR Architects website (opens in new tab)