Modernism Week 2017 honours Lautner, while a never-built Beadle comes to life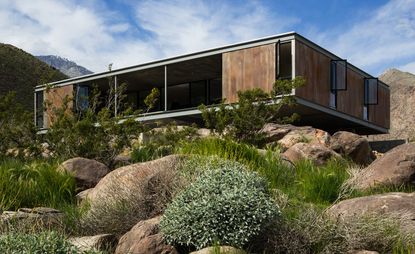 (Image credit: Jake Holt)
When Arthur Elrod selected John Lautner to design a house for him in Palm Springs in 1969, the interior designer had a simple set of instructions: 'Give me what you think I should have on this lot,' he told the architect. Lautner designed a four-bedroom, 8,801 sq ft home perched on a Palm Springs hillside, its open air, circular living room ideal for entertaining, and even for filming movies — a scene from the 1971 James Bond movie Diamonds Are Forever was shot there.

On 17 February, Lautner, who also designed the Bob Hope house in Palm Springs, was honoured as the 2017 Palm Springs Walk of Stars recipient as part of Modernism Week.

Modernism Week, the 11-day affair that celebrates the iconic mid-century architecture that fills the area, took place last month in Southern California, bringing a series of talks, screenings, architectural talks and more in the Coachella Valley. The week kicked off with a Bond-themed affair that celebrated the Elrod House.
Visitors could partake in the Signature Home Tour, a drive through some of the most key examples of desert modernist architecture. The documentary Harry Seidler – Modernist had its American premiere during Modernism Week, while Eero Saarinen: The Architect Who Saw The Future, by the famed architect's son Eric Saarinen, made its West Coast debut. The 17th annual Palm Springs Modernism Show & Sale, which coincided with the week, boasted 85 dealers selling furniture and wares from the 20th century.

The Christopher Kennedy Compound appointed the Andreas Hills home of social influencer Kelly Lee (aka 'Kelly Golightly') and her photographer husband, Fred Moser, as the Modernism Week Show House, dubbed Villa Golightly. Dressing a chic outdoor terrace for the space, interior designer Christopher Kennedy also recruited the likes of Natasha Minasian, who conceived a room covered in palm leaf wallpaper, and Rachel Cannon, who decorated a funky laundry room.
INFORMATION
For more information, visit the Modernism Week website (opens in new tab)