Misa Architects, India: Wallpaper* Architects' Directory 2023
Misa Architects from Ahmedabad, India, joins the Wallpaper* Architects' Directory 2023, our annual round-up of exciting emerging architecture studios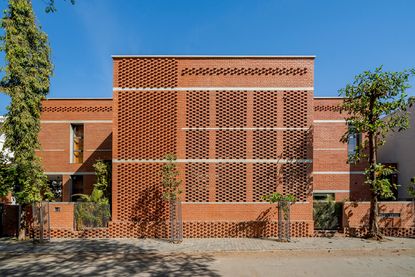 (Image credit: Inclined Studio)
Wallpaper* Newsletter
Receive our daily digest of inspiration, escapism and design stories from around the world direct to your inbox
Thank you for signing up to Wallpaper. You will receive a verification email shortly.
There was a problem. Please refresh the page and try again.
The Indian practice Misa Architects has joined the Wallpaper* Architects' Directory 2023, our annual list of exciting emerging practices from across the globe, with its latest completion, An Urban House.
Who: Misa Architects
Misa Architects is an architecture and design studio founded in 2015 in Ahmedabad, India, aiming to bring fresh perspectives to the contemporary Indian design scene. Its work strives to be 'culturally aware, environmentally responsible and creatively unbound'. Helmed by experienced architect Tarun Patel, who also teaches at CEPT University, the well-respected Architecture and Planning School in Ahmedabad, the team of 14 dynamic designers has worked extensively across Gujarat, Mumbai, Bangalore, and internationally in Dubai and Kenya.
Rooted in a love for India's rich cultural history that is 'interspersed with mythology, art, music and architecture', Misa Architects is on a quest to 'stimulate and stir the different senses', blending vernacular styles with sustainably minded touches that engage the user both emotionally and spiritually.
Bringing together an eclectic mix of designers passionate about sketching, painting, model-making, music and other mediums of expression, the practice engenders a culture of knowledge exchange allowing its work to push the boundaries of 'resilience, contextuality, adaptability, resourcefulness and application of local skills and materials'. By posing questions such as 'Can architecture give back – to the users, to the city and to the community at large?' and 'How can we translate timelessness in our work?' Misa Architects brings a welcome intentionality that weaves India's cultural heritage into its designs 'with respect, care and creative expression'.
What: An Urban House
Breaking away from the idea of an urban dwelling as a 'high, impermeable and seemingly invisible fortress', Misa Architects has made conscious design decisions that make An Urban House a 'lively, inviting and approachable home'. The design draws from an inside-out design approach, revolving around a central open courtyard. This sun-soaked patch is 'an epicentre for all communal uses, activities and even circulation.' Interior spaces embrace a 'minimal design language – employing a subtle, unpretentious material palette' embodying the studio's broader design mission towards translating timelessness.
Floating stairway treads add lightness to the circulation routes, while tall, punctured, 18in-thick cavity brick walls insulate and protect the home from heat and noise. The bedrooms on the upper levels are purposefully positioned to honour 'ancient Vastu wisdom that respects and responds to the sun and wind movement', harnessing natural light and ventilation throughout the day.
On the borders between public and private realms, intricately designed Indian stone motifs stimulate the users' senses, and sit-outs and small openings along compound walls offer moments of rest. An Urban House is Misa Architects' 'ode to the vernacular Indian architecture that invites community with its porous yet contemporary feel'.
Why: Wallpaper* Architects' Directory 2023
Conceived in 2000 as an international index of emerging architectural talent, the Wallpaper* Architects' Directory is our annual listing of promising practices from across the globe. While always championing the best and most promising young studios, over the years, the project has showcased inspiring work with an emphasis on the residential realm. Now including more than 500 alumni, the Architects' Directory is back for its 23rd edition. Join us as we launch this year's survey – 20 young studios from Australia, Brazil, Canada, Congo, Ecuador, Greece, Hong Kong, India, Italy, Japan, Lebanon, Mozambique, Pakistan, Senegal, Spain, Sweden, Switzerland, the UAE, the UK, the USA and Vietnam, with plenty of promise, ideas and exciting architecture.
Receive our daily digest of inspiration, escapism and design stories from around the world direct to your inbox
Nana Ama Owusu-Ansah is a writer and photographer from London. She first wrote for Wallpaper* in 2021, in a series on the new vanguard of African designers practising in Africa and its diaspora. She is drawn to projects centring on decolonial approaches to art, architecture, as well as community and sustainability. Nana Ama read Economics and Spanish at University of St Andrews, and, as an avid linguist, is passionate about using accessible language to invite new audiences to engage in design discourse.