From an urban cabin in Los Angeles to co-living in Shanghai, MINI Living investigates the future of dwelling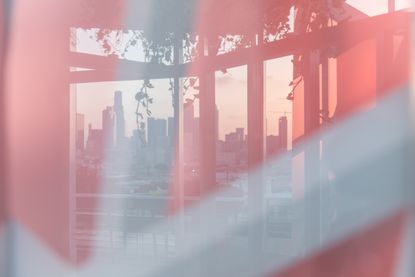 (Image credit: press)
The Los Angeles edition of the MINI Living Urban Cabin popped up on the roof of the ROW DTLA during LA Design Festival. Local architects FreelandBuck injected graphic patterns and exposed construction into the cabin design in a celebration of nature, outdoor living and that warm hazy LA light. Since popping up in London, NYC and Milan, and now LA, the Urban Cabin has collected a suite of ideas within its 15 sq m space which all feed MINI Living's major new co-living project in Shanghai, scheduled to complete in 2019.
The LA Urban Cabin follows the same archetype as the other cabins yet in each city, MINI Living work with a new architect to bring local knowledge of the urban context. FreelandBuck opened up a permeable courtyard space between two living areas where plants hang down from the roof and the sky is exposed through the timber frame wrapped with a bold graphic print: 'The translucent quality emphasises the kaleidoscopic nature of the light,' says architect David Freeland of FreelandBuck.
The design also speaks of the dynamic quality of living in Los Angeles. 'I've been in LA for 15 years and the landscape is constantly changing. The experience space is meant to refer to the construction of a house – the studs, the frame that makes it up – that's almost the most interesting moment of a house, before they put the outside on,' says Freeland.
FreelandBuck and MINI Living's Urban Cabin project in Los Angeles
FreelandBuck's graphic concept is based how a formation of cubes can create an idealised living space. 'Experimental work like this does make its way into our other projects at a larger scale. We're doing a number of single family homes now, some of which we are also the developer for, so we get to set the size and the programme. It's been an exploration into how more compact living might be an option and how appealing it might be. We are interested in what everyone has to say about it.'
The inhabitable spaces are designed by Corinna Natter, designer at MINI Living, who reveals a series of 'tricks' such as folding and modular elements like walls that can be rotated to open up and share with the world beyond the cabin and the view of LA's skyline. Or the bed that can be shifted so you can sleep beneath the stars, or the small holes in the walls that offer endless possibilties for hanging storage. The design allows for customisation and personalisation, while maintaining a minimalist, light and humourous approach to life.
The interior walls of the MINI Living Urban Cabin in LA
Oke Hauser, head of design at MINI Living, describes the Urban Cabins as 'test grounds for ideas' that always have a 'local specific' twist: 'We are not interested in copying and pasting. We keep the same mindset but the design will always adapt. All the projects bring a specific layer to the main project.'
The 'main project' refers to MINI Living's Shanghai building which is currently under construction. An old industrial paint factory is being renovated into a series of homes that vary in size and can be adapted with flexible walls. There will also be co-working spaces, communal areas, kitchens and places to hang out. Yet the homes will also have their own kitchens too of course. 'You should be able to decide how public or how private you want to be', says Natter. She's curious about how the design will help people to live and socialise: 'We want to bring people together – people who are already local with people who are arriving in cities.'
The design for MINI Living's Shanghai building scheduled to complete in 2019
'We wanted it to be more than just a residential building, but a public building that's connected to the city,' says Hauser. 'In China and Shanghai especially, there are a lot of walls – the shopping mall, the hotel lobbies – we want to bring something new to the city by opening up completely. We are building a big 'shelf' that is a window to the city — a four-storey high public space full of galleries and light. We want to contribute to Shanghai as a city and bring something fresh.'
The Urban Cabin will continue its journey collecting experiences and ideas, popping up next in Beijing to explore the form of the Hutong, and then it will travel to Tokyo for Design Art in October. Each city brings a complex context of its own – after all, explains Corinna, what is a small space in LA is a big space in Tokyo, where low rise and high rise take on totally different scales. Natter previously designed MINI's concept cars before working on the Urban Cabins, and previous to that studied psychology as well as design. 'You can have a home everywhere in the future, but feeling at home wherever you go, how do we achieve that?'
INFORMATION
For more information, visit the FreelandBuck website (opens in new tab) and the MINI Living website (opens in new tab)
Harriet Thorpe is a writer, journalist and editor covering architecture, design and culture, with particular interest in sustainability, 20th-century architecture and community. After studying History of Art at the School of Oriental and African Studies (SOAS) and Journalism at City University in London, she developed her interest in architecture working at Wallpaper* magazine and today contributes to Wallpaper*, The World of Interiors and Icon magazine, amongst other titles. She is author of The Sustainable City (2022, Hoxton Mini Press), a book about sustainable architecture in London, and the Modern Cambridge Map (2023, Blue Crow Media), a map of 20th-century architecture in Cambridge, the city where she grew up.