Bauhaus residence of entrepreneur Mati Broudo in Tel Aviv renovated by AN+ architects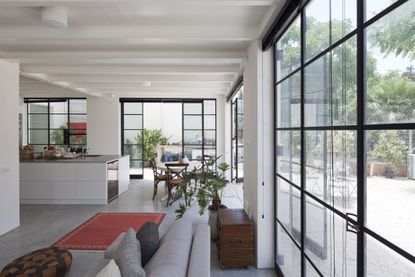 (Image credit: Aviad Bar Ness)
Tel Aviv's Bauhaus architecture has long been a draw for design devotees, who travel to the Israeli city to see the some 4,000 Bauhaus-style buildings that were built there from the 1930s onwards. Designed by German-Jewish architects who immigrated to the region to escape the Nazi regime, the white plaster apartment buildings have been attracting increased interest in recent decades – particularly since 2004, when Tel Aviv was declared by UNESCO a World Heritage Site and approximately 1200 buildings were listed for preservation.

'The city followed and established policies and categories of preservation in order to encourage their renovations, retrofits and extensions,' explains local architect Avital Gourary, who believes that the continued popularity of the Bauhaus buildings is down to their modest architectural language. 'What followed is that investors, developers, architects and designers took an integral part of what the city is going to become. It created many opportunities.
Gourary, who runs Tel Aviv firm AN + alongside architect Natanel Elfassy, recently restored a 1930s building in Neve Tzedek, one of the city's oldest districts. The 600 sq m property was snapped up ten years ago by Bauhaus enthusiast and hospitality entrepreneur Mati Broudo, who fell in love with the location. The renovation process saw the architects empty the centre of the building and carve it into three apartments and two studios.
Now it is the home of local hospitality entrepreneur Mati Broudo.
'We introduced a new stairwell, which was a major characteristic of the modern movement,' explains Gourary. 'It appears on the façade as a glazed wall that's nicknamed the "thermometer window". Our aim was to give back the stairwell its social and environmental importance that used to exist in the time these buildings were built.

'Thanks to a skylight above and the fact that it's open to the exterior on one side, the stairwell also functions as a patio. This light-flooded indoor/outdoor space connects the entrance, the apartments, the backyard, and the roof garden. 'The patio is the place where people meet, feel the breeze, and interact with the neighbours,' says Gourary.

Inside the apartments, the interiors are designed as open plan spaces that cleverly merge social and private spaces while providing a level of separation. For example, bedrooms are visually separated by sliding walls or split levels, but remain part of the living spaces.
The White City of Tel Aviv has been declared by UNESCO a World Heritage Site due to its large concentration of Bauhaus architecture.
Keen to retain the building's original character, the architects spent a great deal of energy mapping out the relationship between old and new. The outlines of the old structure's windows, for instance, are reproduced onto the new inner facades of the patio allowing views into the surrounding spaces, public or private.

'Our intention was to create the most intelligent design possible, not the most spectacular one,' explains Gourary. 'With the Broudo House we wanted to show that with small architectural intervention you can turn an existing building, into a new piece of architecture. Not because it will necessarily be more beautiful but because our act will clearly express an intention of turning the existing building into something new. That's what we called "Rethinking Bauhaus".'
Explore more Bauhaus coverage here
INFORMATION
For more information, visit the AN + website
Receive our daily digest of inspiration, escapism and design stories from around the world direct to your inbox