Houses of the Sundown Sea: The architectural vision of Harry Gesner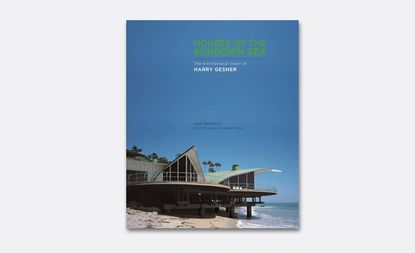 (Image credit: Juergen Nogai)
Wallpaper* Newsletter
Receive our daily digest of inspiration, escapism and design stories from around the world direct to your inbox
Thank you for signing up to Wallpaper. You will receive a verification email shortly.
There was a problem. Please refresh the page and try again.
Los Angeles natives refashion the world from one of two perspectives: that of the relentless romantic or the cynic. The title of 86-year-old architect Harry Gesner's first monograph establishes him firmly in the former group.

Gesner, who is still working (and surfing) today, represents one of the most glamorous stories of the schismatic strain of Modernism that has quietly studded the state of California with masterpieces by the likes of contemporaries John Lautner and Mickey Muennig.

The monograph's admiring and lightly gossipy text by Lisa Germany depicts a maverick mind and a thoroughly heterodox 60-year oeuvre. Though Abrams' prosaic design of the book, itself, in no way reflects the originality of Gesner's work, it includes drawings and plans and new and archival imagery that elucidate the architect's rich structural, formal and material creativity.

Before he started his own practice at 25, Gesner's architectural education consisted of soldier's-eye views of WWII European architecture, a class audited at Yale where he turned down an invitation from Frank Lloyd Wright to visit Taliesen, and a year-long construction apprenticeship.

His second house declared his heresy: made from energy-efficient, quake-resistant, unplastered adobe brick, the façade rose, at a 30-degree angle to form toothy clerestory windows and a cantilevering, triangular fireplace. His break came in 1959 with one of the west coast's first A-frame houses featuring a black concrete floor inlaid with semiprecious minerals.

Many of Gesner's clients sought him out because he could build on limited budgets and 'unbuildable' sites, and because that impossibility - and the views - shaped what he built. He made houses that hang like a bridge between canyon walls; 'hang 10' over the lip of a cliff; or that could only be reached by funiculars. They are scaled like fish or rigged by Norwegian shipbuilders; he sketched his Wave house in grease pencil from beyond the surf line on a 12-foot balsa board.

Gesner's living and dining rooms were sunken, his kitchens and wet bars were raised, his staircases spiraled. Fireplaces, like his early pools, floor plans, windows and decks were often triangular; only mid-career did he 'discover roundness'.

From the 1970s onward, the patchwork combinations of (laudably upcycled) materials suggests that Gesner lost control of the teeming and eclectic ideas that he packaged with such coherence early on. Nonetheless, Gesner's work begs the question: Why hasn't unorthodox architecture gone forth and multiplied?

Receive our daily digest of inspiration, escapism and design stories from around the world direct to your inbox