Curved space: Eppich House, Arthur Erickson's mindbending modernist treasure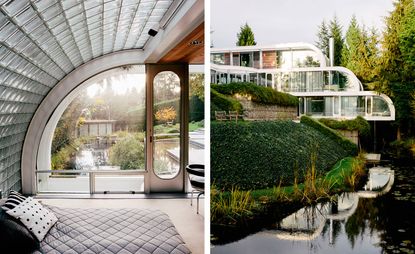 (Image credit: Grant Harder)
On the ride up the mountain to West Vancouver's colonially monikered neighbourhood of British Properties, we cross paths with a flatbed truck carrying an uprooted fir tree down to the city below. It is not a happy sight, but our spirits are soon lifted.

The drive to the Arthur Erickson-designed Eppich House, created with his long-time collaborator Nick Milkovich, reveals a jewel of a residence that is both time capsule and design beacon. The house is a modernist classic, built for a steel manufacturer and his family, but it is far removed from its more rectilinear relations, such as Mies van der Rohe's Farnsworth House. Its curvilinear lines and response to the site are much more Frank Lloyd Wright than Mies – a late 1970s equivalent to Fallingwater that took a decade to complete, with owner Hugo Eppich acting as general contractor.

Everything inside the house, including the curved steel furniture, was custom-designed by Erickson and his partner Francisco Kripacz, and manufactured by Eppich's Ebco Industries. 'Steel is different in nature than concrete,' said the late Erickson of the house. 'It's a malleable material, like plastic. I wanted to show its plasticity by taking I-beams and curving them.' But more than anything, this house is a device to bring the outside in. Chrome-plated, polished steel columns, extensive glazing and water elements reflect and refract the surrounding greenery, creating a translucent residential cocoon.

So it is with genuine emotion that Milkovich responds to the chopping down of the fir grove at the house's entrance by view-hungry neighbours. 'Butchers!' he says. 'Look what they have done.' Tree removal aside, the site and the house remain exquisite, lovingly kept up by Eppich, who likens its maintenance to that of a fine automobile. The scenario speaks to a time when there was much more mountainside to design on, before arriviste monster homes made the Eppich House's 6,000 sq ft on a 1.3-acre plot appear modest by comparison.

'We bought a flat a few years ago, thinking it would be a more practical living arrangement,' says the octogenarian Eppich. 'But my wife and I just couldn't leave this place. It's too beautiful.' It is also home to visiting eagles, raccoons and bears, enticed by the babbling brook on its edges, as well as a variety of wildfowl that enjoy the landscape design by Cornelia Oberlander and the large lily pond. The architectural beauty rivals yet never competes with the natural splendour, embracing and revealing it thanks to intuitive reading of the grounds. 'Arthur spent a lot of time on the site- mapping,' says Milkovich, who worked with Erickson for four decades and designed the new guest pavilion at the foot of the property a few years ago.
Milkovich remembers Erickson's first visit to the site in 1979; he walked around it for an hour, then sketched a series of curved levels that cascade down the land like a frozen waterfall. At a meeting with the architect, Eppich's wife, Brigitte, expressed a desire to be able to 'see the children playing even when I am ironing'. This pragmatic request resulted in an inspired glass façade, which draws the eye towards a central platform and pool area. 'Being from Europe,' says Milkovich of the Yugoslavia-born Eppich, 'Hugo didn't want a wooden house, but rather something more solid that was "built to last".'

To help the house meld with the environment, Erickson used reflective surfaces tempered by custom-made stainless steel with dichromate finish, which appears wood-like from a distance, as well as bedrock from the site. Interiors feature a neutral palette of hemlock ceiling – evoking a forest canopy – and earthy lithographic limestone that doubles as a screen for natural projections. The inside-outside effect is magical.

A walk through the steel entrance canopy reveals a living-dining 'great room' that opens onto the forested site, pond and beyond to views of Burrard Inlet. A curved wall of glass blocks on the eastern edge extends to the upper master bedroom, providing light and reflections of greenery, as well as privacy. Everywhere you look, the views of surrounding trees and water conflate interior and exterior. At one point, a geranium planter in the living area – framed by a steel ovaloid that could be a mirror or a portal to another dimension – appears to be outdoors.

The family room opens onto the infinity pool, which further blurs boundaries. Walking through the house is to experience shape-shifting architectural choreographies and ever-changing framed views of the surrounding environment. Erickson always spoke about the importance of light in the house. He used water and polished chrome-plated steel columns to bring the sun into the ground plane; 'they directly reflect the sky', he said. And even on sombre winter days, when all the surfaces are dark, 'that sky is light'.

Eppich's favourite view of the house is from the south end of the grounds, looking up at his home and its reflection in the pond. He spent so much time there that eventually he commissioned Milkovich to build a guest pavilion and viewing platform. With a frameless glass balcony disappearing into the forest, the guest house, says the architect, joins the circular slices of entranceway and pool canopies of the original home into a single whole. At dusk, the view upwards offers a magical double vision of a lantern house, both illuminating and emulating the British Columbian landscape.

As originally featured in the April 2017 issue of Wallpaper* (W*217)
INFORMATION
For more information, visit the Arthur Erickson website (opens in new tab) and the Milkovich Architects website (opens in new tab)