Standing ovation: Herzog & de Meuron's Elbphilharmonie opens in Hamburg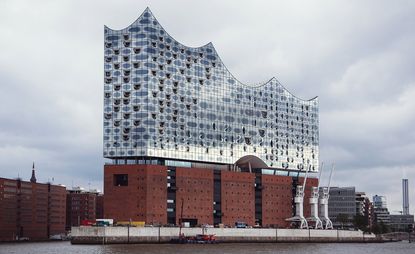 (Image credit: Sophie Wolter)
Hamburg's industrial waterfront has experienced extraordinary changes over the last century and a half, and no building better represents this than Herzog & de Meuron's new Elbphilharmonie concert hall, which opened this week.

The multi-use structure is built on the site of the Kaiserspeicher, an 1875 neo-gothic warehouse that stood for years as the city's most famous landmark. Almost completely destroyed in the Second World War, it was re-imagined in 1966 as the red brick Kaispeicher A, storing cocoa, tea and tobacco. Now the centrepiece of the HafenCity district, one of Europe's most ambitious development areas, the building has been reborn for the third time as a facility containing not just three concert halls, but a hotel, apartments and public plaza.

Kaispecher A itself now contains a car park, spa facilities, restaurants, conference rooms and a 170-seat auditorium. Above that, hovering above a 4,000 sq m plaza with views around the city through vault-shaped openings, is the addition, accessible via an arched, 82m-long escalator.
The Elbphilharmonie shimmers as Hamburg's contemporary symbol, its crystalline facade consisting of 1,100 mirrored glass panes, marked with grey reflective dots. The panes' curvatures shift depending on their location, ranging from horseshoe-shaped recesses to fish gill-like hatches. Its tent-like roof, fitted with sparkling sequins, is made up of eight concave sections, curving with peaks and valleys like a mountain range. This profile is meant, says Herzog & de Meuron, to contrast with the horizontality of Hamburg, 'as an expression of reaching out into new territory'.

Inside the 2,100-seat Grand Hall, accessible via lofty, layered foyers cut into the building's heart, is the complex's centerpiece. Consisting of a series of steeply-inclined tiers, radiating on all sides from the central orchestra like sections of a hilltop vineyard, it is clad with a system called the 'White Skin', consisting of 10,000 carefully milled gypsum fibre panels made up of plaster and recycled paper. Other facilities in the new hall include a 550-seat recital hall, a 250-room hotel, and 45 private apartments.

Around it, the HafenCity continues to come to life, with renovations progressing in the Elbphilharmonie's historic warehouse district along with futuristic new museums, offices and housing. Times have certainly changed, but the Elbphilharmonie has managed to make itself the centre of things once again.
INFORMATION
For more information, visit the Herzog & de Meuron website (opens in new tab).