Venice beyond La Biennale: the ultimate 21st century international village
We tour Venice with architect, researcher and curator Federica Sofia Zambeletti, who shows us around Italy's precious lagoon city – just in time for the launch of the Venice Architecture Biennale 2023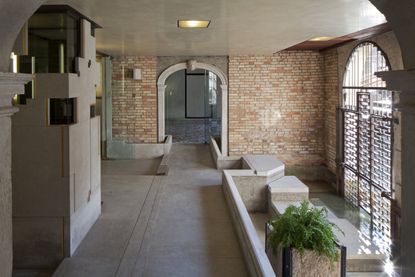 (Image credit: Querini Stampaglia)
Venice is an urban oxymoron, a 21st-century international village, caught in-between its dual identity as a mecca for the global cultural crowd (hello, Venice Architecture Biennale 2023) and home to a permanent population of locals. Venice sits at the centre of the contemporary cultural stage thanks to a legacy of institutions in the field – historic and new, public and private – and continues to attract both investors and worldwide attention. As a result, two major art Institutions, the Anish Kapoor Foundation and the Berggruen Institute, are getting new homes there, while David Chipperfield Architects just completed a renovation of the historical Procuratie Vecchie landmark.
At the same time, the historical island of Venice is home to some 50,000 citizens who inhabit a mesmerising yet fragile reality. This is its smallest population ever and still shrinking – the result of an intricate dynamic of economic, social and political factors, which highlights the importance of preserving this piece of global heritage and its communities. To experience the city like a true Venetian, we have rounded up a series of local offerings beyond the beaten track of the Biennale circuits, providing a glimpse into the past, present, and future of the precious lagoon city.
A cultural tour of Venice
---
Barbati Gallery
Located within the 15th-century Palazzo Lezze-Michiel (in a renovation by UNA/FWR Associati), a few steps from the Gallerie dell'Accademia, Barbati Gallery exhibits both prominent contemporary artists and emerging talents. Developed by gallerist Michele Barbati, the varied programme of year-round exhibitions and projects is a breath of fresh air within the Venetian gallery scene for its sense of experimentation and sharp eye towards the future, and has to date shown works by artists Kelly Akashi (USA), Phumelele Tshabalala (South Africa) and Riccardo Muratori (Italy). Particularly noteworthy is the Genius Loci programme, in which the gallery supports local cultural activity by showcasing works of contemporary artists from the city.
Giorgio Mastinu Fine Art
A favourite of both local and international creatives, Giorgio Mastinu Fine Art occupies two small spaces tucked away in Calle Crosera and Salizzada San Samuele. A short stroll from Palazzo Grassi and a Spritz away from celebrated restaurant Bacaro Fiore (make sure to order this the proper Venetian way with Select aperitif), the space exhibits and sells works that range from fine prints by local creatives and limited editions by established professionals such as Enzo Mari and Superstudio, to contemporary pieces by renowned designers including Pierre Charpin, Nathalie Du Pasquier and the Bouroullecs. The perfect spot for a souvenir from the city.
Venice Venice
Creativity is all around you within this recently opened hotel whose modern and contemporary art and design collection is perfectly juxtaposed with its immaculately preserved 13th-century Byzantine-style setting of Palazzo Ca' da Mosto. Guests staying in one of the self-proclaimed 'post-Venetian' rooms here are surrounded by works of renowned artists, architects and designers, including Jannis Kounellis, Hanne Darboven, Roni Stretch, Enzo Mari, and Superstudio. There is also a standout, luxurious spa on offer. Beyond stays, the hotel is a great destination for a coffee, drink or meal within the flexible ground floor area, which pours out onto the Grand Canal, offering an incredible view of the Rialto Bridge.
Il Mercante
A few steps from the Basilica dei Frari and Titian's Assunta masterpiece, Il Mercante is a gem of a cocktail bar located inside an 1870s historical Venetian café. Forget the hordes of tourists and the classic Spritz, and venture towards a different experience and innovative flavours, as offered by the resident bartenders' take on the classic espresso martini (N2ospresso Martini). More masterful delights include the Belisandra Maravegia. Complete your 'aperitivo' with a few classic chicchetti and you could keep going into the night; or treat yourself to a refined dinner at nearby restaurant Wisteria.
Zanze XVI
Serving dishes that are inspired by Venetian culinary traditions and exclusively made with locally sourced ingredients, the experience at the Michelin-starred restaurant Zanze XVI could not be more inspiring and grounded in the territory of the lagoon. Indulge in either the five-course 'Taste of Venice' or seven-course 'Anima' tasting menu for a complete culinary journey or choose a selection of dishes from their à la carte selection, but make sure to try the 'cassopipa in latta'. Whatever you choose, you will finish your meal immensely satisfied and with a smile, ready to continue with the Venetian sightseeing or get a great night's rest.
Sangueblu
Beyond the high-end flagship stores that line Salizada San Moisè, Sangueblu offers a more sustainable alternative. As a constantly updated archive of second-hand and vintage garments, the shop boasts one-of-a-kind Moschino pieces, Issey Miyake classics, and collectable Yves Saint Laurent and Gianni Versace items. Priding itself in its inclusivity, Sangueblue sells 'clothing for people', as the brand writes.
Venissa
Whether it's because you want to escape the Venetian crowds or simply seek to experience a diverse side of the lagoon, a trip to Venissa is a fascinating detour. Situated on the island of Mazzorbo, a 40-minute taxi ride from San Marco, Venissa is a project of viticultural rejuvenation and sustainable hospitality that unfolds as both a hotel, a one-star Michelin restaurant and a vineyard. Spend the morning roaming around the nearby glass-blowing industry on the island of Murano and then take a seat for either a more informal, relaxed lunch at the Osteria Contemporanea, or a Michelin-star treat at Venissa restaurant, whilst sipping a glass of one of their exclusive, locally bottled white wines.
Fondazione Querini Stampalia
Carlo Scarpa's intervention at the Fondazione Querini Stampalia is emblematic of La Serenissima's century-long efforts to preserve the fragile equilibrium between architecture and water. The 1960s renovation, by the renowned Venetian architect, positions water as the ultimate protagonist in the architectural composition, as it flows through a carefully choreographed labyrinth of lines, forms, and materials, from the canal to the garden. Beyond this modernist gem, the upper floors of the Fondazione, which unfold as a historical house and museum, are home to masterpieces by Giovanni Bellini, Canaletto, Domenico Tintoretto and Giovanni Battista Tiepolo. Want to indulge in more of Scarpa's works throughout the city? Make sure not to miss our Carlo Scarpa tour of Venice.
Ocean Space by TBA21–Academy
Ocean Space by research centre TBA21–Academy, not only re-integrated the remarkable but neglected Church of San Lorenzo into the Venetian cultural framework after more than 100 years (which alone would have put the site on our list) but it is also a remarkable advocacy project for ocean imagination and action. Through critical research and a rich selection of exhibitions and public programmes, TBA21–Academy skilfully deploys the arts to raise awareness about our oceans and the role they play within the Earth's ecosystem. Whether it's to admire the 16th-century church or expand one's planetary knowledge, the space is worth a visit (open from spring to autumn).
St Regis Venice
The recently refreshed St Regis Venice may not be a work by the great master himself, but its interiors draw heavily on the legacy of Carlo Scarpa. Set on the banks of the Grand Canal, the 169-room luxurious hotel features a design approach that reflects Scarpa's architecture, such as his material palette, which includes polished concrete ceilings and the geometric panelling. The hotel's Arts Bar even offers a cocktail inspired by the architect, served in a glass that mimics the interlocking circle motif seen at Tomba Brion. Meanwhile, executive chef Giuseppe Ricci prepares immersive market-to-table dining experiences at the restaurant, taking visitors on a tour of Italian cuisine using local ingredients.
Federica Sofia Zambeletti is an architect, researcher, and curator whose interests lie at the intersection between art, architecture, and sustainability. Federica is the founder and creative director of KoozArch, a research studio and digital magazine exploring architecture and design beyond their built form. Parallel to her work at KoozArch, Federica is architect at the architecture studio UNA and a researcher at the non-profit agency for change UNLESS, where she is project manager of the research on 'Antarctic Resolution'.
With contributions from