David Chipperfield Architects launches Shanghai's West Bund Museum
The Pompidou Centre opens its first overseas outpost at Shanghai's West Bund Museum, a redesign of three connecting volumes decked in opalescent recycled glass by David Chipperfield Architects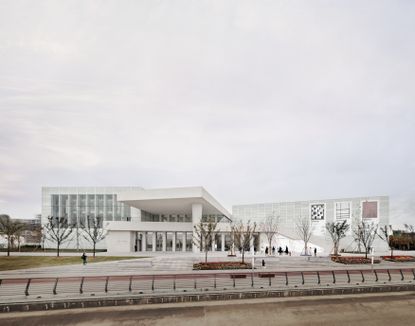 (Image credit: Simon Menges)
Designed by David Chipperfield Architects, Shanghai's West Bund Museum, which houses the Pompidou Centre's first overseas branch, is part of the city's master plan to see a nearly-nine-square-kilometre piece of industrial land transformed into one of Asia's prime cultural districts by the end of next year. It is also the practice's seventh completed project in China since it opened a representative office in the city in 2005.

Situated on the Shanghai Corniche, which enjoys an uninterrupted shoreline of nearly 11.5km, the new West Bund district will see 20 cultural and art institutions along the stretch. Among them are Sou Fujimoto's Yuz Museum, Sharon Johnston and Mark Lee's Shanghai Center of Photography, the Long Museum by local firm Atelier Deshaus and Tank Shanghai by Open Architecture. The West Bund Museum, the latest-comer, sits on a triangular plot on the northern edge of a new public park where Longteng Avenue and the Huangpu River converge.
The architects were given a fairly generic brief for the museum when the project was commissioned in 2013, and the idea of the three independent yet interlocking volumes came from the possibility that there would be multiple users for its 22,000sqm of exhibition and event spaces. The Centre Pompidou x West Bund Museum Project, as it is known, is part of a Sino-French cultural collaboration to import curated exhibitions from the French institution to the museum for the next five years, although the ambitious scheme was confirmed only when the building was almost built. Alexander Schwarz, design lead of the project recalls: 'Pompidou could have lived with some other arrangement. When they came in, we did some reinterpretation of what was already built.'

Traditionally, a museum is built because there is a collection to house. 'It's quite easy to build a good museum around a good collection. You just make sure the artworks look good and you create the optimum encounter between the visitors and the art,' he says. 'The West Bund Museum was the opposite – the content came afterwards. It's almost as though you abstract architectural scenes and develop them in a way that could work for other uses as well. But in the end, it's all about good spaces and good light.'
RELATED STORY
The three volumes set around a central lobby with a double-height atrium – each 17m high and sited over two storeys – are covered in opalescent recycled glass. The upper levels are given to gallery space while the lower levels are multifunctional and include art studios, education spaces, a bookshop and a café. The atrium roof cantilevers beyond the building towards the river and road; it also features a huge, supporting column that draws the eye to the entrances.

Schwarz says: 'There is another aspect to this building, which is its publicness. The foyer spaces are highly accessible and their views to the city are something that won't change. And I think the architecture can rely on this. And whatever people do here, or the content they create, will be put in the context of this extraordinary setting.'

The unique economic and social environment in China certainly inspires new ways of thinking and designing. 'When the museum was being built, it was expected all to be clad. But this experience with refitting the building has allowed us to experiment on the possibilities of the concrete structure with daylight. Everything in China happens quite organically and it's almost like dealing with nature. You need to find alternative strategies in order to work there,' he says.
INFORMATION
davidchipperfield.com (opens in new tab)
Yoko Choy is the China editor at Wallpaper* magazine, where she has contributed for over a decade. Her work has also been featured in numerous Chinese and international publications. As a creative and communications consultant, Yoko has worked with renowned institutions such as Art Basel and Beijing Design Week, as well as brands such as Hermès and Assouline. With dual bases in Hong Kong and Amsterdam, Yoko is an active participant in design awards judging panels and conferences, where she shares her mission of promoting cross-cultural exchange and translating insights from both the Eastern and Western worlds into a common creative language. Yoko is currently working on several exciting projects, including a sustainable lifestyle concept and a book on Chinese contemporary design.