Beyond buildings: the expanded vision of the 2019 Chicago Architecture Biennial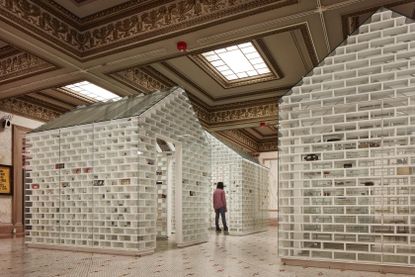 (Image credit: Kendall McCaugherty)
The title of this year's Chicago Architecture Biennial (CAB) '…and other such stories', seems like a riposte to that of the previous installment, 'Make New History'. In some ways it's more than that – almost a riposte to architecture itself, to the degree that artistic director Yesomi Umolu felt compelled to note, at the opening panel in September, that she was 'not against architecture'. Just the same, the show's focus is definitely expanded, with its 80 plus contributors taking on pressing social issues like climate change, inequality and race.

A signal contribution is the Settler Colonial City Project and American Indian Center's 'Decolonizing the Chicago Cultural Center', a series of glass panels installed in various locations throughout the historic building that has been the Biennial's primary venue since its 2015 debut. The placards bear messages about the history of the Center itself, pointing out for example that its exquisite Tiffany ceilings 'legitimise the displacement… of Native Americans', owing to the glass company's appropriation of Sioux and Navajo motifs.
Likewise a contribution from Native American artist Santiago X, titled 'Hayo Tikba (The Fire Inside)', which features a full-size hut-like dwelling topped by a digitally-projected flame. According to the artist's statement, the piece 'alludes to loss and renewal [and] indigenous people's resilience', though as with the text panels it seems less an allusion than a direct indexical gesture – a pointed reminder, in case anyone had forgotten, of the way the West was won.

If the show wears its didacticism very much on its sleeve, there are still instances where its lessons are conveyed via original architectural expression. 'I think of it as like making space for conversation', says Oscar Tuazon: the artist's 'Great Lakes Water School' is a simple modular-ish construction that serves as a mobile, adaptable learning and event space aimed at starting community dialogues around local ecology.
RELATED STORY
Only steps away is another full-size structure, 'Re-Rooting + Redux': a project of Chicago-based advocacy-and-design group the Sweetwater Foundation, the piece a simple assemblage of wood and bolts of a type that its creators are actually building to help serve under-privileged arounds around the city. According to the Sweetwater Foundation's Emmanuel Pratt, the team's strategy is akin to 'urban acupuncture'.
An expanded vision of the practice of architecture seems like a noble goal – though this CAB is often most effective when it puts buildings front and centre
As in CAB's past, this year's edition also included events and presentations outside the confines of the Cultural Center. One such locale was the now-decommissioned Overton Elementary School on the city's South Side, a stunning 1962 modernist design from architects Perkins + Will whose ghostly halls were filled with the eerie bumps and clangs of Zorka Wollny's sound work 'Overtone Hive'. A few miles away, at the site of what is planned to be the future National Public Housing Museum, South Africa's Keleketla! Library and a group of collaborators debuted another sound piece, 'Listed', a self-generating work created by the record voices of the visitors themselves as they clamber across a wooden gangway beside an eerily-abandoned housing project.

Whether onsite or off, the commitment to what co-curator Paulo Tavares called 'an expanded vision of the practice of architecture' seems like a noble goal – though this CAB is often most effective when it puts buildings front and centre. MASS Design Group's National Gun Violence Memorial, a simple assemblage of gabled glass boxes containing personal memorabilia from shooting victims, seems like the kind of project that really could start a movement. Sometimes architects just have to do architecture.
INFORMATION
chicagoarchitecturebiennial.org (opens in new tab)