Carlo Brandelli's modernist hillside retreat in Emilia-Romagna preserves the spirit of the 1970s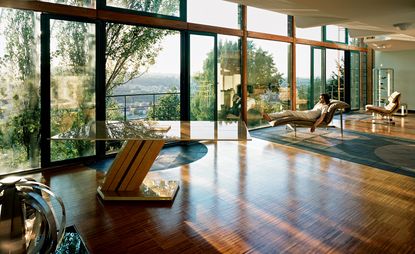 (Image credit: Ben Dunbar-Brunton)
There's no better place for a creative mind to contemplate his next move than in the glorious hills of Emilia-Romagna in summertime, watching the sun arc its way round one's house, throwing a medieval castle and mountain peaks into silhouette as it sets. This is how fashion designer and creative director Carlo Brandelli has been living for the past few months since his departure from Savile Row tailors Kilgour; and his modernist house is a splendid place in which to thrash out ideas for his soon-to-be-launched new brand, as well as providing respite from the merry-go-round of fashion shows that make up the Paris, Milan, New York triangle at which Brandelli is a fixture.

And while you can take the boy out of the village, you can't take the village out of the boy. Brandelli spent much of his childhood in the region, which is defined by crop-covered hillsides and traffic-hostile medieval villages topped off with castles. He was born in London, but here is where his heart is, and it was in these villages that Brandelli learned his trade. 'My uncle was a shoemaker, one of my aunts make bespoke jackets, another makes trousers and my father trained as a shoemaker and made leather goods before working in the casino and restaurant trade in London,' he says. It is his Italian panache, love of fashion and instinctive knowledge of sharp tailoring that has won him a worldwide following.

Dashing and well dressed, he cuts the classic bella figura, so it's surprising to learn that, when not working, he likes nothing better than wandering round the local vineyards, chatting to the contadini about the trials of winemaking. His other favourite pursuits include visiting a 1960s lido with his two children and tending to his fruit trees. And if all this is sounding a bit Under the Tuscan Sun, his kick-ass 1970s home serves as a reminder that its owner is also a sybaritic city dweller who is famous for twisting tradition into something modern.
Brandelli's place is not hard to spot amid the neighbouring farmhouses and rustic villas. By day it looks like a mysterious red-brick bunker; the sun bounces off the glass façade and throws light into the valley, lending it the nickname of 'the TV house'. It has a Bauhaus, box-like exterior, while inside a touch of Memphis has been thrown in. It was built in 1974, for an airline pilot, by a company called Collettivo di Architettura from near Milan. 'My wife, Charlotte, and I started looking for a place about two years ago,' says Brandelli. 'The idea was to get a ruin or a plot of land on which to build something modernist, but as soon as we saw this place it was a no-brainer.' Brandelli loves acting on impulse.

Professionally, having had no formal training, he works intuitively and across disciplines, weaving between fashion, interiors and design. In the house, he flits from room to room at racing-car speed, spouting the names of artists he admires and designers he likes, cooing over his favourite architectural elements, criticising those in fashion 'who roll things out just for the sake of it' and reciting family anecdotes: 'Brandelli means "silk rags" in Italian, and my grandfather was abandoned on the local priest's doorstep. We are all buried in the family catacomb.'

Post Kilgour, he has had space to breathe, he says, and tons of new ideas and job offers have been rolling in. He hopes to launch his own label in autumn 2010. It won't be seasonal or bespoke, but it will consist of products as well as accessories and clothes. And it won't be a store like Squire, which he set up in Mayfair in the early 1990s (see W*1), but will instead be a studio-as-store. The brand will encompass all Brandelli's trademarks: a focus on the high end, the limited edition, immaculate quality and originality. 'There are lots of things I want to create that have nothing to do with fashion,' he says. Such as? 'Interiors. Collaborating with artists and industrial designers. Making my own wine. I have already designed the corks and labels,' he laughs.
From the original glass bricks in the kitchen to the inbuilt vacuum cleaner 'suction system', the house emanates the spirit of the 1970s. A central staircase links what is in effect two cubes: the two upper floors make up the double-height living areas, bedrooms and bathrooms; while the ground level accommodates utilities, a wine cellar, a room for storing cheese and salami, and a studio is imminent.

He is keen to neither add nor remove anything. 'I have never understood why people knock things down and rebuild them. It's more interesting to work with what there is already, and I want to do something that you can't reference – something new.' This is a challenge, even for someone with his background. 'There are moments when I think I have reached a point where I don't know where to go with the house,' he confesses. 'I'm totally Italian in the way I approach design; I have the vision, create the colour palette, visualise the pieces, then feel I don't actually need to execute it.'

Yet he has made progress and the house has a substantial smattering of furniture – a Willy Rizzo table here, a Gaetano Missaglia 'Gyroscope' lamp there, and lots by Saporiti. In the 1980s, Saporiti was where B&B Italia and Cassina are today, dominating the top end of the market. 'An old friend of my father's has a warehouse full of it and he let me have a rummage,' says Brandelli, whose eyes light up at the prospect of giving the once glamorous brand a makeover.

Meanwhile, there's gardening to be done and designs to be worked on. And he has finally found himself a small vineyard, 950 sq m, with limited production. Regardless of what the wine tastes like, you can rest assured that the bottles are going to look good.

As originally featured in the October 2009 issue of Wallpaper* (W*127)
INFORMATION
For more information, visit Carlo Brandelli's website (opens in new tab)
Emma O'Kelly is a contributing editor at Wallpaper*. She joined the magazine on issue 4 as news editor and since since then has worked in full and part time roles across many editorial departments. She is a freelance journalist based in London and works for a range of titles from Condé Nast Traveller to The Telegraph. She is currently working on a book about Scandinavian sauna culture and is renovating a mid century house in the Italian Lakes.