Architects Directory 2020: Naso, Mexico
José Ignacio Vargas Mier y Terán, who founded this young practice in 2018, brings together experience at Ricardo Legoretta, Tatiana Bilbao, Max von Werz, Carlos Zedillo and FRAMA Copenhagen, as well as studies in Mexico and the UK. The Mexican architect's approach is multidisciplinary and research-based. His breakthrough project, Casa Martha, is a concrete and earth block structure in rural Mexico, created to replace an existing one on site, which was damaged by the country's 2017 earthquake. Occupied by an elderly couple and their adult children, the house was conceived as an easy-to-access, simple building that allows for intergenerational living. The project was part of an initiative led by Mexican organisation ReConstruir México. As well as practicing, Vargas Mier y Terán also teaches at the Universidad Iberoamericana in Mexico City.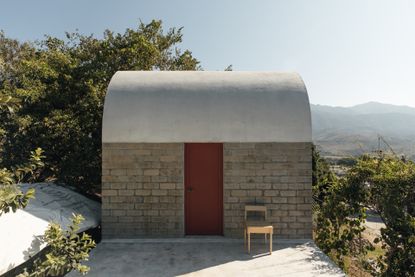 (Image credit: Maureen M. Evans)
Perched on a steep hillside in rural Mexico, Casa Martha matches geometric rigour with a raw, favela functionality. The house is the work of Naso, a practice founded by José Ignacio Vargas in 2018. It was built on the site of a house destroyed by an earthquake in 2017 and is one of 50 houses built as part of the ReConstruir México project.

Casa Martha was constructed on the footprint of the damaged house and is designed to accommodate the family who lived there, an elderly couple with mobility problems and their two chilidren. And Vargas was determined that both generations could support each other but also live as independently as possible.
MORE FROM WALLPAPER* ARCHITECTS DIRECTORY 2020
The layout and circulation of the house are clear and unobstructed with the kitchen, dining room, bathroom and two bedrooms all on the ground floor. Sliding doors open much of the space to the outdoors and a large porch. A third bedroom is housed on smaller second level, topped with a barrel-vaulted concrete roof, which has its own entrance via an outside staircase. The house is close to the towns Malinalco and Chalma, major draws for pilgrims and tourists, and the second floor could be rented out to provide extra income for the family.

Much of the house was built using compacted earth blocks produced on site which were left exposed. And Vargas, who studied in Mexico, Glasgow and London, says Casa Martha's raw essentialism is at the heart of its appeal; but that it is the result of complex considerations. 'To design a house requires fully understanding the social, political, economic and physical context in which the house is placed.'
INFORMATION
www.naso.mx (opens in new tab)