Omer Arbel's 75.9 house in Vancouver is timeless yet extraterrestrial
Bocci creative director Omer Arbel's latest house, in the Canadian Pacific Northwest, makes use of columnar roof forms and the local landscape to create a hidden gem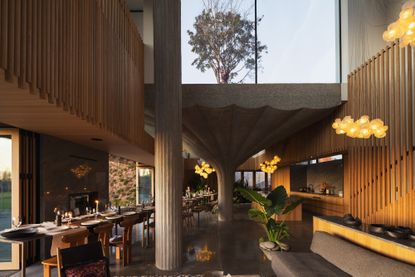 (Image credit: Fahim Kassam )
Wallpaper* Newsletter
Receive our daily digest of inspiration, escapism and design stories from around the world direct to your inbox
Thank you for signing up to Wallpaper. You will receive a verification email shortly.
There was a problem. Please refresh the page and try again.
Were Omer Arbel's latest house a film, the rather sci-fi scenario might go something like this: architect finds archaeological remains in farmer's field and builds contemporary structure around them. Inspired by his studies in Rome, where ancient ruins live amid modern buildings, the Vancouver-based artist and designer presents his first house in a decade as a piece of 'found architecture'.
Carrying over a theme from the adjacent 23.2 house (his designs are numbered in order of creation), which showcased reclaimed, century-old Douglas Fir beams, Arbel sections off bits of this house (75.9) with rectangular glazing, both revealing their materiality and situating them as quasi-archaeological displays.
Omer Arbel's 75.9: a new house in rural Vancouver
Located on a large acreage in a rural area south of Vancouver, 75.9 is 9,000 sq ft of living space locked in a mutual embrace with the landscape. Its volumes alternate between curvilinear concrete and rectilinear wood in a way that feels both contemporary and timeless, grounded yet extraterrestrial.
Arbel's rare architectural offering reads like one of his magical objects for Bocci (his Vancouver- and Berlin-based design and manufacturing company) crafted from his unique design alchemy writ large. His philosophy is to let materials express themselves organically, rather than control them and, to this end, he has created lighting fixtures, jewellery and even candles born of both spontaneous and calculated experiments in his studio. 75.9 is his first architectural great leap forward, bringing the principles embodied in his experiments with materials to a residence (he's designed buildings before, but never pushing boundaries to this level).
Says Arbel from his studio in Vancouver's industrial waterfront district, 'To bring that ethos to architecture has been a huge challenge in terms of scale, as well as the regulatory layers of engineers and builders.' Arbel says his goal has been 'to acknowledge concrete's plasticity and its fluid nature' by rejecting the conventional use of it in rectilinear forms, a process he finds 'wasteful' as it involves using wooden formwork that is usually discarded. With 75.9, he explains, 'we've done that by draping a huge sock over a series of plywood ribs. The sag of the hydrostatic pressure of the concrete is what gives it its form.'
Working with engineers Fast + Epp, Chris Wright from Built Wright Construction, and project lead Mark Dennis, Arbel and his team came up with a new method of slow, continuous pour and a special concrete mix allowing it to continuously cure throughout the duration of the pour, avoiding horizontal cold joints. Micro perforations in the weave of the fabric release air from the surface of the concrete as it cures.
Beyond the science involved, the end result is a striking sculptural form with a richly textured woven finish, rendering concrete almost unrecognisable. The forms also act as planters for trees that add to the topography of the rooflines above, as mediators between earth and sky.
Arbel says he was inspired to create the fluted 'reverse trumpet forms' of the four structures that he designed the house around when he witnessed a fresco being restored in an antique shop. They also bear a resemblance to the canopies of the Prophet's Mosque in Medina, and even to those of Arthur Erickson's Filberg House. Whatever their inspiration, the four concrete canopies that Arbel calls 'lily pads' provide both drama and structural intrigue.
As one enters the house from the east side, the first canopy, flanked by abundant greenery, announces entry. The second is lowered to offer intimacy to the dining area, while the third towers over the living area to create a cathedral-like space. A stairwell with cylindrical cedar cladding leads to a mezzanine area where one can contemplate a different view of the canopy as well as the surroundings outside.
The fourth has a slightly misshapen, elephantine form but offers an unexpected cosiness to the main bathroom. This was the first of Arbel's experiments in form, which he built before he had his client's full commitment to commission the house.
Happily, it worked. Due to a high water table, it wasn't possible to dig deep into the site. Instead, Arbel used the landscape as a building material, wrapping it around the house. The windows of a bedroom are met at sill level by a carpet of grass. A raised slope offers an earthy transition from ground plane to roof, as well as an upper walkway to a private office for the owner.
Curvilinear concrete structures wrap the bedrooms like thick draperies in a surprisingly domestic way, while rectilinear cedar-clad boxes punctuated by glazing articulate the upper structure. There is a sense of textile art here, and an architectural weave. But like Arbel's recent exhibition/intervention at the V&A in London (in September 2022), the 75.9 house renders craftsmanship into performance art.
A potent blend of alchemy and craft, theatre and cinematographic design, ancient site and contemporary home, 75.9 bodes well for Arbel's next architectural performance: a home for himself and his family on Vancouver's waterfront, slated for completion in four years' time. One can only imagine what new experiments in form will herald its arrival.
Receive our daily digest of inspiration, escapism and design stories from around the world direct to your inbox