The former home of late architect Arthur Erickson faces an uncertain future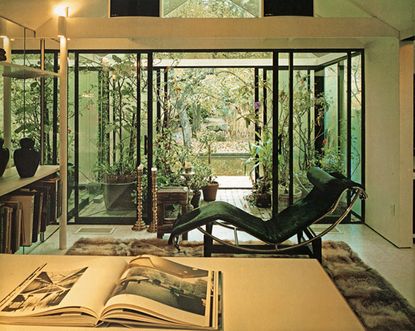 (Image credit: Simon Scott )
The late great Arthur Erickson, (opens in new tab) Canada's most renowned architect, was a jetsetter and a world traveller. He had an impressive list of international clients and hobnobbed with the likes of Pierre Trudeau (opens in new tab), Margot Fonteyn (opens in new tab) and the Royal Family. But the place in his native Vancouver he called home - now under threat unless sufficient funds are raised to ensure its restoration - was a relatively understated abode in a bucolic, residential neighbourhood, where raccoons and sparrows were just as likely to turn up as any grander visitors.
A converted garage on a double lot he purchased in 1957, and transformed into an elegantly executed contemplative space, was really more of an appendage to his rather extraordinary garden.
Although his garden parties were legendary, 4195 West 14th Avenue was above all a sanctuary for Erickson, who would return from LA or Baghdad and stay cocooned in his small green paradise, contemplating his next project.
Simon Scott, an architectural photographer who worked with Erickson and is a director of the Arthur Erickson Foundation (opens in new tab), remembers in the late 1970's, when Erickson began designing projects in the Middle East, 'Gulf sheikhs pulling up in big black limousines and being astounded at the simplicity of his home.'
And yet the 90 sq m house and 650 sq m garden are seminal to understanding Erickson's work; glimpses of his buildings can be seen at every turn in tiny, micro gestures - a raw concrete leg of a garden bench that recalls a wall at his magnificent Simon Fraser University, or the pond with moon viewing platform that resonates with water elements at the Museum of Anthropology. A chrome-plated, mirror-like post inside his residence brings to mind his steel heavy Eppich house, while tendrils of ferns dripping over a kitchen skylight evoke his use of light and greenery at his Robson Square courthouse.
This is where it all began, where his ideas and sketches were born and even where deals were made, performances hatched and celebrations had. Margaret Mead did a reading here, Rudolf Nureyev danced in the garden around a pond filled with black swans, as Erickson and his life partner Francisco Kripacz remained impeccable if eccentric hosts to a moveable feast of artists, designers, writers, actors and politicians.
And yet, despite Erickson's iconic status as Canada's answer to Frank Lloyd Wright (who inspired a young Erickson's move from painting to architecture), the historic house and garden remain in jeopardy. Unless funding is found for a necessary million-dollar restoration and the mortgage (paid to a private lender after Erickson was forced into bankruptcy in 1992 and the bank put the property up for sale), the large double lot could end up bulldozed and transformed into a lucrative residential development.
As Vancouver's residential real estate prices continue to be amongst the highest in the world, there are new pressures on this small footprint wonderland that housed Canada's finest modernist.
Liz Watts, a landscape architect and board member of the AEF, helped sound the alarm when the Erickson property was put up for sale in 1992. Watts, who lives a few blocks away, was told by a local estate agent that an intriguing double lot property was on the market. 'When I discovered it was Arthur's house I was shocked,' she recounts. 'I remember an agent speaking to a potential buyer on his mobile phone saying "yes of course the trees are a problem but they can all be cleared."'
Watts galvanized a group of local designers and gradually with national media exposure and the assistance of cultural heavyweights like Phyllis Lambert, current head of the CCA (Canadian Centre for Architecture) and chair of the AEF, stopped the house and garden from being sold.
But after Erickson's death in 2009 and a restructuring of the foundation to include his wider legacy, a renewed emphasis has begun on securing national heritage status for 4195 West 14th and on paying off the still onerous mortgage. 'Even with heritage status, there's still no guarantee of preservation,' notes Watts.
Phyllis Lambert notes that in Montreal, Moshe Safdie's apartment built for Expo 67 has heritage status, but that British Columbian provincial law is less aggressive about protecting modernist architecture.
And while Frank Lloyd Wright's Taliesin West has become a teaching facility/office/museum, Erickson's old abode remains vulnerable.
Still, its value as an historical cultural landscape remains undeniable. Entering the place, hidden by towering cedar hedges, laurel and fir, through an unassuming wooden side gate - is like walking into Erickson's mind.
As you come inside, you notice the little house to the North, its back to the laneway, but the big reveal is the garden. It unfolds with a Japanese sense of amplified space, often unfurling itself in a shape and scale-shifting manner.
To make the space feel larger than it was, Erickson used the trick of layered horizontal lines - a common one in Asia where the architect spent much of WWII working for British intelligence and preferring long conversations with Japanese POW's about Zen to actual interrogations.
And the garden - filled with many native plants that Erickson sourced himself from riverbanks and nurseries - exemplifies the concept of wabi sabi, the merging of the rough and the smooth, the wild and the refined. A micro-climate, it features ten different species of bamboo, zebra grass, Himalayan Rhododendrons, planted persimmon trees and native fir, cedars and arbutus trees, their textures layered against one another to great effect.
With the original fussy English garden leveled by the architect, and a berm and pond thick with lily pads and ornamental grasses created, the genius loci of the place is really a kind of clearing in the forest; a celebration of West Coast wilderness with a Zen sensibility. As you walk along the clockwise circular path, framed views and contemplative spots reveal themselves like small green epiphanies.
Inside the tiny house, a kind of wabi sabi is evidenced in the mix of materials: a simple wash of concealed incandescent lighting illuminates living room walls covered in sumptuous beige suede, Thai silk adorns walls sitting on a primitive wood foundation, and in the bathroom a black fiberglass shower stands opposite mahogany cabinets and leather clad walls. Erickson's tiny bed - a loft accessed via a childlike ladder- overlooks an arboretum that opens up to garden views and sits under a skylight with a silk covered baffle.
One can only imagine what sort of dreams he had in this place: ones that should rightly be preserved for Canada's next generation of architects, and not erased forever in the name of property values.