Space Age watches born of 1960s futurism are out of this world
The brands and designers whose Space Age watches drew on references from Barbarella to the Lava lamp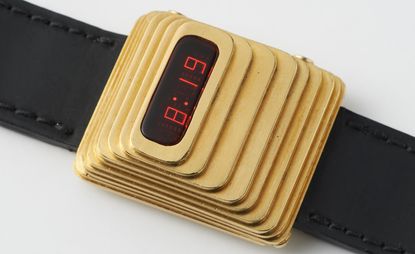 (Image credit: Grima)
Outside a handful of boutique-scale independent makers, contemporary watch design tends to play it safe, at least in comparison to the burst of creativity the industry witnessed in the late 1960s and early 1970s. Drawing from the same futuristic well of inspiration that gave us the Lava lamp (now celebrating its 60th anniversary) and Roger Vadim's Barbarella, out-of-this-world Space Race watches appeared from designers ranging from Pierre Cardin to Andrew Grima.
In contrast to the stark, technological simplicity of the Apollo programme and 'proper' space watches such as Omega's Nasa-qualified Speedmaster and the Rolex Cosmograph, these flamboyant watches drew from Barbarella's luscious alternative vision, finding a sexy dimension in space that was a polar opposite of the pristine horror of Stanley Kubrick's 2001: A Space Odyssey.
Space Age watches
Examples of this horological space-pop can be hard to unearth and some of the designs never really worked, but others changed what a watch could be with new materials, new ideas and, even, new technologies.
Clearly breathing some of the same air as Barbarella's design crew was the Anglo-Swiss architect André Le Marquand, whose Spaceman design from 1969 was first shown at the Basel Fair in 1972. It was an oval-cased watch in chromed metal with fibre-glass inlays that looked like a space helmet, a dial that looked like the visor and the watch even had a shiny plastic strap using a new material from DuPont.
The watch sold well enough for Le Marquand to be commissioned for a second design, the boxy, asymmetric Spaceman Audacieuse. Both models and a later LCD digital design were also sold under other brand names, such as Fortis, just the thing to wear while glancing at your JVC Videosphere.
Given his genius at accessory design and obsession with the future, not to mention the space suits he designed for Nasa, it is no surprise that Pierre Cardin designed a number of space watches. His Espace collection, which debuted in 1971, featured 26 designs that were strikingly original with their daring, asymmetric cases, synthetic materials (of course, plastic was very much the material of the future), gender fluidity and bold straps and bracelets.
Cardin wasn't the only designer to fuse novel materials with decidedly non-standard case and dial designs, and the mid-1970's saw a slew of off-beat watches born of the same sci-fi-inflected futurism. Typical is Jovial's Vision 2000, which was conceived in a similar vein to the Spaceman, though the helmet is more abstracted and the display more conventionally legible.
Ironically, these watches were the last generation to use mechanical movements before quartz technology and digital displays took over. Makers quickly adopted a more conventional approach to design as they sought to reassure potential consumers of the new technology, but not before jewellery designer Andrew Grima produced a series of one-off watches using Hamilton Pulsar movements that are the last word in sci-fi futurism.
Receive our daily digest of inspiration, escapism and design stories from around the world direct to your inbox
James Gurney has written on watches for over 25 years, founding QP Magazine in 2003, the UK's first home-grown watch title. In 2009, he initiated SalonQP, one of the first watch fairs to focus on the end-consumer, and is regarded as a leading horological voice contributing to news and magazine titles across the globe.