Björn Weckström's epic sculptures and chunky jewellery shine a light on the human condition
Finnish sculptor and jewellery designer Björn Weckström on his life's work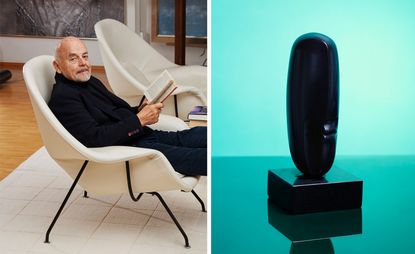 (Image credit: Felicia Honkasalo)
For Finnish sculptor and jewellery designer Björn Weckström, the frailties of the human condition are a lifelong preoccupation. His sculptures, which expose the challenges facing mankind, are epic in scale and cast in an eclectic mix of materials: marble, bronze, glass and resin.
The 88-year-old artist draws on both his Nordic heritage and the decades he spent in Italy, as a lecturer at the University of Pisa from 1979, for works that capture his fascination with Greek mythology, imbuing the familiar forms of the gods with an empathetic humanity.
While Weckström has always been intrigued by the possibilities offered by materials, he originally manipulated these on a smaller scale, beginning his career as a jewellery designer. 'I always wanted to be a sculptor, but, the fact is, my family was very much against it,' he tells us from his home in Espoo, Finland. 'My grandfather was a jeweller, but I wasn't so interested. We made a compromise and I went to the [Finnish] Goldsmith School and started with the small things – it was a good time. I could make things look different. I wanted to take it to a higher level where it's so free, you don't have any function. It's like a piece of art.'
Björn Weckström on his life's work
The jewellery he created in the 1960s figuratively interpreted the Finnish countryside, evoking the wildness of the weather – landscapes in silver and gold, as he has referred to them. Eschewing a traditional jewellery aesthetic, his pieces took a playfully oversized approach to proportions. Silver and gold, crumpled into asymmetrical square pendants or circling the neck in a sculptural swirl, are defined by a temptingly tactile materiality, appearing to undulate with the curves of the body.
This offbeat aesthetic was formalised in Lapponia, the jewellery house he co-founded with goldsmith Pekka Anttila in the 1960s. The sculptural forms were faithfully derived from the landscape, ranging from the early gold jewellery created from nuggets found in Lapland (the northernmost region of Finland and the largest producer of gold in Europe) to the textured pieces in silver inspired by the icy Finnish winters. The most famous piece, 'Planetoid Valleys' (1969), entered the annals of cultural history after Weckström was approached about creating a necklace for Carrie Fisher as Princess Leia in Star Wars.
'The piece of jewellery that appeared in the first Star Wars film, I made by looking out of my window. The snow formed in a certain way and I was just copying it in plaster. You can see everything that had frozen in snow. In the jewellery, I wanted to point out new things, inspired by nature. To me, jewellery is small sculpture. It's decorative, but it can also be an art form. I wanted to make it into a sculpture. It was very interesting for me because so little had been done in jewellery. It was fun.'
Weckström's training at the Finnish Goldsmith School in Helsinki instilled in him an undiscriminating love of material that went on to define his work, seen early on in jewellery designs that celebrated material purely for its own sake. 'It was very shocking for the jewellery business when I was combining acrylic and silver, because it's a cheap material and an expensive metal, but it's important when you do the very small sculptures that every piece radiates energy,' he explains. 'If it doesn't radiate energy, it isn't art. One very easy way to do this is to combine the two materials, which creates a tension between each other, and that tension radiates an energy.'
It is a tension that Weckström carries through to his sculptures, which juxtapose a living material, such as bronze, against the smooth lines and generous volumes of the pieces themselves. 'Every material has its identity and charm,' he adds. 'Gold has a background, a power, all those crimes it has [motivated]. It's so dramatic. It's so hot in a way because of the history it has. Silver is cool, it has no feeling, but has its own charm in the way it slowly marks and colours.' Weckström also talks of the way bronze tells a story in its physical manifestation of the passing of time, an epic narrative reflected in the mythical themes of his sculptures.
His time spent in Italy triggered a change of direction in his sculptural practice. 'The nature is so close here [in Finland]. I'm sitting now, looking at the snow, the ice and trees, but, in Italy, people are so close to you and they're taking over; nature is somewhere behind. And then, of course, there's the fantastic history, the history of its antiques.'
He describes his first encounter with the Riace bronzes – rare examples of full-sized ancient Greek bronzes to have survived to the present day – as a life-changing moment. Restored after they were discovered in 1972 in a shipwreck off the coast of Italy, the sculptures are, at first glance, of two warriors, although they could actually be the same man, portrayed first in his twenties and again in his forties. Their musing on the nature of experience and ageing left a lasting effect. 'They were fantastic and made a huge impression on me. I had been making abstract sculptures, but I understood I couldn't do just that, they had to have something more. They had to have a message. Now, the house is full of different figures, but every man has something to say.'
Weckström bought his house in the 1950s, when it was half its current size. He has since extended it and filled it with artwork created during his time in Italy, where he has spent the majority of his life. Here, his love of materials is reflected in a clean space, filled with light. 'Materials have a history and so does the house. When I was working in Pisa, the light was hard. We have a very soft light in the summer in Finland.'
The house is a living museum for his life's work; consequently, Weckström now prefers to look outwards when creating new pieces, focusing mostly on public commissions. 'It's nice if somebody comes and wants to have something special made. My house is so full of sculptures, I don't feel like filling it anymore. I had to enlarge the house so that there was space for them,' he says of the vast proportions of his pieces that bring epic legends to life.
Tension simmers under the surface of the pieces, the infallibility of the materials standing in sharp contrast to the foibles of human nature, which are expressed in their tortured forms. The disparate characters of these materials lend themselves effortlessly to these contrasts. The reassuring weight of marble, rooted in history and comparatively easy to manipulate, thus becomes a natural choice for Weckström's classic human figures. Glass, notoriously difficult to work, is tested when teased into the shapes of horns and teeth. Transparent or opaque, its dreamlike quality and the marrying of the tangible and the invisible lends a sensual seductiveness absent from the denser materials.
Weckström is preoccupied with human weakness, considering everything from the fragility of human bodies to the inevitability of technology overtaking us. He often alludes to Greek mythology. Living in Italy, he became fascinated with classical references, recognising Daedalus, father of Icarus and inventor of the labyrinth to contain the Minotaur, as a symbol of universal struggles. Icarus had flown too close to the sun with the wings of wax his father had created, and fallen to his death; Daedalus' despair at his own human need for advancement, despite its inevitable consequences, inspired the artist in his portrayals of what it is to be human.
Weckström draws parallels between these ancient stories and our modern afflictions. Despite their obvious anguish, his bronze figures cast imposing silhouettes, although the lean and muscular silhouette of his Icarus (1980) is at odds with the half-finished wings, the childish desire to fly creating an empathetic contrast to the strong body of the man suspended, doomed to be forever crucified. In Silenced (1978), smooth bronze becomes a mechanism to reduce man to an abstract cylindrical form, the tension here found in the curves and points, the suggestion of man as a fish in a slyly surrealistic nod. Meanwhile, Confused (1978) depicts a tormented figure, his convoluted form a discomfiting foil for the glossiness of his body, through which Weckström reminds us of man's destiny to suffer.
'It's an interesting relationship between man and machine, which started in the 15th century with the mechanical clock,' he says. 'They have a great influence on us. They have changed our thinking in a more logical way, making us less emotional. There's a strange evolution going on between man and machines. So bronze has a story to tell, culture has a narrative.' Weckström sees the motorcycle as the best illustration of this uneasy relationship, in the past casting it in bronze to symbolise both the harmonious relationship that can exist between man and machine, and the ever-present danger. Ultimately, does he feel positive about humanity's ability to rise above these challenges? 'I think if we recognise them, we can handle them,' he says.
bjornweckstrom.com (opens in new tab)
A version of this story appears in the April 2023 Issue of Wallpaper* (opens in new tab), available now in print, on the Wallpaper* app on Apple iOS, and to subscribers of Apple News +. Subscribe to Wallpaper* today (opens in new tab)
Hannah Silver joined Wallpaper* in 2019 to work on watches and jewellery. Now, as well as her role as watches and jewellery editor, she writes widely across all areas including on art, architecture, fashion and design. As well as offbeat design trends and in-depth profiles, Hannah is interested in the quirks of what makes for a digital success story.