Avgvst marks new Berlin store opening with cutlery-themed jewellery
Harry Nuriev of Crosby Studios is at the helm of Avgvst's new Berlin store, and has collaborated on its range of cutlery-themed jewellery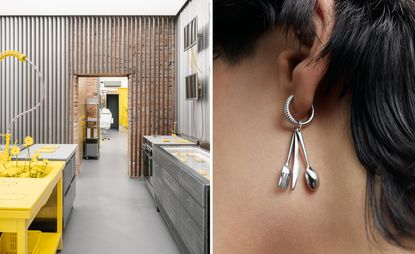 (Image credit: Left, photography Benoit Florenço. Right, courtesy Avgvst)
If you've ever ordered food via a delivery service, then you're probably aware of 'ghost' or 'dark' kitchens – commercial spaces dedicated to making meals solely to be packed up and delivered to the person who ordered them. The idea of using 'dark kitchens' as the theme for jewellery brand Avgvst's Berlin flagship store, designed by Harry Nuriev of Crosby Studios, and their subsequent jewellery collaboration started with a conversation between the designer and Avgvst founder Natalia Bryantseva. The pair started talking about nomadic interiors, ultimately landing on the theme together, which led to an Avgvst x Crosby Studios jewellery collaboration.
Avgvst Berlin: a jewellery store inspired by industrial kitchens
The Avgvst founder moved to Berlin from Russia in 2017, gave birth to her daughter, and two years later, she launched the jewellery brand. 'Avgvst and Berlin are a match,' says Bryantseva. '[They share an] uncultivated beauty, beauty and protest, beauty and disorder, beauty and chaos. All this can describe both my jewellery brand and Berlin.'
Bryantseva and Nuriev, who has designed two retail spaces for Avgvst along with the jewellery designer's home, started working together in 2017 when Bryantseva opened her first store in Russia. Both Avgvst and Crosby Studios were still rising names. '[Crosby Studios'] projects really stood out for me, they were absolutely unique,' says Bryantseva. 'Those broken tiles, a chandelier made of Bic pens – they just stuck in my mind. And I loved how Harry saw beauty in everyday things, in imperfections, and flaws.' By chance, Bryantseva brought a yellow notebook to the café where they met. 'Harry fell in love with that colour,' says the jewellery designer. 'This is how Avgvst's signature yellow was born, by pure accident.'
To mark their collaboration on the Avgvst Berlin flagship, Bryantseva and Nuriev created 'The Cutlery', a limited-edition collection of earrings, necklaces, and bracelets featuring kitchen utensils. They elevated everyday kitchenware into fine jewellery. A tiny silver spoon is linked to a chain for a bracelet; little spoons, forks, and knives connect to form a necklace; for dangling earrings, the duo joined a Lilliputian-sized fork, spoon, and knife. 'I send her ideas and she brings back the perfect collection,' says Nuriev. 'Miniature is one of my favourite parts of the work. I collect small versions of my projects.'
The retail space, centrally located in Berlin's Mitte district, features more than Avgvst jewellery – it also has a tattoo studio and secret garden for the community to gather. The resulting colour palette is grey, silver, and Avgvst's signature yellow. Foldable camping chairs and tables dot the boutique, while blinds were repurposed as wall finishings. Nuriev purchased all the steel appliances and shelving from a kitchen supply store. Although some of the elements are custom, the kitchen elements were primarily left intact. 'I prefer to use their raw potential,' says Nuriev.
The 'Dark Kitchen' theme simplified things. 'There is no need to produce something new when you can repurpose equipment and tools from another industry,' adds Bryantseva. 'Restaurant equipment is made of steel – we wanted steel display cases, which are durable, have the right height and convenient drawers. So why not just reuse them? We both liked the decision.'
Visitors can also make an appointment for one of Avgvst's custom tattoos, and Bryantseva plans to hold yoga classes, meditation sessions, and pop-up dinners in the store's garden. 'The store has never been just a point of sale for us,' says the Avgvst founder. 'It's a medium for our messages, and, in a way, a temple where you can take communion.'
Receive our daily digest of inspiration, escapism and design stories from around the world direct to your inbox