The China List: Max Mara, Fashion
Wallpaper* and China's Cultural Heritage and Sustainable Development Fund (CHSDF) present China By Design—a celebration of Chinese cultural heritage and the many global creatives who have been inspired by it. Explore the full list here.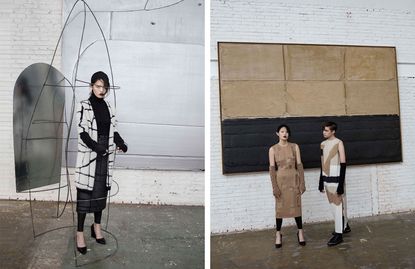 (Image credit: Max Mara)
In December 2016, the multimedia Chinese artist Liu Wei, renowned for his intricate cityscapes formed from piles of school books, created a metropolis-inspired runway set for Max Mara's Pre Fall 2017 show, held inside the domed foyer of the Shanghai Exhibition Center. His collaboration was not simply a catwalk accompaniment, as the Italian label's longtime creative director Ian Griffiths, also enlisted Wei to create a capsule collection imagined in the house's neural hues.
Inside Wei's imagined metropolis, formed from mirrored, copper and gold columns and naturalistic orbs (installations that evoked Wei's 2015 'Colors' exhibition at the Ullens Center for Contemporary Art, Beijing), models walked wearing elegant shift dresses, sweeping cardigans and bomber jackets. These designs were imagined in a spectrum of browns and beiges and layered with aerial sketches of a fantasy city, or laser-cut with abstract topographical shapes. '[Liu Wei and I] produced something that has given me, as a designer, a new direction that I can incorporate now as part of the Max Mara identity,' Griffiths told Vogue of the collaboration. Just like the hydraulic lifts which raised the roof of Wei's city-centric catwalk installation, so the Chinese-Italian partnership bought new heights to the camel coat specialist's DNA.
INFORMATION