Max Mara A/W 2019 Milan Fashion Week Women's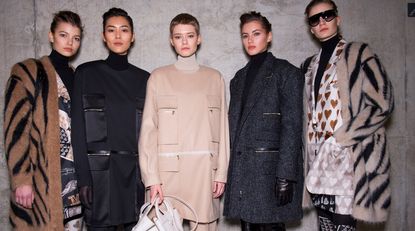 (Image credit: Jason Lloyd-Evans)
Mood board: In recent seasons, brands have been recalibrating their concept of sexuality. Post #MeToo, as the awareness of the male gaze has become heightened, male designers and women alike are questioning how we can be both provocative and powerful. Max Mara knows strong dressing inside out. Its 101801 wool and cashmere coat has been a powerful woman's wardrobe mainstay since 1981. Glamour was a particular style note of this decade, and it's a look Italian brand's are well versed in. See Versace, Cavalli and Fendi. This was the main inspiration behind Max Mara's A/W 2019 offering, with creative director Ian Griffiths referencing Linda Evangelista as an autumn icon. Silhouettes were strong, wider, boxier and leggier. Utilitarian and executive. Imagined in shades of black, caramel and beige, with pops of highly saturated colour and a swathe of sensual animal prints.

Best in show: Max Mara is the progenitor of beige, and it's the tone dominating the A/W 2019 catwalk and the street style scene outside the shows. Griffith opened the show with three models strutting down the catwalk together, wearing wool blazers, mohair cardigans and knee high boots, in monochromatic cyan, cerulean and corn yellow. The proceeding beige oversized jackets, houndstooth coats and wide tweed trousers also made for punchy power dressing.

Scene setting: Max Mara switched up its usual show venue location, bringing guests to a vast subterranean atrium at Universita Luigi Bocconi. The stark space was built by Italian practice Grafton Architects in 2008. When the women attend this year's graduate, we know what they'll want to be wearing.