The story behind Max Mara's sensual Lisbon resort show
Drawing inspiration from the author, intellectual and activist Natália Correia, Ian Griffiths tells Wallpaper* the story behind his sensually minded Max Mara Resort 2023 collection, shown last night in the gardens of Lisbon's Calouste Gulbenkian Collection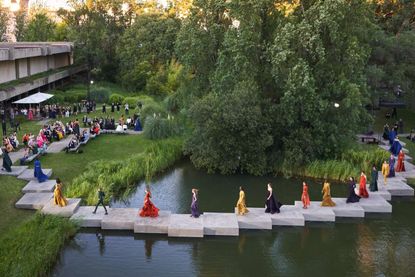 (Image credit: press)
It began with a painting: a woman sits on a chair, legs crossed, caught in profile. Two others sit at her feet, one staring outwards, holding the viewer's eye. 'I stopped in my tracks when I came across it,' says Max Mara creative director Ian Griffiths of the work, which is by midcentury Portuguese artist Nikias Skapinakis.
Yesterday evening (28 June 2022), Griffiths returned to the place of discovery: the Calouste Gulbenkian Collection in Lisbon, Portugal, hosting his Resort 2023 collection amid the gardens of the foundation's modernist complex. Further research had revealed the subjects of the portrait: pianist Maria João Pires, novelist Fernanda Botelho and, most striking to the designer, Natália Correia, an author, intellectual and activist born in the Azores in 1923.
'You get an immediate sense of this woman's stature,' says Griffiths of Correia's depiction. 'She's gazing straight ahead as if she's looking into the future, and in fact the picture was painted in 1974, the year that the Carnation Revolution brought about the demise of the military government that Correia constantly campaigned against. There's a sense of calm destiny and confidence that made me want to know more. And the more I found out, the more I was inspired. I was looking for a strong central figure around which to build the collection's narrative – that just had to be Natália.'
Correia is the latest to be elevated into what Griffiths calls the 'Max Mara pantheon of strong women', spanning culture, politics and celebrity; last season (A/W 2022), it was Sophie Taeuber-Arp, a multidisciplinary artist closely associated with the Dada movement. Correia, Griffiths said, deserved her place for 'her own brand of feminism with its emphasis on erotic liberalism [which allowed] her to express her sensuality. I think we're all looking to live our lives in a way which satisfies the various facets of our personalities – the creative, intellectual and sensual. Here's a woman who managed to achieve it, and here's a collection that celebrates that achievement.'
An intellectual sensuality has long been embedded in Griffiths' collections for the house, here also playing into the choice of location: the gardens of the Calouste Gulbenkian Collection, where lush vegetation and pools of water meet clean concrete lines and stepping stones (built in the 1960s, they are based on a project by landscape architects António Viana Barreto and Gonçalo Ribeiro). 'It's the best setting I can imagine for this collection,' he says. 'We will be showing just before the sun sets; I'm hoping we will capture the contented, sensual mood that you get at the end of a sun-baked day.'
Of the collection, Griffiths describes a 'quasi-minimalist sense of rigour, a collection that's both sexy and serious'. Drawing particular inspiration from Correia's passionate defence of sexual freedom – epitomised best in Antologia da Poesia Portuguesa Erótica e Satírica, her anthology of erotic poetry that was seized by authorities for its content – Griffiths sought a 'voluptuous, curvier silhouette', expressed in or sheath dresses and pencil skirts, while cropped tops (revealing a slice of midriff beneath) and 'a new look at the [off-the-shoulder] décolleté' also captured a similar mood.
Elsewhere, Griffiths looked towards traditional Portuguese dress; notably, the figure of Amália Rodrigues, the 'queen of Fado' (a traditional form of music from the country that originated from Lisbon) and an attendee of parties at Correia's home and bar, Bar Botequim. Looking at photographs of the artist on stage, the designer noticed a 'passion for plissé', here translated in pleated waistbands or slips that emerged from the hem of pencil skirts. A nod to the country's craft traditions also ran throughout, referenced in vivid folk-inspired prints and a series of handkerchiefs, hand-embroidered by Portuguese craftspeople and stitched onto T-shirts (called 'handkerchiefs of love', they are traditionally gifted to prospective romantic partners). 'It all adds up to a new feminine kind of modernity with a pinch of folk culture,' says Griffiths.
'I didn't know Portugal well before I started this project; it's been a journey of discovery for me, but naturally I have followed avenues where there has been a personal resonance,' he says of the location, which marks the final stop in a season of Cruise shows that has transported attendees around the world, from San Diego to Monaco. 'I always look for a destination where not everyone has been, but everyone has ideas about. When you say Lisbon, an image of the city springs to mind, a city of romance, charm, and character, where new and old blend seamlessly' – a spirit reflected in the era-spanning collection itself.
INFORMATION
Jack Moss is the Fashion Features Editor at Wallpaper*. Having previously held roles at 10, 10 Men and AnOther magazines, he joined the team in 2022. His work has a particular focus on the moments where fashion and style intersect with other creative disciplines – among them art and design – as well as championing a new generation of international talent and profiling the industry's leading figures and brands.