Max Mara stages its artful Resort 2019 show at the Collezione Maramotti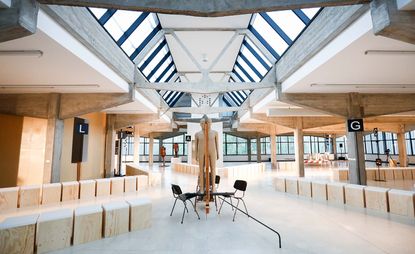 (Image credit: Max Mara)
Last night, Max Mara held a fashion show for the first time at the Collezione Maramotti; fifteen years after its founder Achille Maramotti founded the Reggio Emilia-based art museum. The space, which houses over 200 paintings, sculptures and installations from 1954 to present day, by artists including including Francis Bacon, Basquiat and Giuseppe Penone, was originally designed by architects Antonio Pastorini and Eugenio Salvarini in 1957. Prior to this, the location was home to Max Mara's original headquarters and factory.
The Italian brand has long maintained a commitment to the arts: take the Max Mara Art Prize for Women which was established in 2005, its continued collaboration with artists on limited-edition sunglasses, or its Seoul-based exhibition 'Coats!' which opened last November, and featured an archive-inspired commission by London-based Korean artist Yiyun Kang.
For Max Mara's Resort 2019 collection – imagined in a range of elemental colours, from midnight blue to zinc white, and featuring crinkly plissé dresses, androgynous tailoring and an innovative celebration of the brand's signature sleek outerwear – creative director Ian Griffiths looked to early acquisitions housed in the Collezione Maramotti's permanent collection. It is housed in 43 rooms, spanning the upper two floors of the museum. Manzoni's china-clay on canvas 'Achrome' (1958) inspired folded textures, Twombly's fascination with script was evoked in calligraphy knits, and Anselmo's twisted iron and fustian sculpture 'Torsione' (1968), inspired coiled dress straps and shoes with intertwining ribbons.
The Collezione Maramotti also houses temporary exhibitions in its ground-floor spaces, which focus largely on 21st-century artworks. On view until Dec 2018 is 'The Garden,' by Swiss artist duo Lutz & Guggisberg. The exhibition, spanning five rooms, features photographs of sheds, tables, coloured plastic tubs, and rubber tubing piled up in abandon, and assemblages of found objects, like blocks of wood, bright plastic refuse and perspex boxes.
Just as Max Mara's Resort 2019 show was the first held by the brand at the Collezione Maramotti, 'The Garden' marks Lutz & Guggisberg's debut Italian exhibition. Its pieces, made up of a near violent composition of throwaway abandoned items, provided a textural counterpoint to the double-faced cashmere, gauzy silk organza and camelhair wadded creations debuted in the rooms above.
Max Mara Resort 2019
'The Garden' by Lutz & Guggisberg, exhibition view at the Collezione Maramotti, Reggio Emilia, April 2018
INFORMATION
For more information, visit the Max Mara website and the Collezione Maramotti website