Gucci and Maurizio Cattelan explore the power of appropriation in Shanghai show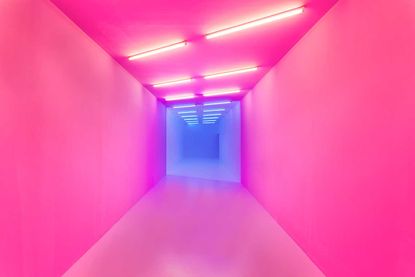 (Image credit: Kapwani Kiwanga)
Wallpaper* Newsletter
Receive our daily digest of inspiration, escapism and design stories from around the world direct to your inbox
Thank you for signing up to Wallpaper. You will receive a verification email shortly.
There was a problem. Please refresh the page and try again.
The Artist is Present – this time in Shanghai with Italian artist-cum-curator Maurizio Cattelan and Gucci's Alessandro Michele, who have come together with 37 fellow artists from both China and throughout the world. But those expecting a re-run of Marina Abramović's controversial solo exhibition at MOMA six years ago (hinted at in the murals of Gucci's accompanying Art Walls) will find nothing about the artist herself.
'I must admit I was more inspired by its [Abramović's MoMA show's] mediatic success, than the concept of her exhibition itself,' says Cattelan. So when he and Michele started thinking about this exhibition and 'the originality of the copy', they tried to explore every interpretation of the concept of originality.
'We began thinking in a new way, transforming our minds trying to give new definitions to some of the ideas that seemed so natural to us, like originality and authorship. And the title was a starting point, of course, because you can immediately understand what our intentions are: to give a second life to the thing that already happened, through the act of copying them. The presence of the copy instead of the original, so that the copy becomes the original, is one of the issues we have been obsessed with lately. Which artist wouldn't want to become Marina for a while?'

The exhibition, which is on show at Shanghai's Yuz Museum, presents projects by artists who challenge the sacred principle of modern art that originality, intention and expression reign supreme. What if, they are saying, the act of copying can equally be an act of creation, every bit as worthy as the original?

'The starting point for the show's concept is the idea that copying is an act of deep awareness of the subject. To copy means to give attention, to value the content that you are replicating. It also adds new meanings to the original concept itself. It keeps the idea alive for the next generations,' Cattelan explains. 'The discourse with Michele started from these concepts, and then I remember we started sharing ideas about iconography and icons, and what characteristics have in common – for example madonnas (in the sense of the Virgin Mary) and Madonna.'

From the New York Yankees logo to Mickey Mouse, the Paramount Pictures motif and the outfits of Dolly Parton and Janis Joplin, cultural images and symbols are mashed together and reinterpreted by its Gucci's to become the essence of its Michele era. The collaboration between the two unconventional brains has led them to contend that to appreciate a work requires the spectator to create his own judgement about it rather than simply enjoy the abstract notion of the idea of authorship.

In a world where internet and social media allow us increasingly blurred borders between actual and virtual reality, the physical and the digital, they might have a point. But do we then embrace all counterfeiting. Simply: is originality truly overrated?
Notwithstanding the presumption of legitimising the concept of imitation, this is one gripping show. The artwork is sequenced in 17 rooms to create one immersive experience: Chinese artist Xu Zhen has made literal a rampant cliché of contemporary art and global culture, the idea of 'East meets West', by brutally stacking Greek God and Buddha statues to form new bodies; New Yorker Margaret Lee rebuilt one of the six windows she designed and installed at Barneys in 2016 as a symbol of culture in luxury consumerism; Cattelan himself has contributed a 1:6 replica of the Sistine Chapel, an uncanny wooden box from the outside but masterly recreated Michelangelo's 15th-century triumph on the inside, and on a human scale that makes viewing more convenient.

It is worth noting that Cattelan's appropriation has already begun to replace the original's digital presence on, for example, Google search. This might be considered a strong argument regarding the relevance of authenticity in this age of algorithm. More interesting – and adhering to the narrative of this exercise – it is believed that Abramovic has not been acknowledged, nor permission even sought for the use of her intellectual property, but it would appear that, for the moment at least, the artist has been canny enough to keep her counsel regarding the prank.
INFORMATION
'The Artist is Present' is on view until 16 December. For more information, visit the Yuz Museum website and the Gucci website
ADDRESS
35 Fenggu Road
Xuhui District
Shanghai
Receive our daily digest of inspiration, escapism and design stories from around the world direct to your inbox
Yoko Choy is the China editor at Wallpaper* magazine, where she has contributed for over a decade. Her work has also been featured in numerous Chinese and international publications. As a creative and communications consultant, Yoko has worked with renowned institutions such as Art Basel and Beijing Design Week, as well as brands such as Hermès and Assouline. With dual bases in Hong Kong and Amsterdam, Yoko is an active participant in design awards judging panels and conferences, where she shares her mission of promoting cross-cultural exchange and translating insights from both the Eastern and Western worlds into a common creative language. Yoko is currently working on several exciting projects, including a sustainable lifestyle concept and a book on Chinese contemporary design.