Chanel's Mademoiselle Privé exhibition touches down in Shanghai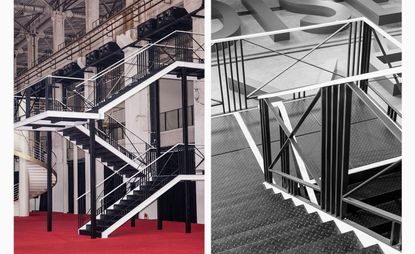 (Image credit: Faris Mustafa)
'If you understand Mademoiselle Privé, you understand the brand,' Chanel's president of fashion, Bruno Pavlovsky, explains two days before the globetrotting exhibition's Shanghai opening. 'The show is about energy. Chanel is about the creative energy we want to share with our audience.' Fitting for a city so explosively dynamic that it feels as though electricity is crackling through the air. Following its debut in 2015 in London, Mademoiselle Privé stopped over in Seoul (2017) and Hong Kong (2018) before its current six-week stint at Shanghai's West Bund Art Center. For the latest show – named after the words written on Gabrielle 'Coco' Chanel's studio door – the Parisian maison has tailored the exhibition to a massive 6,000 sq m of space.

On the ground floor, you can flip through a small library with volumes on Coco Chanel and late icon Karl Lagerfeld or watch Lagerfeld's films and shorts about the house projected onto a large screen. Upstairs on the mezzanine level, the exhibition presents three houses, reached through individual staircases, spotlighting the house's three creative pillars: haute couture, high jewellery and the iconic 1921-founded Chanel No 5 perfume.

Enter 31 rue Cambon – the Parisian address of the house's haute couture ateliers since 1918 – and weave through seven collections, spanning S/S 2013 to A/W 2018/19, by Karl Lagerfeld. Classic silhouettes refashioned in innovative materials like neoprene and aluminium inhabit nooks within the cloudlike space that's been draped in vast swathes of luxurious fabrics in white and cream. Listen closely: each season has been imagined as haute couture might be lived in modern life – three friends chattering away at a rock concert, a small group of seven gossiping on the tube after a night out.
Next door is the olafactory wonderland of Chanel No 5. A soft echo of Lagerfeld's floral-splashed S/S 2015 show, beds of mint green, pale pink and pastel yellow coloured paper flowers sprout up from the ground. Each represent one of the 80 scents (jasmine, may rose, ylang-ylang) found in the legendary fragrance created in 1921 by Chanel and perfumer Ernest Beaux.

The crown jewel of the Shanghai show may just be 18 Place Vendôme, the house's display of the birthplace of its high jewellery. Chinese artist Wu Guanzhen has reinterpreted Coco Chanel's collection of antique Coromandel screens – the theme of its 2018 High Jewellery collection – into three exquisite artworks 'Lofty Mountain', 'Early Spring' and 'Garden of Pleasure'.
'My first consideration was the exhibition space and its atmosphere,' explains Wu, who was inspired to work with lacquer first in 2011 by the childhood memory of leaves flickering in the sunlight and their texture. 'It's an environment which called for more delicate pieces.' Tactile and alive with texture like many pieces at 31 Rue Cambon, the diaphanous screens coated in lacquer complement the equally delicate-but-daring, glittering re-edition of Bijoux de Diamants, Gabrielle Chanel's one and only jewellery collection designed in 1932.

In its Shanghai chapter, tech-forward Mademoiselle Privé, which had its own app for other cities, has embraced China's digital eco-system with a mini programme in the country's one-size-fits-all social media/messaging/payment platform WeChat. Through WeChat, visitors can book and discover more about Mademoiselle Privé and its programming of half-hour workshops – like embroidery, gold leaf application and baudruchage (the art of sealing perfume bottles) – and once onsite, scan QR codes to delve further into the Chanel story through multimedia content.

'The best colour in the whole world is the colour that looks good on you,' Coco Chanel once said, and Mademoiselle Privé looks pretty good in the shade of Shanghai.
INFORMATION
Mademoiselle Privé is on view from 20 April to 2 June 2019. For more information, visit the Chanel website (opens in new tab), West Bund Art Centre website (opens in new tab)
ADDRESS
2555 Longteng Ave
Xuhui Qu
Shanghai Shi
China
VIEW GOOGLE MAPS (opens in new tab)