Chanel S/S 2020 Paris Fashion Week Women's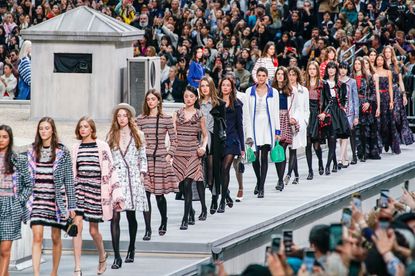 (Image credit: Jason Lloyd-Evans)
Scene setting: Guests were back in the Grand Palais on a very rainy last day of Paris Fashion Week for the Chanel show, the first ready-to-wear outing of Virginie Viard. And, if it felt like not much had changed since Karl Lagerfeld's era, a closer look revealed a tactful, subtle – yet self-assured – evolution.

The set design was the starting point: moving away from gasp-worthy beaches, waterfalls or space rockets, Viard chose to reproduce the Haussmannien rooftops of Paris, complete with grey skies. More discreet, still full of wow effect. The same could be said of the collection: Viard chose simplicity over everything else, turning Chanel classics into youthful wardrobe staples.

Best in show: Walking to a selection of Yé-yé rhythms and to the Get Carter soundtrack (a score, as usual, designed by Michel Gaubert), long-haired models strutted down the catwalk clad in black opaque tights, flat Mary Jane shoes and A-line mini skirts and pea coats. A look not much different from what you might see in the – real – streets of Paris.

Multicolour was worked into mini jumpsuits, front-buttoned dresses and shorts. Puffy satin duchesse skirts were paired with simple tops or marinière-inspire sweaters. Eveningwear was simplified, taking on the shape of puffball sleeved-dresses and satin shirts worn with long dresses. The collection was at its best in the simplest pieces (like the black pleated coats and the shirt-dresses), which felt like a true hommage to Coco Chanel's original pared-down vision.

Finishing touches: Accessories also took a step back from previous seasons, focusing on the practical rather than the novelty. Bicolor flats and variations on the quilted 2.55 bags were ubiquitous, with an added new cylindrical clutch branded Chanel in metallic chains.

These are the kind of real, practical accessories girls all over the world dream about, making Chanel arguably the most coveted brand. That might have been one of the reasons why YouTube prankster Marie Benoliel chose to insert herself into the show finale, swinging her own Chanel bag on the catwalk for about a minute until Gigi Hadid walked her away. And so at the last minute, a show that had chosen realism as its main theme became – yet again – pop culture material.