Chanel's new haute-tech exhibition Mademoiselle Privé opens at London's Saatchi Gallery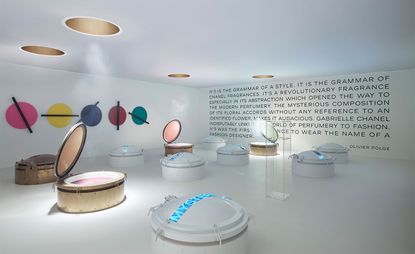 (Image credit: Olivier Saillant)
'Mademoiselle Privé (opens in new tab) is an invitation to understanding what creativity means to Chanel,' explains Bruno Pavlovsky, Chanel's president of fashion, in town for the opening of the house's latest multi-sensory exhibition at London's Saatchi Gallery. 'What we want to offer to our audience and our fans, not only our customers, on top of product, is the unique creativity of the people inside the brand.'

But before visiting the Chelsea gallery, which has been taken over in its entirely for the month of October, you would be well advised to download the accompanying app, which unlocks the exhibition's modern marriage of tradition and technology.

The immersive showcase delves into the house's higher realms of creativity, peeling back the curtain on its haute couture, high jewellery and the legendary Chanel No 5. 'Three icons that are still the most powerful for the brand,' confirms Pavlovsky, and all of which have remained largely shuttered to the public until now.

'What is fantastic about this exhibition is that from scratch the most important aspect was the Mademoiselle Privé app to give more content,' he adds of the exhibition's digital aid that delivers the show's camellia on top.

'I'm convinced that digital is the most powerful way to stay connected with our customer,' continues Pavlovsky. 'For me, this notion of e-service is much more powerful than e-commerce,' which is finally slated for later next year, while the house has just revamped its fashion app, which offers a closer look at last week's jet setting S/S 2016 ready-to-wear presentation. 'The show is a kind of big dream and after the show you want to understand and see more – that's the role of digital for me. It's more and more about what I call a "luxury position" – you have to be there when they want you, you don't have to be there when they don't want you; it's more of an invitation. It's not that we need to be aggressive. Chanel is about the dream and we have to position ourselves to keep this dream alive.'

This link between the tangible and virtual begins with a contemporary English garden, landscaped by this year's RHS Chelsea Flower Show winners Harry and David Rich, as you enter the Saatchi Gallery. Here, the tech dream reveals the aspects of Gabrielle Chanel's life that inspired the horticultural brothers, before moving inside past her Coromandel screens to her equally famous Art Deco staircase. With the help of your iPhone you can peer right inside Coco Chanel's Rue Cambon apartment, which has been filmed for the exhibition.

Next up is an illustrative impression of Chanel's first hat boutique in Deauville followed by personal drawings of her travels to Scotland, England and Venice that come to life when scanned. Then it's off to the house's olfactory lab. Bubbling away beneath lids, sealed with ticker tape LED labels, the scent of Chanel No 5 fills the air. 'It is the grammar of Chanel fragrances,' head nose Olivier Polge remarks in a pop-up quote.

But this would not be full immersion without some clothes, and the show's jewellery vault pairs Karl Lagerfeld's most recent haute couture show highlights with re-editions of Coco Chanel's first and only 1932 high jewellery collection Bijoux de Diamants. 'The haute couture show was for us a teaser for this exhibition,' says Pavlovsky somewhat surprisingly of July's impressive, albeit intimate, Casino Royale Paris show. 'Here, I am very proud to be able to show their work as a piece of art,' he says, referring to Chanel's 1,000 artisans who work across haute couture, ready-to-wear and Métiers d'Art.

Inside the dimly lit bijoux gallery there are no glass cabinets or even ropes, just a few security guards and an electronic 'fence'. Diamond star tiaras and feather brooches gleam from a mere foot away. A coral and diamond cigarette holder balances within a mannequin's grip. 37 of the original 46 pieces are on display and all have been made within the house's own workshop above Chanel's Place Vendôme store, while the room itself is lined with Lagerfeld's portraits of familiar couture-clad faces. Keira Knightley sports a remake of Mademoiselle Chanel's 83-year-old floating cocktail ring that is, of course, all the rage right now.

In a nearby nook, a fun film depicts Lagerfeld fighting with a fictional Coco Chanel over the codes of the house; each as feisty as each other. 'They are not the same,' smiles Pavlovsky, 'they have very different visions of the world and as Karl says, "Times are very different", but it was funny to imagine a link like that,' he adds of the light-hearted touch.

Next door the creative director has chosen 12 diaphanous looks from the house's brand new custom-built archive (10 outfits from each collection are laid to rest here each season), dramatically lit to showcase the exquisite handiwork of Chanel's petite mains. Then it's out to a formal 18th century box hedge garden that reinterprets many of the house symbols in clipped buxus. The reflective space offers a pause before visiting its satellite Métiers d'Art with a camellia making workshop in addition to a fragrance seminar – all bookable via the app.

And in spite of the number of fashion exhibitions that have opened in London in recent months, Chanel are expecting the public to roll-up. Chanel's last travelling exhibition to inhabit the Saatchi Gallery, The Little Black Jacket, drew 160,000 visitors, so given that only 60 people can view the high jewellery portion of the show at a time, the trusty app will be monitoring congestion as well as appointments.

And although an official travel programme has yet to be announced, Pavlovsky confirms that 'the location of the city will have an impact on the content of the exhibition. The idea is not to duplicate the same exhibition everywhere,' he says, 'but to be able to evolve. Chanel has to be part of the new world,' he adds of house's growing digital focus, 'and the exhibition gives everyone an idea of how open we are to what is happening in the world.' Couture, on tour, for the people... you imagine that Mademoiselle Chanel would be smirking at the thought.
INFORMATION
Mademoiselle Privé runs until 1 November, 2015 at London's Saatchi Gallery and entry is free
ADDRESS
Saatchi Gallery (opens in new tab)
Duke Of York's HQ, King's Road
London, SW3 4RY
VIEW GOOGLE MAPS (opens in new tab)