Rounding up fashion's grand tour: the Paris Haute Couture A/W 2015-16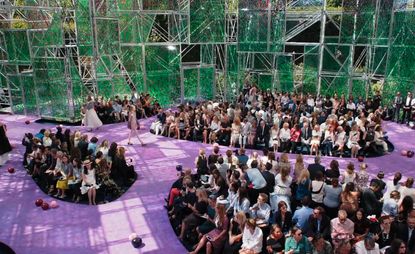 (Image credit: Dior)
Dior: For A/W 2015-16, Raf Simons invited us into Bosch's Garden of Earthly Delights reimagined by Bureau Betak. Referencing the Adam and Eve tale of innocence and temptation, Simons' fashion vision was executed through the gaze of the Flemish and French masters of both art and couture craft, and all housed within a geometrically paned greenhouse-cum-church-cum nightclub that was painted with pointillist dots
Dior: Juxtaposing themes of depth and light, richly draped Vermeer-esque cape coats and billowing, smock-like embroidered sheaths looked like they'd walked off an Old Master's canvas. This flowing chiffon silhouette was later chopped into hand painted baby doll dresses jewelled with 'cannage' gilets, offering a modern spin on archaic chain mail.
Dior: Under the illustrated panes, red carpet dressing took a similarly charmed approach, as side-less gowns - secured to the body with gilt gold chains - appeared as if an offering to king or master. 'I was intrigued by the idea of the forbidden fruit, and what that meant now,' Simons explained in his show notes, 'The idea of purity and innocence versus luxury and decadence and how that is encapsulated by the idea of Dior's garden - no longer a flower garden but a sexual one.'
Fendi: Set against the imposing backdrop of one of Italian artist Giorgio de Chirico's most famous works, Karl Lagerfeld presented his first Haute Fourrure collection for the Roman furrier, courting quiet controversy at the Theatre des Champs-Élysées and marking the designer's 50th year at the house. The Art Deco building lent a particularly theatrical stage upon which to flex Fendi's masterful fur pedigree; the house even provided Fendi-issued opera glasses to offer a more intimate viewing of the collection's finer details (fur corsages included).
Fendi: With both the Arnault and Fendi families watching from the venue's boxes, sable, chinchilla, lynx and mink pelts were finessed into myriad graphic patterns and sumptuous swirling combinations. Each exit, some festooned with feathers, others spliced with transparent panels, was a testament to the furrier's unparalleled expertise and warranted arrival on the couture calendar.
Chanel: Karl Lagerfeld transported his A/W Chanel couture show to a private casino within the Grand Palais, complete with a live high-rollers blackjack mise en scène (decorated with celebrity friends of the house), roulette tables and even Chanel branded slot machines. As chips changed hands, Lagerfeld's 'neo tomboys', parading about the card tables in 3D printed skirt suits, debuted the house's new high-tech 'selective laser sintering' technique, utilised in unison with Chanel's petites mains to fashion the collection.
Chanel: Also circumnavigating tradition was Lagerfeld's 2015 couture bride, resplendent in an off-white silk tuxedo and finished with a simple tulle veil, which spoke more of a Vegas-style elopement than the current trend for gala weddings that are littering our Instagram feeds
Viktor & Rolf: With their models donning gilt framed canvases, Viktor Horsting and Rolf Snoeren reprised their very first 1998 haute couture show's Living Art concept, taking to the stage for a performance piece that saw the designers undressing and hanging their works live within the Palais de Tokyo.
Viktor & Rolf: Titled Wearable Art, the morphing collection, grounded by blue smocks, blurred the baroque with action painting techniques, resulting in a fittingly unhinged presentation that was surreal to behold. Just as art imitates life, a piece from the collection is soon to be hung within long-standing Viktor & Rolf collector Han Nefkens' Museum Boijmans Van Beuningen in Rotterdam.
Schiaparelli: New creative director Bertrand Guyon (an alumnus of Valentino and Givenchy) looked to Elsa Schiaparelli's early years for his debut collection, which saw its founder's iconic motifs liberally lavished throughout. Schiaparelli's ES initials were monogrammed onto a frilled ivory blouse, just as her preferred iris bloom was patchworked into hyper-hued fur coats. The founder's Dali telephone powder compact was furthermore reinvented as a clutch bag
Schiaparelli: Jewelled brocade made up much of the show's strong tailoring offering, while Elsa Schiaparelli's riding culottes were re-cut in fringed plaid as Guyon's eveningwear ranged from a jewel strapped black plunging velvet column to a suitably 'shocking' pink diaphanous gown that will no doubt be swiftly snapped up for future red carpets.
Giambattista Valli: The Roman designer only conceives dresses that make an entrance, from his ruffled tulle gowns with two-metre-plus trains (this season in electric orange) to his baby doll minis patchworked with jewelled, laser-cut lace. This season was no different.
Giambattista Valli: That said, it was A/W's quieter tunic and Capri pant looks - one fringed in feathers from the knee, others entirely jewelled - that offered an intriguing break from the season's hyper sweetened, fairytale flou, which saw experimentations with volume via puffball hems and Regency-era trailing gowns.
Jean Paul Gaultier: The French designer tripped back to his marinière striped signature and the sandy shores of Brittany for A/W - no doubt in response to the retrospective exhibition that has finally arrived back in Paris after a four year world tour. Gold thread embroidery emboldened velvet admiral's jackets, as Breton striped hosiery and knitwear anchored the season's particularly theatrical collection, that concluded with a bagpipe salute.
Dice Kayek: Turkish designer Ece Ege presented a 1970s spin on tuxedo dressing - from her show's opening Le Smoking tail coat to a backless bib top and bow-tie mini skirt - before rainbow hued crystals covered a disco's worth of mini crini dresses, which epitomised the collection's hedonistic theme.
Dice Kayek: Winter's nocturnal rhapsody recalled scenes from Paris' late night Warholian den Le Palace, as Ege revived the eras stroboscopic spirit - all the way down to the models' 1970s issue platforms and a show backdrop that saw a giant mirror ball hanging from the ceiling of Les Arts Décoratifs.
Elie Saab: Nirvana's Come As You Are is as far from an obvious choice for a couture show soundtrack as it gets, especially for a designer overwhelmingly known for high voltage glamour and femininity. That said, Cobain's strained lyrics made for a satisfying contrast to Saab's regal, gold dipped A/W collection, that saw his models crowned with molten Byzantium headpieces as their waists were nipped into glittering goddess dresses. The show was actually a personal nod to the gold wedding dress that Saab had himself designed for his wife Claudine, 25 years ago to the day, which made for a poetic quarter-century love letter.
Armani Privé: This season, Mr Armani was thinking pink - Schiaparelli's shocking pink, even - with a collection that, in addition to colour, was dominated by a exploration of texture; tinsel-like filaments electrified cocktail dresses, while bugle beaded fringes finished bustiers, gowns and tassel belts, reinforcing the rebellious theme.
Ulyana Sergeenko: The Russian designer loves to weave a story from her homeland into her collections' narrative and this season that meant a tale of post-Revolution Soviet communal living, which saw multiple families sharing rooms within the once-grand subdivided apartments of Saint Petersburg. The lawn of her A/W presentation space, Paris' Mona Bismarck American Center, was decorated to loosely reflect this eclectic union of mismatched tastes and levels of society.
Ulyana Sergeenko: Here, the designer's A/W muse found herself awake and listless in the early hours of New Years Day 1937 - the only celebratory day in the Communist calendar that didn't mark a victory or the glory of work. In general, there is something innately nostalgic in Sergeenko's designs, and this collection built upon boudoir-inspired, albeit slightly unhinged, tea dresses and busty sheaths, accompanied by three-quarter-length sleeved furs that could of come from a great aunt's closet. Best in show was a Yelets bobbin lace dress (named after the Russian town where it was made) that took a village of local artisans four months to fashion.
Atelier Versace: This season, Donatella Versace interlaced the house's insatiable air of sexuality with a more romantic, free spirited approach. The designer played with volume and deconstruction, primarily patchworking jewelled lace and hand frayed chiffon sheaths held together with vines of beaded flowers or metal couture 'staples'. From the girls' floral headpieces to their pleated and teased apart gowns, there was an unravelled 'festival' freedom felt throughout. But being a Versace show, there was also an abundance of chain and crystal mesh bustier dresses mingling with her encrusted fil coupé sheaths, floating from their velvet boned corsets and bell sleeves.