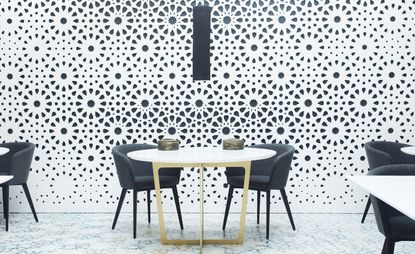 (Image credit: TBC)
Having built his career at institutions such as Mugaritz in the Basque Country, along with overseeing a handful of restaurants in Madrid, Menorca and Rio de Janeiro, Michelin star chef Paco Morales has finally returned to his home turf of Córdoba, to launch his latest venture, Noor.
Meaning 'light' in Arabic, Noor is something of a cultural project for Morales who has joined forces with food writer Rosa Tovar as well as a team of culinary history consultants to create a concept inspired by the Arabic history of the city.
More specifically focusing on the 10th century, when the city was at the height of it splendour, the menu features modern dishes, based on ancient recipes that uses only Old World ingredients. As such, dishes like roast pigeon and foie gras are cooked using typical Arabic ingredients such as nuts, roses and dates along with now obsolete products for the cuisine, from bitter orange to coriander.
This continues to the interiors - assembled by architecture studio GGLab - who also only used materials from that era to create a space inspired by Medina Azahara, the ruins of an Arab Muslim medieval palace on the outskirts of Córdoba. Decorative Arabic motifs from varying geographical origins add texture to a low-key, light palette, while considered lighting creates a futuristic mood, further reinforced by the waiters, who are outfitted in uniforms designed by directional Spanish brand X-Adnan.
With just eight tables, make sure you book in advance.
ADDRESS
Pablo Ruiz Picasso, 8
VIEW GOOGLE MAPS (opens in new tab)