Jialun Xiong's design of Sichuan Impression is a sophisticated take on family-style dining
Jialun Xiong imbues the Alhambra, Los Angeles restaurant with clean lines and nods to traditional Chinese architecture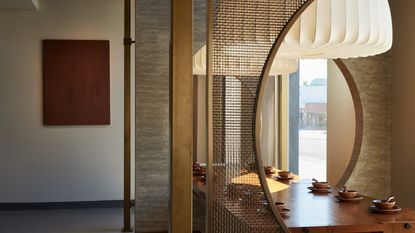 (Image credit: Courtesy of Ye Rin Mok)
Whether crafting pared-back furnishings or staging a sleek interior, Los Angeles-based designer Jialun Xiong (featured in the Wallpaper* USA 300, our guide to creative America) looks to distil and coalesce different reference points. Born in Chongqing, China, the up-and-comer infuses her high-concept designs with the duality of restraint and graphical boldness. She achieves this by remaining resolute in what needs to be accomplished. Perhaps, nowhere is that better demonstrated than in her recent outfitting of the third Sichuan Impression restaurant, in Alhambra, Los Angeles.
Jialun Xiong dresses new Sichuan Impression in Alhambra, Los Angeles
Situated in the hip Los Angeles neighbourhood of Alhambra, the sprawling 2,000 sq ft (185 sq m) bistro, serves up a regional fare in a minimalist and textured setting that folds in evocations of traditional Chinese architecture. Throughout the strategically partitioned space, rustic materials are harnessed in refined geometries and clean lines. An earth-tone colour palette sets the stage for an almost collage-like composition of architectural elements – layering in different textures and intensities of detail. As with many of her projects, there's a certain harmony in juxtaposing and melding opposing forces.
'I approach all of my designs with intentionality, but it's especially top-of-mind when I'm creating environments that people are going to spend a long time in,' says Xiong. 'For Sichuan Impression, I chose a muted palette and natural materials to encourage guests to look a little longer and uncover the intricacies that aren't so obvious at first glance. I believe good design doesn't always have to be instantly recognisable, it can simply blend in.'
Throughout the stratified interior, half walls and semi-permeable surfaces help establish a hierarchy of space. Four family-style seatings are delineated by almost mono-material articulations of walnut, plaster, and antique brass. Circular cut-aways in thick plaster, and metal mesh partition walls make for an enfilade effect that appears to be a triple reflection. Xiong's goal was to offer visual engagement without overstimulating the senses. Raw silk cloth chandeliers hang over each zone and translate directly from the iconic form and structure of traditional Chinese lanterns.
Suggestive of bamboo – a popular material in Sichuan, green-upholstered banquettes anchor into additional rectilinear booths. Implemented for its reddish tone, walnut is hewn into custom tables with live edges, indicating a sense of timelessness. Customers can choose between more intimate and open-plan dining experiences.
While a floating metal cabinet delimiting the bar adds more cubic complexity to the main restaurant, a private dining room toward the rear takes on even more regional specificity. Circular openings are generously framed in dark woods and joined by off-white walls and floors. This room has a more domestic feel. Overall, Xiong's scheme is a testament to the fact that minimalism doesn't always have to be stark and cold, or disconnected from reference.
Receive our daily digest of inspiration, escapism and design stories from around the world direct to your inbox