Discover Palm Springs: from desert-inspired hotels to Joshua Tree stargazing
Ahead of Palm Springs Modernism Week (16-26 February), discover the best of the Californian city, from architectural highlights to a vintage design emporium, custom cocktails and desert stargazing, as recommended by Timothy Anscombe-Bell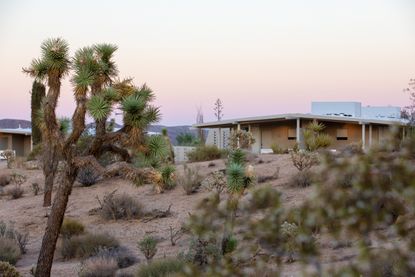 (Image credit: Photography: Jamie Kowal)
Every February in Palm Springs, devotees of midcentury modernism descend on this small city nestled in the Coachella valley for Modernism Week, which sees ten days of parties, talks and home tours dedicated to the area's architectural legacy.
It sprang to life as a glamorous escape in the 1950s and 1960s, as moneyed Angelenos looking for a resort destination and holiday home locale came together with celebrated architects such as Albert Frey, Donald Wexler and Richard Neutra. While the old Hollywood glamour and 300 annual days of sunshine still draw the crowds, design and sustainability expert Timothy Anscombe-Bell discovers there's more to Greater Palm Springs than preservationists and period nostalgia.
From the raw, natural beauty of Joshua Tree, to astrotourism and world-class health and wellness retreats, the area continues to evolve as new generations are won over by the charms of this desert oasis.
Discover Palm Springs: 8 favourite locations
Two Bunch Palms
The lithium-rich waters that bubble up from the earth in Desert Hot Springs have long been touted for their therapeutic properties. Here, one of the few sites in the world with naturally occurring hot and cold mineral springs, the water is low in sulphur and thus odourless.
Around 20 minutes from downtown Palm Springs, zen-like wellness hotel Two Bunch Palms offers a natural mineral grotto, teak soaking baths, first-rate spa treatments, alongside tennis courts and complementary wellness sessions. Set across 70 acres of grounds landscaped with drought-resistant (and largely native) plant species, it has 64 rooms, and the restaurant serves locally sourced fare.
Having opened in 1940, Two Bunch Palms changed hands most recently in 2015. The new owners set about future-proofing the resort, installing a solar field to counteract its energy output (making it carbon neutral for electricity).
twobunchpalms.com
(opens in new tab)@twobunchpalms (opens in new tab)
Tailor shop
A relative newcomer on the Palm Springs cocktail scene, this small speakeasy-style whisky bar by chef Engin Onural (of Sandfish Sushi & Whiskey in Palm Springs and Phoenix), serves craft cocktails in opulent, moody surroundings. Drinks are consistently excellent, making choosing what to order an almost impossible task. Fortunately, Tailor Shop has this covered, with a promise to create cocktails to fit each guest. Its team of mixologists pride themselves on what they do and will suggest inventive riffs on classics, based around your preferred spirit type or mood.
The crowd is a mix of locals and tourists; their common bond being an appreciation for a stiff drink. Throw in a wraparound marble bar, gleaming brassware, velvet banquettes and cut-glass tumblers, you're left with a cosy spot which, once found, you won't want to leave.
tailorshopps.com (opens in new tab)
@tailorshopps (opens in new tab)
Monument House
Renowned for its cubist architecture and bold exterior palette inspired by the colours of the desert, the recently renovated Monument House by Californian architect Josh Schweitzer is now open to the public for private stays, via hospitality outfit Homestead Modern.
Designed in 1990 as a private retreat for the owner's friends and family, the postmodern home with its unusual geometric windows and openings stands out in a valley of boulders, minutes from the entrance to Joshua Tree National Park.
Also available via Homestead Modern are The Bungalows, a set of three light and airy 1950s post-and-beam style buildings. Freshly restored, the 14 suites are situated on the historic Joshua Tree Retreat Centre campus, which boasts a large collection of buildings designed by Lloyd Wright (son of Frank).
homesteadmodern.com (opens in new tab)
@homesteadmodern (opens in new tab)
Market Market
Having opened on 1 January 2023, the latest outpost from retailer James Morelos is a 40,000 sq ft emporium of vintage and repurposed goods spanning furniture, art, homewares and apparel. Market Market is dedicated to the uniqueness and sustainability of giving old things new life. With over 200 different makers and merchants represented, it's easy to lose an hour picking through vintage textiles and ceramics, by way of kitsch Americana and midcentury modern finds.
At the time of visiting, favourites included a restored 'Monte Carlo' sofa by Eileen Gray from 1929, a rare 'Obliqua' lounge chair by Mario Botta, and a walnut bookshelf with sliding dividers by Evans Clark for Glenn of California from the 1950s.
shopmarketmarket.com (opens in new tab)
@shopmarketmarket (opens in new tab)
Joshua Tree stargazing
Theoretical physicist Lawrence Krauss once proclaimed: 'We are all stardust – every atom in your body came from a star that exploded, and the atoms in your left hand probably came from a different star than your right hand.'
With one of the darkest skies in California, there are few better places to ponder the poetry of the universe than Joshua Tree National Park. The area is a designated International Dark Sky Park and offers many urbanites the chance to admire the Milky Way for the first time in their lives.
The national park hosts an annual Night Sky Festival in October, and The Rancho Mirage Library and Observatory offer tours and monthly 'Swoon at the Moon' events.
darksky.org (opens in new tab)
@idadarksky (opens in new tab)
High Desert sustainable homes tour
Offering its occupants a strong connection to nature, the High Desert lends itself to low-impact living. As part of Palm Springs Modernism Week 2023 (16-26 February), sustainable homes developer Ida Alwin has organised a self-driving tour of six notable off-grid and high-technology properties around the Greater Palm Springs and Joshua Tree area. On 25 February, ticket holders can meet with homeowners to hear about the process of building in the desert and what it's like to live off the grid.
Another Modernism Week highlight is the opportunity to visit Joshua Tree's Doolittle House. Designed by Kendrick Bangs Kellogg in the 1980s, the home is prized for its dramatic biophilic architecture, nestled into the rocky landscape and rising out of it like a desert plant.
kelloggdoolittlehouse.com
(opens in new tab)modernismweek.com (opens in new tab)
@modernism_week (opens in new tab)
Workshop Kitchen and Bar
Chef Michael Beckman's Workshop Kitchen celebrated its tenth year in 2022 and continues to serve up an evolving, modern Californian menu with an emphasis on fresh, seasonal ingredients. The kitchen team manage their own small garden of herbs and flowers and have longstanding relationships with local farmers' markets. Techniques draw on the traditions of French cooking, with Japanese and Mediterranean influences.
The restaurant is housed in a 1920s former theatre in Palm Springs' Design District, and Beckman enlisted Michel Abboud of SOMA architects for the interior, with monolithic concrete elements fixed in place to create booth seating, making for a sculptural, brutalist aesthetic. The space won a James Beard award for outstanding restaurant design in 2015.
Workshop Kitchen opened its second location in LA's La Brea neighbourhood in 2022, where options include a plant-based tasting menu featuring braised artichokes with gnocchi, sungold tomato confit and compressed melon with rhubarb tea.
workshopkitchenbar.com (opens in new tab)
@workshopkitchenbar (opens in new tab)
Azure Sky
With thoughtful details, intimate character and a charming front-of-house team, Azure Sky, is a welcome addition to Palm Springs' boutique hotel scene. Ahead of its May 2022 opening, renovations to the 1959 building retained the essence of its midcentury modern style. The 14 bedrooms and suites are tastefully decorated with floating oak beds and panelling, walk-in showers with floor-to-ceiling mosaic tiling – and no televisions or phones in the rooms.
The goal here is to switch off, and a smart pool and courtyard area, providing unobstructed views of the San Jacinto Mountains, add to the peaceful residential vibe. Guests are within walking distance of the Ace Hotel and Moorten Botanical Garden, and the hotel lends bicycles for the short cycle into town.
azureskyhotel.com
(opens in new tab)@azureskyhotelps (opens in new tab)
Globe-Trotter x Visit Greater Palm Springs luggage
British luggage brand Globe-Trotter has teamed up with Visit Greater Palm Springs for its first destination-inspired range, which will launch on 22 February during Palm Springs Modernism Week 2023. Combining Globe-Trotter's distinctive aesthetic and craft traditions with a Palm Springs look and feel, the collection comprises a check-in case, carry-on-case and an attaché, as well as two luggage tags and a leather sticker.
globe-trotter.com (opens in new tab)
visitgreaterpalmsprings.com (opens in new tab)
Timothy Anscombe-Bell runs Sustainable Design Collective (SDC), a Los Angeles based design resource and consultancy, bringing together some of the brightest in modern craft-based manufacturing. He works on healthy, sustainable and green building schemes – from offices, cultural institutions, schools and universities, to hotels, restaurants and specialist retail. @sdc_inc (opens in new tab)