The architects who built Palm Springs: Richard Neutra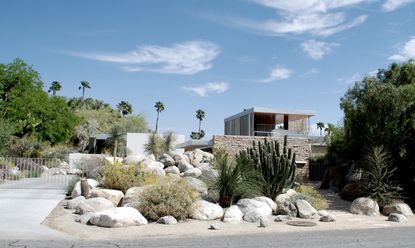 (Image credit: Photography: Joe Wolf)
Richard Neutra's (1892–1970) architecture is eternally preserved at its peak midcentury moment in Julius Shulman's photographs – filled with party-goers on warm all-year-long summer evenings. The slim-line, seemingly weightless structure of Neutra's Kaufmann house in Palm Springs was the perfect setting for these scenes – where conversation flowed through the open plan entertaining spaces and across the elongated rectangle swimming pool.

Built in 1947, the Kaufmann house in Palm Springs is one of Neutra's finest creations. So, how did this Vienna-born architect, who studied architecture under Adolf Loos and developed his career in Germany (opens in new tab) at the Berlin office of Erich Mendelsohn, end up reaching his architectural peak in California?
Whilst brief stints at Holabird and Roche in Chicago and then at Taliesin under Frank Lloyd Wright brought Neutra to the US in 1923, it was in Los Angeles where Neutra found his style working on his most-defining projects. His friend Rudolf Schindler, also from Vienna, invited him to live at the Kings Road House (now the MAK Center for Art and Architecture) in West Hollywood. From here, he began to work with Schindler and designed the Lovell House in 1929, the first individual expression of his own brand of West Coast midcentury modern, which included a steel frame and sprayed-on concrete.

He designed homes around California in the following years, including the Van der Leeuw House in 1932 that would later become the Richard and Dion Neutra VDL Research House in 1980, which hosts educational programmes and art installations today; the Von Sternberg House (1935), a miniature mid-century modern house with just one bedroom, later lived in by Ayn Rand and then demolished in 1972; the Josef Kun House #1 in 1936 (opens in new tab); and the Miller House built in 1937 in Palm Springs, that lifted inspiration from Japanese architectural concepts.
RELATED STORY
The Kaufmann house was commissioned by Edgar J. Kaufmann senior, department store owner, who also commissioned Falling Water by Frank Lloyd Wright, completed in 1938. Neutra's design for the holiday house responded to the desert environment with its sliding glazed doors that seamlessly partition indoor and out and cool open-plan interiors that fold out into wings for sleeping, swimming and entering the house. The glass and steel house created light, cool and airy spaces, while the stone anchored the home into the unique geographic context of Palm Springs.

Drawn back across the world to build a series of modernist villas in Europe, and notably the US embassy in Karachi, Neutra didn't stay away from California long. In 1965, he set up an architecture studio with his son Dion Neutra, and was based in Los Angeles for the rest of his career.