Building in Berlin: a new book shines light on the early career of Richard Neutra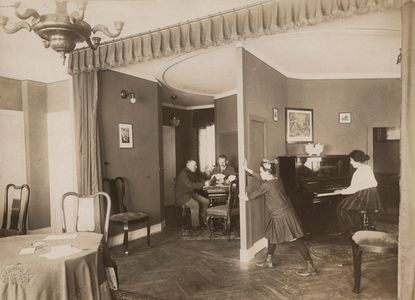 (Image credit: press)
While Richard Neutra (1892-1970) is famed for his modernist houses in California, a new book highlights a lesser known part of his early career when he was living in Berlin and working for architect Erich Mendelsohn. Richard Neutra in Berlin traces his success back to the Zehlendorf housing project of 1923 where he defined his strong and experimental modernist style.

After studying architecture at the Vienna University of Technology, learning how to define strong lines and design powerful architectural forms under Adolf Loos, Neutra worked briefly in Luckenwalde, Germany as a city architect in 1921 before moving to Berlin to take up a job at the studio of Mendelsohn, an architect whose style bridged art deco and modernism with an almost classical artistry.
Neutra joined the practice while Mendelsohn was working on a commission to extend Mossehaus, home to mainly liberal newspapers such as the Berliner Tageblatt. An important example of Mendelsohn's approach, the original 19th century building was fitted with a five-storey structure with curved ribbon windows forming a grand modernist hull at the corner of Jerusalemer Strasse and Schützenstrasse, melding new with old. While the curve is a fairly rare occurrence in the designs of Neutra, his confidence with the horizontal layering of forms can be seen only a few years later in his Lovell House, of 1928, considered one of his early masterpieces.

Yet, it was Zehlendorf in west Berlin suburbia where Neutra developed, on a small and humble scale, the first of his minimal, clean-cut modernist houses that later became icons of Californian architecture. The ten detached houses in Zehlendorf, developed for the contractor Adolf Sommerfeld, are cubist in their construction with flat white facades, ribbon windows and cantilevered balconies. Fascinatingly, the houses were built with revolving interior floors, which allowed residents to reorientate their living room to connect to other ground floor rooms. While unfortunately no longer in existence, this interior detail showed Neutra's sense of experimentation and fearless idealism which is seen less and less in architecture today.
Editor Harriet Roth used Neutra's diaries as sources to understand his professional experiences, private encounters and his emigration to the US in 1923, after Zehlendorf was complete, integrating them as facsimiles into the book, while also researching the life-lines of the inhabitants of the houses, investigating their historic developments and phase of renovation in the 2000s.

Moving to South California in the same year of the completion of the Zehlendorf scheme, where he would remain for the rest of his life, marked a new stage of Neutra's career. He worked briefly for Frank Lloyd Wright and then collaborated with Rudolf Schindler over a few years, yet mostly he marched to his own tune with a strict modernism, first composed at Zehlendorf, that he bestowed upon the cathartic landscapes of southern California.
INFORMATION
Richard Neutra in Berlin, €48. For more information, visit the Hatje Cantz website (opens in new tab)