Fergie's Café — British Columbia, Canada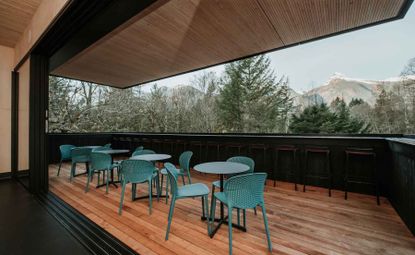 (Image credit: Darby Magill)
Following a devastating fire last year, the original Fergie's Café might not be anymore, however what has emerged is the best kind of silver lining.
The vision of architect Chris Hunter, the rebirth of the venue is a lesson in perseverance, longevity and sustainability, resulting in a blueprint that fuses a minimalist aesthetic with a 1,400 square foot cantilevered structure and stunning river and mountain views.
Built with materials designed to endure for 100 years, the new Fergie's is an all-season affair, offering an elevated deck and outdoor patio - with views of Mount Alpha - communal tables and picnic benches in the summer months, while colder periods welcome fireside sojourns in a sunlit indoor bar and dining trailer. Here, Jaclyn Walker of Occasus Design Studio has layered black-stained and whitewashed wood and metal, alongside jolts of teal that mirror the exterior's black-stained cedar, steel beams, and rusted plate steel.
It all adds up to a cosy celebration of the Sea-to-Sky enclave, punctuated by chef Victor Pulleyblank's wholesome menu of seasonal produce and house-smoked ingredients served alongside seasonal craft beers, natural wines and cocktails.
INFORMATION
ADDRESS
70002 Squamish Valley Road, Squamish
Melina Keays is the entertaining director of Wallpaper*. She has been part of the brand since the magazine's launch in 1996, and is responsible for entertaining content across the print and digital platforms, and for Wallpaper's creative agency Bespoke. A native Londoner, Melina takes inspiration from the whole spectrum of art and design – including film, literature, and fashion. Her work for the brand involves curating content, writing, and creative direction – conceiving luxury interior landscapes with a focus on food, drinks, and entertaining in all its forms
With contributions from